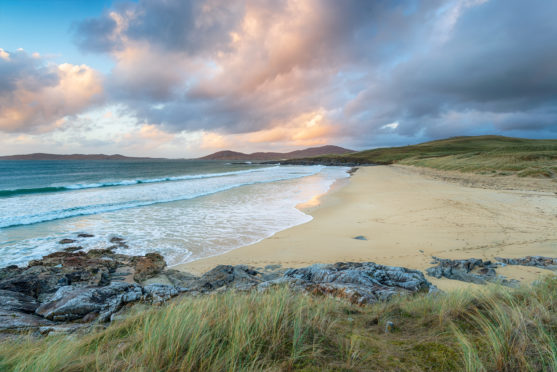 They burst out of the blue like giant bullets, pirouetting on tail fins before crashing backwards into the waves.
Within minutes the pod of Atlantic dolphins are alongside our boat, nosing out of the water for a better look at us and near enough to touch. We can even hear the delighted squeals of one with a reputation for being the most vocal.
"They love to play," beams our skipper David Steele. "I don't have to go to close to them, I wait and allow them to come to us. They'll stay for as long as they want to."
With craggy sea cliffs – home to puffins and golden eagles – their dramatic backdrop, the pod put on a display that takes our breath away.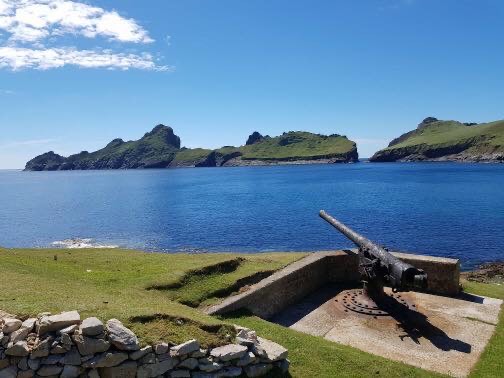 Uist Sea Tours boasts it can "take you to places you've never been, and to see things you've never seen". We can vouch for that. The outfit sails to St Kilda, as well as offering more local fishing trips and wildlife tours to spot whales and seals. Want to explore an abandoned island, or enjoy a barbecue on a deserted white sand beach where you can swim in azure waters? No problem. David caters for everyone.
My teenage daughter and I are also treated to an ocean view of Eriskay's spectacular Prince's Beach. It was here on July 23, 1745 Prince Charles Edward Stuart (aka Bonnie Prince Charlie) first landed in Scotland. David also points us to the wreck site of the SS Politician, the cargo ship which ran around with 22,000 cases of malt whisky, inspiring the iconic film Whisky Galore.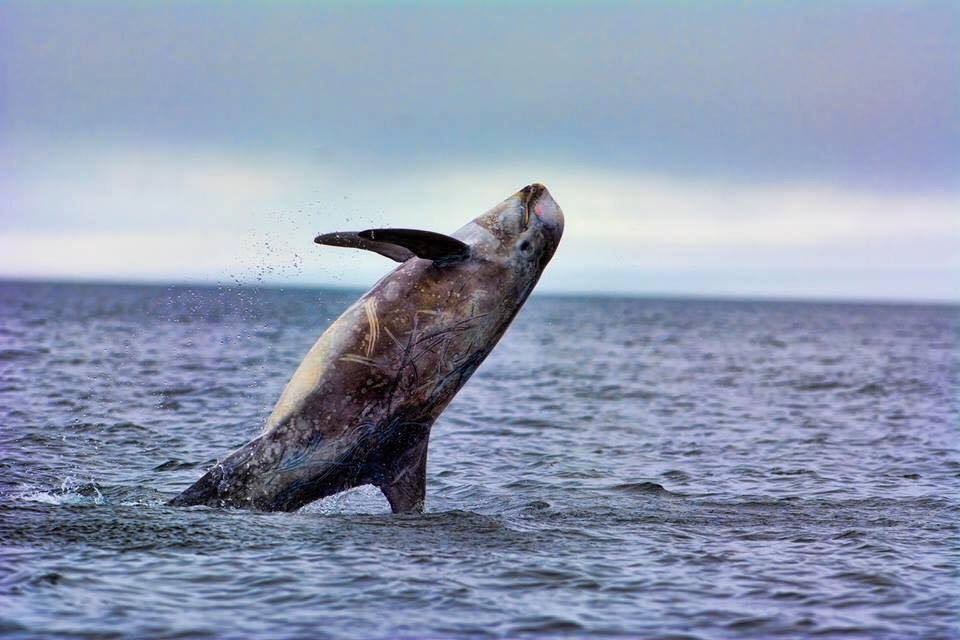 Back on terra firma, at the eponymous but legitimate Am Politician pub, we dine on local scallops – hand dived just hours before – and handle artefacts from the wreck; an original bottle of the salvaged amber nectar – Spey Royal – along with a machete and a flare gun. Soon we heading for the beach, crossing the machair and scattering wild white ponies as we take one of the many walks on this island that are both easy on the feet and the eye.
The Outer Hebridean haven that is Uist – the proposed base for the UK's first Spaceport from which satellites would be launched – is comprised of two main islands – North and South. They are linked by a series of causeways and a main road running the length of the island. Our home is the five star Corrodale Cottage at Lochdar, just 30 minutes by car from the ferry port at Lochboisdale on South Uist. A traditional 19th-Century blackhouse, tastefully renovated by owner John MacIntyre, it has its original stone walls and an authentic Marram grass thatched roof.
But the cottage combines character with all the creature comforts of the 21st Century, including an intricately carved four-poster bed, a spa bath and monsoon shower. The cottage is also well placed to easily reach all of the island's attractions. We arrive at night to a roaring peat-fired stove, a basket of local produce.
The following morning we're off on electric bikes courtesy of HebShuttle to explore the myriad wee side roads and tracks. The island is a nature lover's paradise. In the north, signs warn of otters crossing the road, and you can go on the hunt to spot Hen Harriers. The RSPB Nature Reserve at Balranald is famous for its corncrakes, one of Europe's most endangered species.
In the south, the winding single track to Loch Skipport is peppered with Shetland ponies who roam freely and who love to get close up and personal with visitors.
And there's ancient history by the spade load on Uist. Barpa Langass is a 5,000-year-old burial chamber thought to be the resting place of a Neolithic chieftain. From here it's a short walk to the ancient stone circle known as Pobull Fhinn (Finn's People).
Uist can be a base to island hop to Skye and Barra. But we advise you stay – there's so much to experience here and the Uibhistich (Gaelic for Uist folk) are the most hospitable on the planet. We head to a vast expanse of white sand pounded by Atlantic rollers with Uist Community Riding School instructor Ilona Hewitt. There is not a soul in sight, save the horses and their riders.
And as my girl – with her trusty steed Ted – thunders across the sand I can't help but think this is heaven on earth.
---
P.S. The SS Politician, carrying 260,000 bottles of whisky, ran aground in a storm off Eriskay in 1941. Her crew were rescued, but some "salvagers" helped themselves to her cargo before she sank, inspiring the 1949 film Whisky Galore.
---
Fact file
A return journey from Mallaig to Lochboisdale on South Uist with Caledonian MacBrayne ferries in October was priced at £161.10 for a four-wheel drive vehicle and two passengers calmac.co.uk
A week's stay at Corrodale Cottage starts at £595. Visit uistholidaycottage.co.uk
or call 01870 610361 mobile 07708019025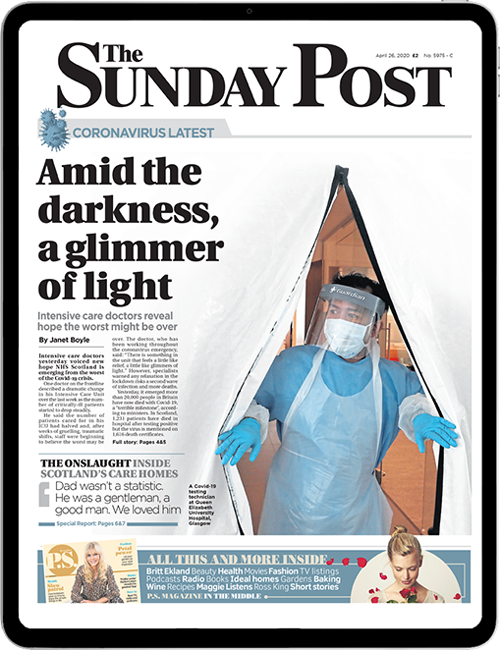 Enjoy the convenience of having The Sunday Post delivered as a digital ePaper straight to your smartphone, tablet or computer.
Subscribe for only £5.49 a month and enjoy all the benefits of the printed paper as a digital replica.
Subscribe