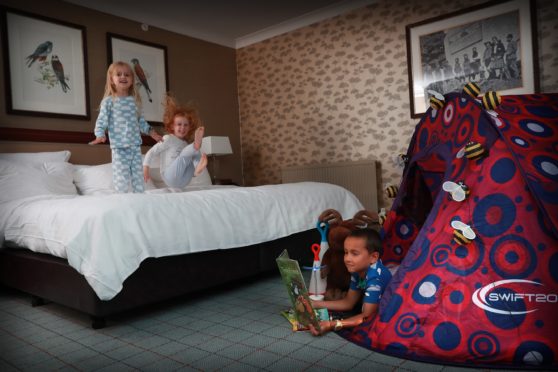 With the wind howling outside and hailstones battering down, it's fair to say the Scottish weather isn't exactly ideal for camping.
Unless, of course, the tent is indoors! For months now, ever since they watched an episode of Peppa Pig where the family go camping in the countryside, my two little adventurers have been asking if we can do the same.
The thought of soggy sleeping bags, leaky tents and cooking on a camping stove don't exactly fill me with glee, so I've managed to put them off so far.
But after discovering there's a hotel in Scotland where you can camp under the umbrella of four-star luxury, I decide to give in – and give it a go.
Dalmahoy, on the outskirts of Edinburgh, recently introduced in-room camping for kids – and I can't think of a more captivating idea for wee explorers. It's all the fun – without the faff.
We get our "camping" weekend off to a tremendous start with afternoon tea in the 18th Century baronial mansion, which enjoys sweeping views across the grounds.
The stand, stacked with sandwiches, scones and every sweet treat imaginable, from sponge cakes to macaroons, doesn't take long to be devoured, all washed down with some lovely hot tea.
Our home for the night is the full turret suite, complete with interconnecting second bedroom for the wee ones – should they tire of their alternative sleeping quarters!
On this particularly rainy day, that looks doubtful as the new digs for the kids doubles up as a play tent as much as a bed for the night.
In fact, being cosied up reading stories by torchlight is the perfect entertainment while we digest our lunch.With soft toys and popcorn, the munchkins are happy. And we all know happy kids equal happy parents – especially when we get some time off to chill.
After a few hours of contentment the kids drag dad off to explore the on-site playpark, nestled within Dalmahoy's 1,000 acres of surrounding parkland, providing the perfect – and very rare – opportunity for me to sneak off for a well-earned relaxing massage.
There's a beauty room on site, run by Beauty Essentials, offering a range of pampering opportunities from facials to foot treatments.
I plump for a back, neck and shoulder massage and can feel myself sinking further into the bed with every knot in my stressed out shoulders the therapist smoothes out. It's half an hour of sheer heaven.
Then it's off to meet the family at the recently renovated pool for a quick swim before it's time to get ready for dinner.
Sadly the weather puts a dampener on any golf or outdoor games, but we're all about the food this holiday and another sumptuous feast lies in wait. From haggis and salmon to steak and Scottish cranachan, every dish is cooked to perfection.
It's a dinner fit for a king, and, in these stunning, luxurious surroundings, I certainly feel like one.
We take cocktails back to bed where the kids snuggle down with the torches on, eagerly awaiting a bedtime story. Then it's lights out.
After a night in a bed big enough for the whole family, we wake the next morning refreshed and greeted by two happy little campers, ready for a shower and a full English … the little luxuries any camping holiday comes without.
Then, with Edinburgh just a short drive away, we decide to take a trip to Camera Obscura and World of Illusions. We get lost in a maze of mirrors and become dizzy in the spinning tunnel. We laugh at our reflections in the Victorian bendy mirrors, and gasp at how we shrink and grow in the mind-boggling Ames room.
The 166-year-old Camera Obscura on the roof, where we scoop up the sun and splat people on the Castle esplanade, is another highlight. A great example of virtual reality, Victorian-style.
Then it's back out into the wind and hailstones to find the car.
The winter weather might still be in full flow, but it fails to dampen the spirits of our city camping adventure.
The origin of the name Dalmahoy is unclear, but it is thought to derive from the Gaelic phrase "Dail-ma-hoig", meaning "view to the east", as the original house faced east with views over to Arthur's Seat and Edinburgh Castle.