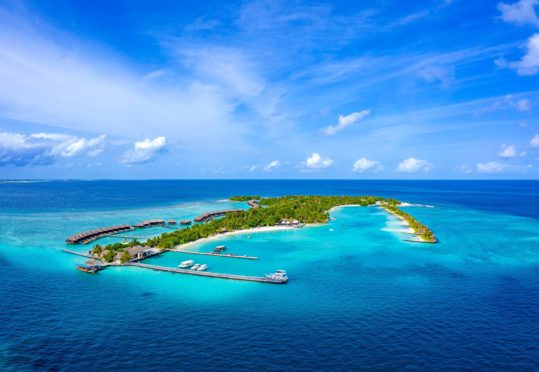 Nestled on Furanafushi, one of the sprawl of islands and atolls making up The Maldives, there's a lagoon with peculiar powers.
It's not a fountain of youth or anything mystical, though a dip will almost certainly feel like you've reclaimed a decade.
There is a point though, when drifting on the tranquil cerulean waters of this warm lagoon, with nothing but a stingray a few feet below for company, when the involuntary laughter will arrive.
As in, proper jubilation.
I'd be surprised if you didn't feel the same at some point during your visit to Sheraton Maldives Full Moon Resort & Spa.
If you have the patience to schlep around the globe to this five-star private desert island paradise, you too may find yourself giggling as if possessed by a demented dolphin.
You might not feel particularly joyous after arriving in The Maldives, plonked south-west of Sri Lanka in the Indian Ocean, despite British Airways' sterling efforts on the 10-hour flight.
The ever-smiling Sheraton staff line up to greet guests as you sweep into the marina following a speedboat transfer from Male Airport's front doors.
But even with the bustling capital on the horizon, your island is private almost as much as it is pristine.
Serene, white-powder beaches give way to the interior's tropical garden as you circle the track which loops the dinky 1km island. Plant lovers might be able to identify the coralline pink spider lilies and rainbow of hibiscus trees. Pink orchids hang like ballet slippers overhead.
The resort has undergone a £15 million renovation and boasts seven restaurants yet, with 176 rooms, things never felt crowded.
They are also adding a luxury spa on its own adjacent islet.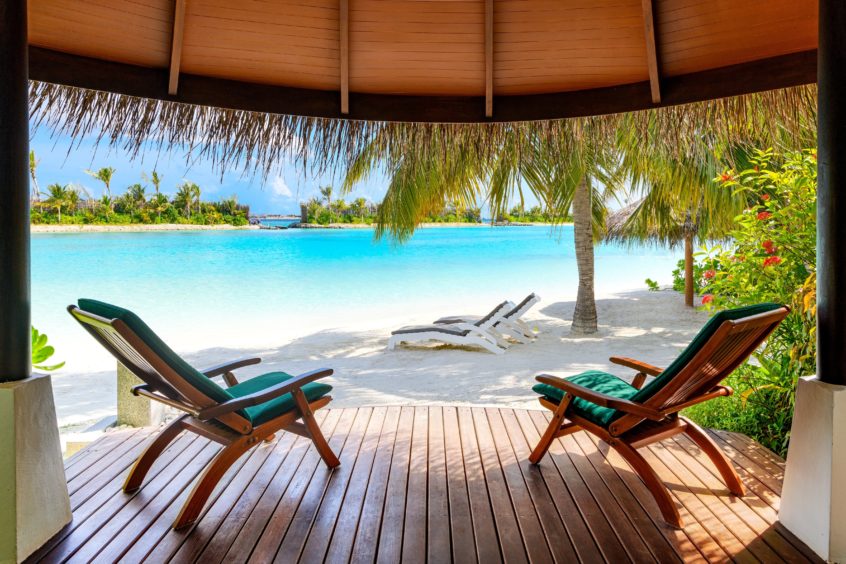 Masterful Thai masseuses guide you to your own villa before giving you the (literally trademarked) Shine Spa for Sheraton treatment. Here you'll be kneaded with the sound of the waves crashing on the reef outside.
Restored, you may want to head to one of those restaurants. The food ranges from good to sublime, especially in Sea Salt, the resort's seafood restaurant.
It was here seemingly never-ending platters of delicious food from the waters surrounding the Maldives, and a few other places for good measure, were presented.
Try a lobster, plucked from the tank in the middle of Sea Salt, or a local dish, mashuni, a mix of tuna, coconut, Scotch bonnet chillies and lemon juice, you'll inexplicably crave a month later.
Some of the villas have sliding doors opening on to the stunning lagoon.
Wander down first thing in the morning and it'll be just you and a small scuttling crab so translucent it may be the ghost of a crustacean you ate at Sea Salt the previous night. Float in the gentle shallows and you'll experience the aforementioned moment of true jubilation.
For those after something more exciting, there's an array of activities, from fishing trips to picnics on the fleeting sandbanks which appear daily near the island.
Speeding over the ocean on a jet ski is a thrill of its own. A flying fish may skim the water alongside you, giving you an astonishing moment a Blue Planet cameraman would swap his granny for.
Of course the moments of delight are propped up by the resort's perpetually cordial staff. Ask and they'll take you on a sunset cruise.
This is a 20-minute voyage to deeper waters when the dolphins which teem in the sea grandstand for tourists. Against the sun dipping into the Indian Ocean, pods of dolphins weave and frolic around our hull, before launching themselves from the water and executing single, double and treble flips.
These show-offs sound like they're clicking and squeaking as they play but, as anyone who has swam in these waters knows, they're really just laughing.
You can't help but join in.
---
P.S. The Maldives are, on average, just 1.5 metres above sea level, making it the lowest nation on earth. Not one of the 1,200 mostly uninhabited Maldive islands in the Indian Ocean is more than six feet above sea level, meaning it is the world's flattest country – but it is most at risk from climate change and rising sea levels.
---
Factfile
Rates start from £315 per night based on two people sharing a deluxe garden view king room on a B&B basis. Go to marriott.co.uk and search for Sheraton Maldives Full Moon Resort & Spa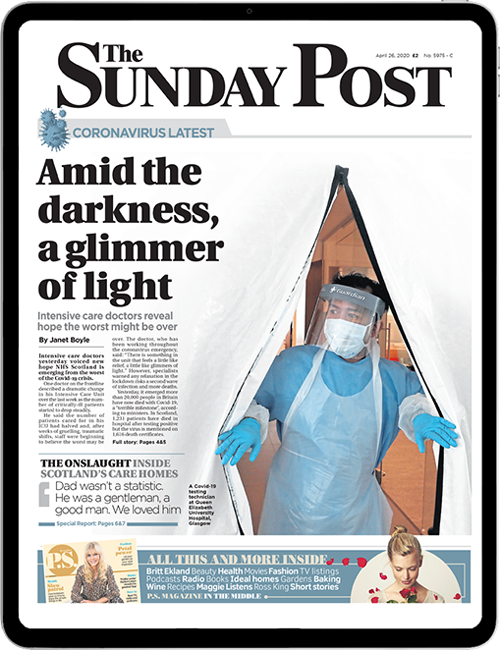 Enjoy the convenience of having The Sunday Post delivered as a digital ePaper straight to your smartphone, tablet or computer.
Subscribe for only £5.49 a month and enjoy all the benefits of the printed paper as a digital replica.
Subscribe