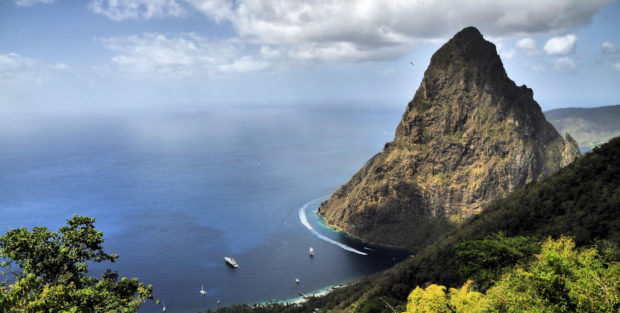 St Lucia is famous for its twin Pitons, huge mountainous volcanic plugs that rise out of the Caribbean sea. They were formed by lava erupting from the sea bed and cooling to form the iconic steep-sided domes that makes the island instantly recognisable.
As we drove away from Hewanorra airport, George warned there were no straight roads on St Lucia. There are hardly any level ones either.
Volcanic mountains rise to over three thousand feet and the winding roads have an Alpine-like appearance. It takes two hours to get from one end of the 26-mile long island to the other.
Earlier that day I had boarded my British Airways flight for the eight-hour journey and decided that justified an upgrade to World Traveller Plus.
"Glass of Champagne?" asked a member of the cabin crew as I settled into my seat. It was only breakfast time but it seemed impolite to say no. The service, food, extra leg room and the ability to recline your seat without disturbing the passenger behind you, was well worth it.
St Lucia, said to be the only country named after a woman, was originally settled by the French in 1660, but as a result of battles with the British, it swapped hands 14 times until 1814 when the British took control. As a result, the official language is English but French-based Creole is widely spoken, the cars drive on the left but the town names are in French.
Home for my stay was Windjammer Landing, comprising hotel rooms and villas built up a steep hill that led down to a sheltered sandy beach. The hotel offered a choice of self catering with breakfast, or all-inclusive.
I had chosen all-inclusive and been allocated a luxurious two bedroom villa at the top of the hill. Outside there was a neat patio with recliners, and a pool with stunning views over the sea. A fleet of air-conditioned shuttle vehicles were available to ferry guests up and down the hill.
Several restaurants at the beach offered a wide selection of food and it would have been easy to stay put but I wanted to explore this unusual island.
Cocoa trees abound and I was amazed to discover that the fresh beans in the pod were white and sickly sweet, changing colour and taste as they dried. No surprise then that the most popular attraction is chocolate making, and I gave it a try.
Grinding the cocoa beans was energetic but satisfying and soon the chocolate mix was liquid and shiny. After popping it in a mold then enjoying a cold beer, my home-made chocolate was expertly wrapped for me to take home.
The island has a huge variety of vegetation and wildlife. To find out more I visited the Lushan Country Life trail where my knowledgeable guide James pointed out herbs and plants and explained their medicinal and culinary uses.
"Over there, that's cinnamon," he said. "It helps asthma sufferers and reduces rheumatism pain, controls digestion and can lower cholesterol. This one here is the aloe vera plant, we use it for burns and earache, skin problems and as a hair conditioning treatment."
He showed me how to cut open a coconut with a sharp stone so that we could drink the milk inside.
"It's good for you," he said, "the milk facilitates digestion, improves teeth and gum health and the pure coconut oil works magic on dry hair."
Just outside Soufriere I visited the Caribbean's only drive-in volcano, an area with steaming sulphur springs and bubbling, hot grey pools.
Visitors can also enjoy the mud baths where, having been artistically covered in volcanic mud, they can soak in naturally heated water – a process that is designed to leave the skin fresh and smooth.
Another fascinating trip was on an aerial tram through the cool mountain rain forest. A guide explained the vegetation and pointed out some humming birds. In fact the island is a bird-spotters paradise with over 180 species to be found. They include cuckoos, black finches, orioles and six species that can be found only on the island.
My exploration was over far too soon as George drove me back to the airport. I was left with memories of a unique Caribbean island, mountains, lush greenery, winding roads and, above all, genuinely friendly people and great hospitality.
---
Factfile
Windjammer Landing (windjammer-landing.com) offers room and breakfast from £140 per person per night. Mike was a guest of the St Lucia Tourism Authority (stlucia.org).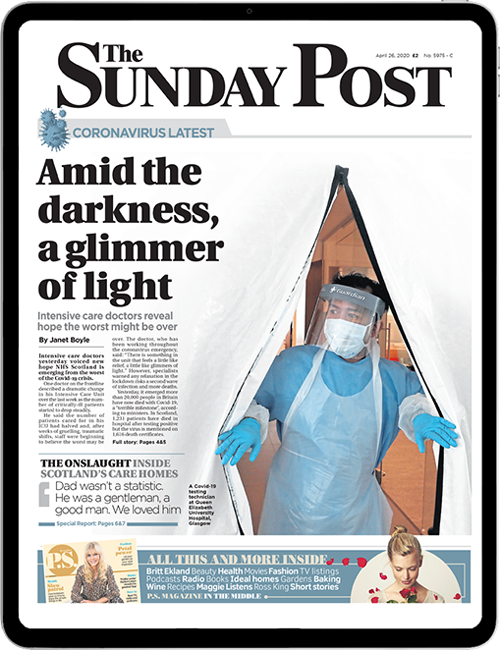 Enjoy the convenience of having The Sunday Post delivered as a digital ePaper straight to your smartphone, tablet or computer.
Subscribe for only £5.49 a month and enjoy all the benefits of the printed paper as a digital replica.
Subscribe