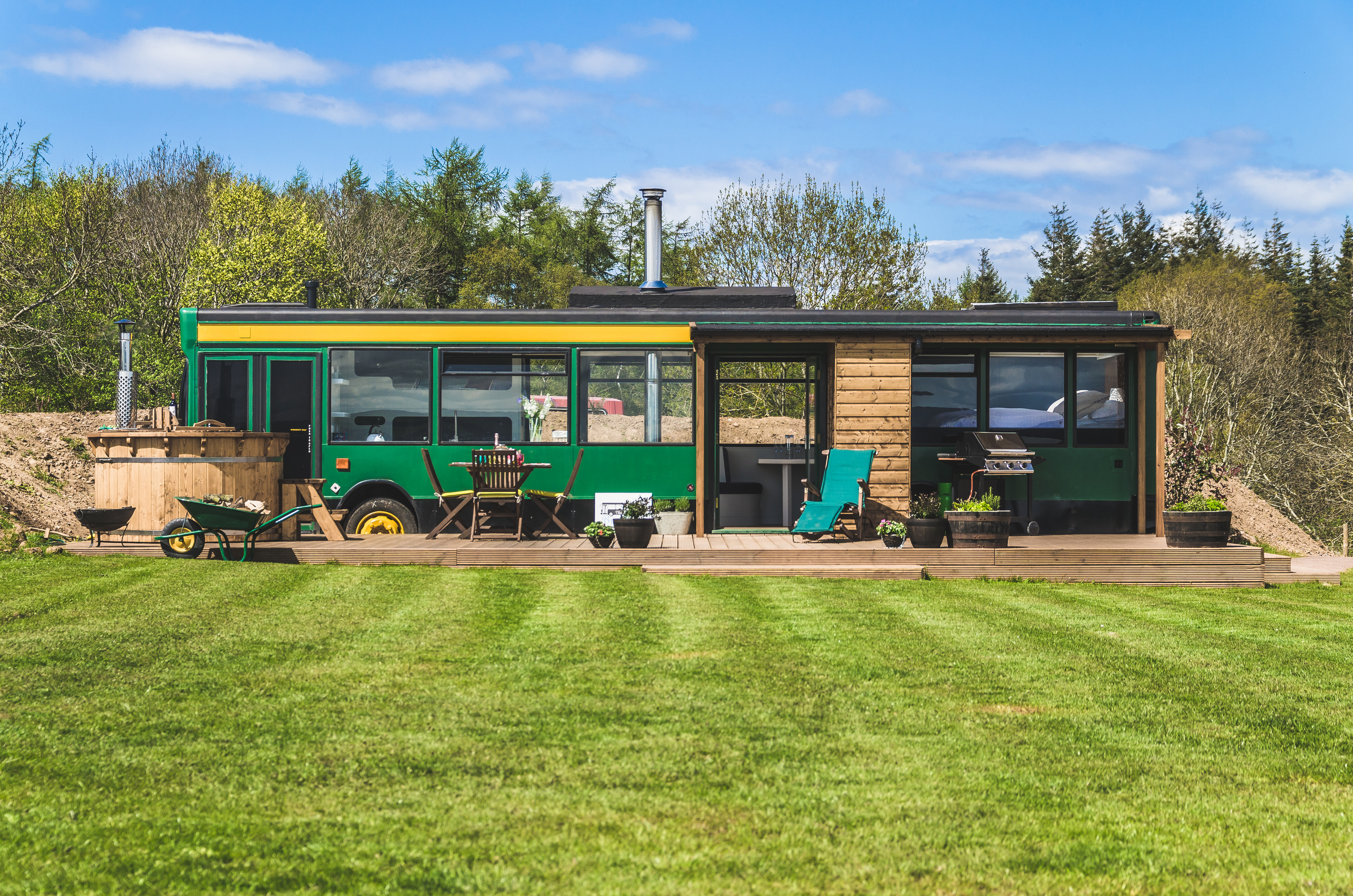 WAITING for a bus in winter is rarely a pleasant (or warm) experience.
But this one is worth catching – as it comes with hot tub and log-burning fire!
Yes, Edinburgh's old number 13 has had an impressive transformation.
Stationed near picturesque Gifford, just 45 minutes from the heart of Edinburgh, The Bus Stop is the perfect location for busy city dwellers to kick back and relax over a weekend.
The old single-decker bus now boasts an impressive décor, with a fully equipped kitchen – minus an oven, but plus a barbecue – a modern wet room and enough beds to sleep a family of four.
Where naughty school kids once sat at the back of the bus, is now an elegant double bedroom, complete with show-stopping glass ceiling domed and clear, providing the most wonderful vista of the starry sky.
There's a compact bathroom, complete with powerful shower and a toilet positioned on the old drivers seat, in case you have ever wanted to spend a penny where you once paid you fare.
Adding to the luxury of the trip you can step out on to a private deck to enjoy the rustic charm of your very own log-fired hot tub.
The smell of a wood-burning stove accompanied with a large glass of wine and a panoramic view across the Lammermuir Hills is to die for.
During our stay, we were blessed with fine weather meaning we could sit outside and get full use of the gas barbecue.
As the bus is self-catering, most people will bring their own food with them, as we did.
Unfortunately, we didn't realise there wasn't an oven, so trying to roast potatoes on a grill was a quite an experience.
However, our delightful hosts came to the rescue with an extremely well-stocked pantry just a minute's walk away.
In a converted stable they had everything you could need for a weekend – crisps, popcorn, burgers and, most importantly, champagne and wine – all at very reasonable prices.
As a working farm the land is home to many animals – alpacas being one of the more unusual species – and there is an option to buy products ranging from gloves, scarfs and yarn if you fancy giving knitting their wool a go.
And if you wish to visit the alpacas the owners are more than happy to escort you.
But the real culinary highlight were the fresh eggs in the morning.
For a city girl it was a bit daunting rummaging through a chicken coop in the early morning, but well worth it.
I'm not sure if I'll ever eat another egg as fresh again. This was a fantastic addition to the breakfast basket that we had already ordered which contained everything you could need for the day ahead – including homemade jam and a cake baked straight from the farmhouse – all of which didn't last long!
To avoid a food, wine and hot tub coma we decided to brave the 45-minute walk to Gifford.
Our host had helpfully provided a map which guided us through the beautiful country side.
And for added drama there was a jump over a burn which wasn't as easy as it looked, resulting in one very squelchy foot only 10 minutes in!
Whilst exploring we discovered an old neo-classical folly and a large picture frame hanging from two trees which we couldn't resist as a photo opportunity.
Arriving in the village, our first stop was the local shop for a paper, before finding somewhere for lunch.
The Goblin Ha' was warm and friendly and we enthusiastically grabbed a table to rest our wet and weary feet.
We ordered from a selection of typical pub grub that served as excellent fuel for our return journey.
Revitalised, the walk back was just as enjoyable.
As we rounded the corner to The Bus Stop, we both agreed a day out like that would make you feel at home in the country.
When we got back to the log fire, we were proved right.
This was one bus trip we could make again and again.
The Bus Stop sleeps up to four people (two adults and two children). Prices start from £131 per night, with a minimum stay of 3 nights. The option to add a breakfast pack to your stay comes at £20, and includes bacon, lorne sausage, rolls, homemade jam, granola, yoghurt and fresh eggs from the farm.
To book, see thebusstop.scot for availability, then email thebusstop.scot@mail.com or call 07508 421888