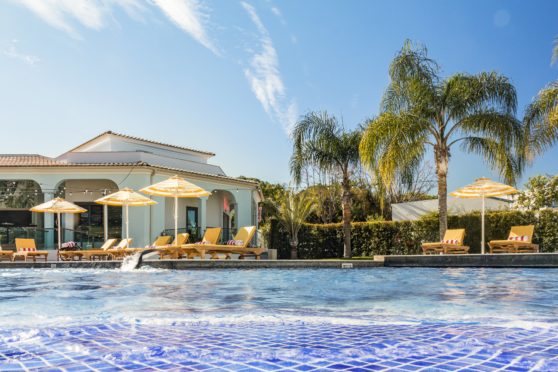 Quinta do Lago is a golfer's paradise. With three picture-perfect courses lined by stunning landscapes, this is the place to play. But, even if teeing off isn't your cup of tea, this luxurious pocket of the Algarve is still an ideal holiday destination.
It's a millionaire's playground – and the holiday home of the rich and famous.
Wayne Rooney, Steven Gerrard and Teddy Sheringham all have houses here and the resort is a favourite of the Beckhams and Cristiano Ronaldo.
It comes as no surprise, as Quinta boasts some of the most expensive properties in Portugal, with prices stretching above €10 million.
On a smaller budget, we opted for a room at the boutique Magnolia Hotel. From the neon signs and blush-pink, turquoise and bright-yellow furnishings to the palm trees and string lights lining the picturesque pool, it boasts a 1950s motel feel with an added hint of Miami.
The rooms, in contrast, are neutral in colour with old black-and-white photos on the walls and a comfy bed you could lounge in all day.
But it's 23 degrees outside (and it's only spring), so we head out for a spot of sport.
I much prefer lazing on the beach with a book in hand – but here sport is more of a pleasure than a chore.
If Scotland is the Home of Golf, then Quinta's courses are glamorous holiday boltholes.
We played the North Course, which had a £9m redesign in 2014 with European Ryder Cup-winning captain Paul McGinley heavily involved.
The Irishman, who also has a golf academy here, can be proud of his handiwork as the course is a joy to play for all abilities. The tightness of fairways is offset by short rough that allows you to play your way out of trouble.
The pristine greens wouldn't look out of place on the European Tour. Indeed, the Portuguese Open is regularly staged on the South Course, where Colin Montgomerie holds the course record of 63 from his title win in 1989.
We were happy to avoid slicing a drive into the garden of a luxury house rather than try to match Monty's heroics.
Be sure to hire a buggy, though, as distances between some holes can be a slog.
If you're not a golfer, head for The Campus. The £10m state-of-the-art sports centre is where professional athletes come to train. Burnley FC recently visited. Even for an amateur like me, it's a great place to experience a bit of light sport in the sun.
It fits perfectly with Quinta's air of luxury…never before have I seen a gym with a chandelier!
Yoga classes are a delight as you gaze out the sash windows to the horizon. Then enjoy a dip in the outdoor pool, with sun on your back.
Our tennis lesson was a bit more strenuous. I'm no Andy Murray, but I felt worthy of Wimbledon after some top tips on strokes and serves from one of the Campus coaches.
If only his mum Judy, who holds tennis camps here, were here to see it!
Never mind, time to release our inner Chris Hoy next on a cycle through the Ria Formosa National Park.
It's hard to believe that 46 years ago, before it was developed into a resort, this is largely what Quinta looked like – marshland.
Our tour guide is marine biologist Susana Gil, who leads us on the flat path round the beautiful landscape. She points out wildlife, including a flock of flamingos bathing in the salt beds, where most of Portugal's salt is produced.
We finish up at the long wooden bridge – the only way to access the beach. The unspoilt sand stretches for miles and fills up fast in the busy summer months.
It certainly is paradise – and not just for golfers. But a trip here definitely feels as good as getting a hole-in-one!