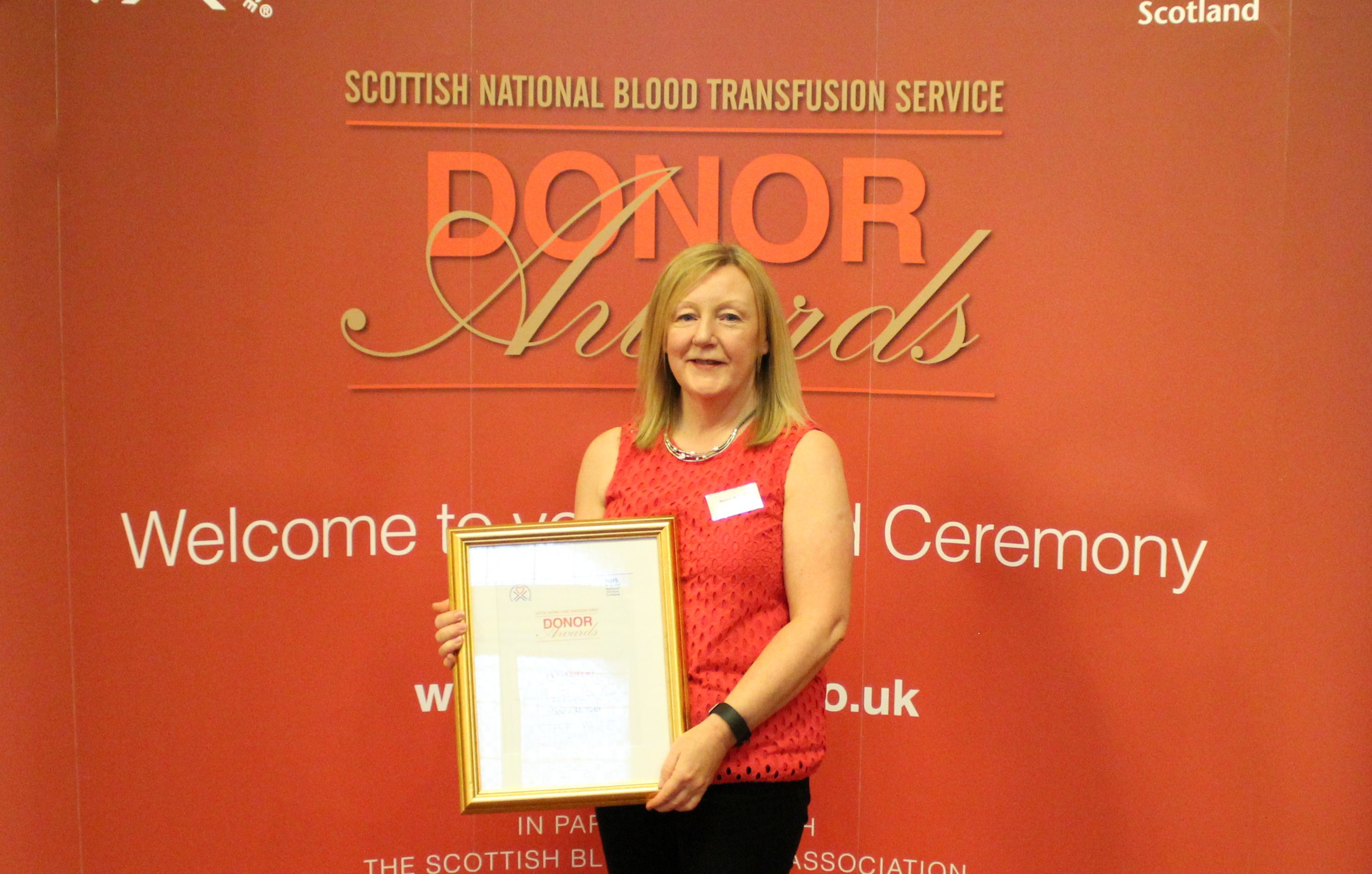 MARION McNEILL recently received an award to mark 100 blood donations.
But the ceremony at Glasgow's City Chambers was a bittersweet moment for the mum-of-one.
A diagnosis of breast cancer in April means that, even though her treatment has been successful, she can no longer give blood.
"I was really disappointed and upset about having to give up donating," admits Marion (57).
"But I fully appreciate that I am the patient of the Transfusion Service and they are looking after my wellbeing, too.
"When I was diagnosed I had just lost my mum so it was a very emotional time for my family and it hit us all hard.
"I have a really close family and very good friends that all made sure I was kept busy throughout my treatment with their visits, walks and lunch outings — I hope they know how much I appreciate their support.
"My treatment went well and I was relieved I didn't need chemotherapy, but I did need four weeks of radiotherapy after the surgery.
"The care and support I received from both the surgical and oncology teams was second to none and this will continue with regular check-ups.
"The treatment does knock the stuffing out of you but you just have to do what your body tells you and rest when you need to.
"I'm back at work as a civil servant now and doing very well, and I'm so pleased to get back to a more normal routine doing all my usual things like the gym, yoga and swimming — great!
"I've lots of life to live yet."
As a transfusion centurion, what does Marion say to people who have never donated?
"I tell them how easy it is and that it doesn't take much time at all," she says.
"I realise it's not for everyone. I think the needle thing stops some folk — my sisters included! — but you could save a life.
"There was no particular incident or trigger that made me start donating, I just thought it was the right thing to do.
"Everyone at the blood transfusion centre is really nice so that made it easy to keep going back. The blood bus also visited some of the sites I worked in and that was handy if I couldn't make it into town.
"Then they started doing evening surgeries in halls near where I live in the south side of Glasgow. They always have Tunnock's Tea Cakes to have with your drink at the end — nothing but the best!"
My wife is a rare (I suspect alien) blood group which means her blood is in high demand.
But Marion says: "Although I'm not in a special blood group, I did like to go regularly and that became really easy going to the local surgeries as they were held four times a year.
"Needles don't bother me at all, though I realise it's not like that for lots of people, and the Transfusion Service staff are all very professional and take great care of you."
I'm not a fan of the thumb prick at the start.
"That's the worst bit, right enough!" agrees Marion.
"But no matter how many times you have donated, the staff still run through the routine checks before accepting your donation.
"If I was trying to reassure someone giving their first donation, I'd tell them to try and relax, listen to what the staff are telling you to do and you'll hardly feel a thing.
"They look after you, just take it slow getting up at the end of the donation, stay for a drink and a biscuit — there's a reason you get them!
"To be honest, I often found it could be a nice half hour escaping from the business of the day when you could just lie down, put your feet up and chill.
"I'm definitely in the majority when I say I've always been fine," adds Marion.
"I have seen the odd donor feeling faint but the staff are quick to notice when someone looks a bit off and they get you sorted and make sure you are fine before they will allow you to leave.
"Luckily, with my cancer treatment, I didn't need a blood transfusion, but I have a friend with a different type of cancer who did, so thank you, donors!"
For more information on donating blood in Scotland, Northern Ireland, Wales and England visit www.scotblood.co.uk, www.nibts.org, www.welsh-blood.co.uk or www.blood.co.uk respectively.
---
READ MORE
Blood test hope for prostate cancer patients
Missing Type: Famous landmarks and logos drop letters as part of blood donor campaign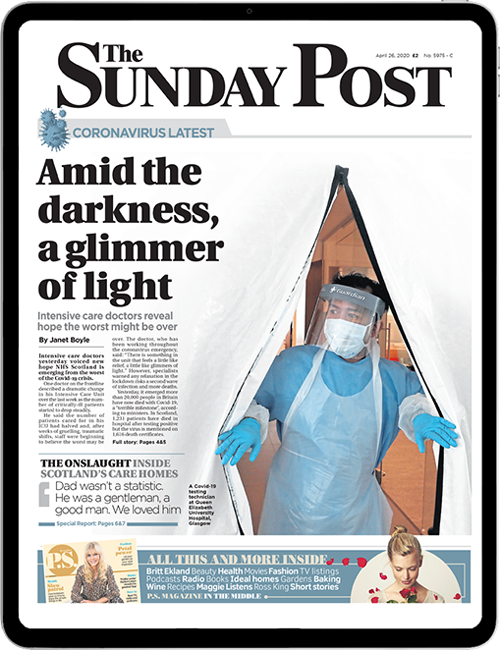 Enjoy the convenience of having The Sunday Post delivered as a digital ePaper straight to your smartphone, tablet or computer.
Subscribe for only £5.49 a month and enjoy all the benefits of the printed paper as a digital replica.
Subscribe