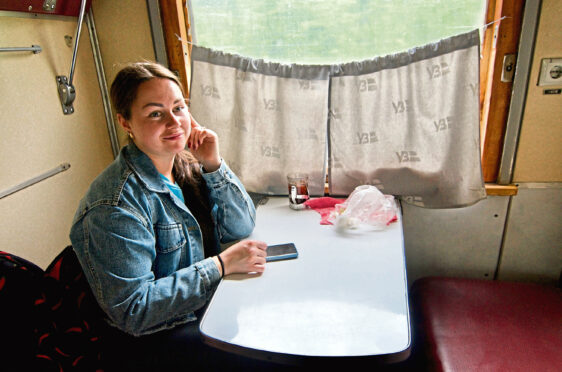 As the Russian army advances further into eastern Ukraine, ghost towns await them.
Pokrovsk, population 61,000 in normal times, feels like the set of a Western. On a hot afternoon, the drifting poplar fluff gathers on the neat, empty streets, blowing along in clumps like tumbleweed. The front is just 30 miles or so away, and a rocket strike hit the town just a few days earlier. Few shops or cafes are open.
Only the train station has a bustle of activity. A huge railway hub, the only train drawing up these days is the evacuation service. Each afternoon the blue-and-yellow carriages of the Ukrainian state railway arrive from the west, a stream of volunteers in high-vis disembarking to help bring people aboard.
The refugees arriving from the east – Kramatorsk, Severodonetsk, Myrnohrad – have come by bus or volunteers' vans, some in wheelchairs, carefully lifted out, wrapped in blankets despite the heat.
Some carriages are specially adapted for wheelchair users, explains Oleksander Maltsev, an enthusiastic young employee of the huge Ukrzaliznytsia company. Medics are on hand and the trip is free for all.
Inside the train, windows are lined with sellotape, a fairly ineffective measure to stop them smashing under shelling. The carriages are by no means full: many have left already but also not everyone is convinced by the authorities' pleas to evacuate.
In fact, one woman from Myrnohrad, a mining town east of Pokrovsk, says she's just making a quick trip to the city for medical treatment. She doesn't want to give her name, but is sharply critical of the government.
"What kind of money do we have in Ukraine? My pension is 2000 hryvna (about £53 a month). How can I live on that? They tell us: leave, leave! But where would I go? Give us money, and we'll go."
Many from her town did evacuate in the early days of the invasion, she says. "But they came back. They went to Lviv, went abroad, their money ran out and they came back."
She seems unconcerned about the huge danger creeping towards them from the east. "I'm not giving up my home, my dog. Anyway, I only have one death, and the timing has already been decided."
Everyone "is in God's hands", the woman insists. At her local church she prays – "for soldiers, Russian and Ukrainian. God loves all. And I pray especially for the Russian mother whose son was taken to the war. You can judge me if you want," she ends defiantly.
In another compartment, Tanya, 70, and her son Lyosha, 48, sit at a small table, looking out at the fields flashing by. Their journey is one-way.
"Aunty Tanya", as she likes to be known, sits with a pale shawl tied around her head. She describes what finally made them leave Kramatorsk today, a town close to the fighting.
"The heavy artillery, bang bang bang, day and night – sirens constantly – it was awful. We lived on the 14th floor, the highest building in the centre, I call it our swallow nest, it was so high up. And that was so scary, with rockets flying."
Was there a basement?
"Yes but it's horrible, you can't imagine. No toilet even!"
There are just three families left in their stair, she says, but her son interrupts – "Two, now that we've gone." She shakes her head sadly. The small family have no idea what awaits them in Lviv, more than 600 miles away, a city neither has ever seen before, and one already full of refugees. They'll depend entirely on the goodwill of volunteers. "We suffered so much in 2014 (when the war began)," says Lyosha. "We thought that finally it would all end."
"I've never felt worse in my life," says Tanya, reflecting on leaving her home. "I cried and cried. All of the valuable things, mirrors, silverware, from my parents' time…"
She rails against the pro-Russia neighbours she knows, who watch Russian state TV and believe the propaganda despite the chaos around them. "They are such fools," she says fiercely. "I just want to punch them in the nose when they talk such nonsense."
Sveta, 26, a quiet young woman in a denim jacket, is sipping a cup of tea and checking her phone. She is surrounded by bags. Incredibly, she's come all the way back to wartorn Donbas from the safety of Germany, to collect some belongings. Now she's on the long journey back to Frankfurt an der Oder, where her sister and niece are living.
It's hard leaving for a second time, she admits – despite the terrifying rocket attacks, part of her wanted to stay. But Sveta sounds resigned to the fact that she may be gone a very long time. She is learning German, trying to get a job, hoping she and her sister will finally be allocated a flat.
"There's nothing keeping me here any more," she says, as the train trundles away from Pokrovsk. "We didn't tell the little one what happened yet, we don't want to traumatise her. But every night she asks, 'Is Daddy coming to get me? I want Daddy'. Every single day it reminds me that I want to go home.
"Later, when she grows up, we'll tell her what happened."
A mother and daughter, Elizaveta and Diana, are travelling empty-handed. They'd come to visit Diana's granny, bringing her the medicine that's so hard to obtain now in places near the front line.
"We were evacuated two months ago," Elizaveta explains. "Back then this big train service wasn't running, and we went by elektrichka (suburban trains, not a comfortable option for long-distance).
"It was awful, really difficult – so many people with bags and children, and we had our dog too."
Now they live in Dnipro, renting an apartment, the French bulldog with them. But the granny wouldn't leave Myrnohrad.
"We tried, but no. Categorically refused. Home is home, she said."
The old woman, aged 70, is alone now, with only her cats for company, and Elizaveta makes the trip to bring her mum supplies as often as she can. "While there's still the chance", she sighs.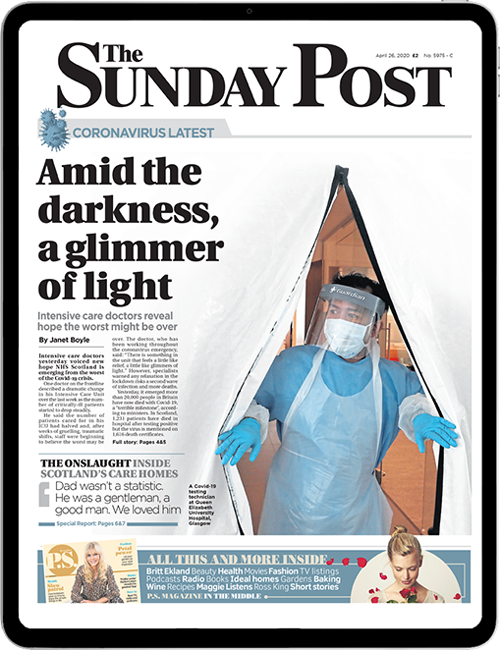 Enjoy the convenience of having The Sunday Post delivered as a digital ePaper straight to your smartphone, tablet or computer.
Subscribe for only £5.49 a month and enjoy all the benefits of the printed paper as a digital replica.
Subscribe