It's hard to hear anything amid the chatter of excited children and the clatter of plastic bricks.
At The Royal Blind School in Edinburgh, a classroom has just taken a special delivery all the way from Denmark.
Toy giant Lego has created a new braille version of its famous building blocks, constructed especially for vision-impaired children, and the Scots youngsters are among the first in the UK to try the prototypes.
One voice pipes up amid the buzz.
"D…A…D," he exclaims, as he feels a few blocks scattered on the table before him. "I can spell 'dad' with these."
That moment, along with a few others, demonstrates why these colourful bricks might quite literally be a game-changer.
This Lego is not only a satisfying tactile toy but also a valuable tool to make learning fun for vision impaired children.
The toys are such a hit that teachers find it difficult to prise the prototype blocks away from eight-year-old Bo Cox, from Glasgow. Now he's determined to gather enough lettered bricks for his own personal special project.
"I think the Lego was actually quite surprising," he says.
"I'm impressed at how they managed to put the Braille dots on them.
"It was difficult at first to work out the dots but now I'm much better at using them. I'm going to put the whole alphabet here."
Bo deftly identifies the bricks from the box in front of him and arranges them in order from the letter A onwards, on to a plastic base.
Each coloured block features a letter of the alphabet printed alongside an embossed braille version made from the familiar Lego circular studs.
Also included are numbers and some maths symbols. These bricks have been handmade before they go into mass production around the world next year. At the moment, though, they are so rare that they've been sent to the school by special tracked delivery, and need to be returned in a few days' time. Staff are under strict instructions to not lose a single brick.
One teacher points out that, as well as learning, the bricks' design means they can be used by both sighted and vision-impaired children, playing side by side.
Pam Young, a chartered teacher at the Royal Blind School, is impressed by the prototype bricks, and their potential.
"When children are learning to read Braille, it's a complete mystery to the sighted kids that are alongside them," she says.
"And it looks so complicated and so difficult, that it's almost impossible for those children to understand what it is they're doing.
"I think this is a bit of an opportunity for the children and their sighted peers to learn a little bit about Braille in a fun way. Now they can play together."
As well as the potential for learning, a toy designed to appeal to vision-impaired children is a welcome development for parents, too.
"Parents can find it difficult to find toys for their children," adds Pam. "They will often ask, 'What am I going to get them for Christmas?'"
While some children eagerly stack bricks, a game of bingo breaks out, based on letters rather than numbers. For the teachers, seeing Braille being used like this is an encouraging sign.
Tomorrow marks the beginning of National Braille Week, which promotes the language.
Over the past decade, it has fallen into decline due to the rise of digital alternatives.
"Coming up with fun learning activities for children here can be a challenge, it's a big part of the job," says Pam. "And most qualified teachers do it really well.
"But these bricks just add another dimension, one more thing we can use to make learning fun. Even if the kids don't understand it right from the start, it's just wonderful that a big company like Lego has said, 'we're going to make these and make them inclusive'.
"Because it's really difficult to find toys that have meaning for our kids. I've read a lot about their learning through play philosophy. And this is a brilliant example of that in action."
Bo has to go to the next class, but he's keen to find out how the bricks are made, and when he'll get to finish his alphabet project.
"I want to ask the people at Lego how they made them," he adds. "But can you also tell them they're magical?"
---
Inventor losing his own sight
The Braille Lego bricks were designed with the help of a man who is gradually losing his own sight.
Morten Bonde, art director at the Danish toy giant, lives with a genetic eye condition that is gradually impairing his vision.
"Experiencing reactions from pupils and teachers to braille bricks has been hugely inspirational and reminded me that the only limitations I will meet in my life are those I create in my own mind," he said.
"We know braille users become more independent, have a higher level of education and better employment opportunities.
"The bricks will be distributed, free of charge, to select organisations who support young, vision-impaired people."
Stine Storm, of the charitable Lego Foundation, said: "The Foundation is all about learning through play.
"This will be a tool that can help to teach braille to children, and it will enable a blind child to learn next to a sighted child.
"We are now mould-making so we can produce the bricks in different languages.
"We aim to have it ready for children to use in Scotland at the beginning of the school year in August next year.
"The demand is huge, we want all pupils who need it to have access to it.
"It's simply an early learning tool.
"It will be able to be used to help with maths, science, biology.
"We really want it to give braille a boost, it's still such an important tool for learning and at Lego we hope that the braille bricks will help to bring braille to more young people."
---
National Braille Week runs from October 7 to 13 and is organised by the Royal Blind charity. www.royalblind.org/national-braille-week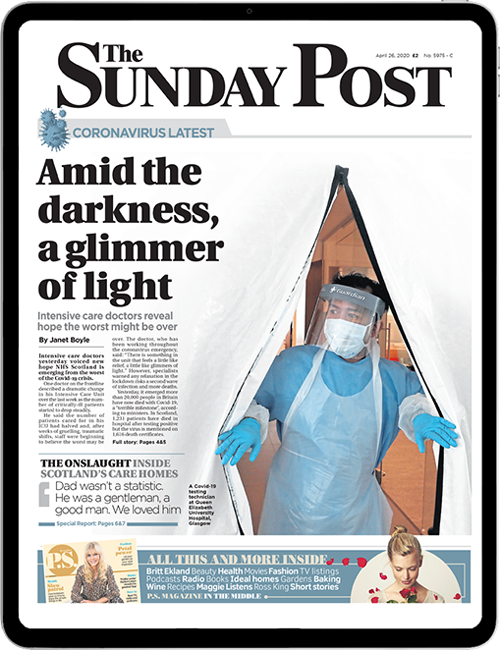 Enjoy the convenience of having The Sunday Post delivered as a digital ePaper straight to your smartphone, tablet or computer.
Subscribe for only £5.49 a month and enjoy all the benefits of the printed paper as a digital replica.
Subscribe