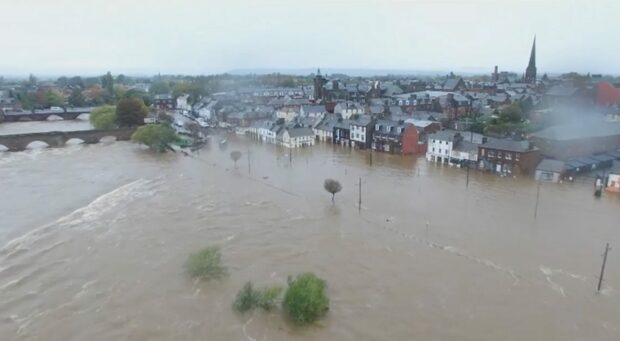 Environmental watchdogs yesterday told Scots to expect more flooding linked to global warming but warned some consequences of climate change are already irreversible.
The Scottish Environment Protection Agency (Sepa) said almost 284,000 homes and businesses were at risk of flooding and that would rise to 394,000 by 2080 if urgent action was not taken to cut emissions.
Sepa said: "Scotland is already seeing the impacts of a changing climate. The last few years have seen an increase in water scarcity and localised, high-intensity rainfall events. We know there is locked-in climate change we cannot reverse, including sea-level rise.
"We have recently concluded the public consultation on Sepa's flood-risk management plans, which co-ordinate and concentrate efforts by multiple organisations to tackle flooding in Scotland, in partnership with local authorities.
"The responses provided will be considered to develop the final versions, due to be published in December 2021."
Ten days ago, Dumfries became the latest Scots town to feel the impact of global warming when the River Nith burst its banks after torrential rain.
As Dumfries was hit, two bridges were swept away in nearby Annan while Dalbeattie, further west in the region, was also affected.
Meanwhile, a major incident was declared in Hawick in the Borders amid fears up to 500 properties could be flooded. Scottish Borders Council said a £92 million flood scheme was being built and defences already in place played a significant part in preventing serious damage.
Elaine Murray, leader of Dumfries and Galloway Council, said: "Although there has always been occasional flooding in the Whitesands, incidents are getting more frequent, and these most recent floods saw serious incidents across the east of the region. There can be little doubt these events are exacerbated by climate change.
"A flood protection scheme for Dumfries has recently been confirmed by the Scottish Government. Although the pandemic delayed the progress, it's the intention that progress is resumed to protect the town from increasingly frequent flood events."
A flood-risk management plan published five years ago by Sepa identified a potentially vulnerable area in Dumfries east of the River Nith where "it is estimated climate change will increase the number of residential properties at risk of flooding".
'We saw a liferaft on our road': The damage and devastation of the 2015 Ballater floods
Andrew Pearson, 65, owner of the Riverside Tap bar located at the bottom of Friar's Vennel, said there was nothing to do but watch the flood approach after the river broke its bank.
"We got all the soft furnishings on to metal beer kegs and got our pumps going," he said.
"That kept things under a degree of control until high tide and there was little we could then do at that point. It was the worst we've seen for several years.
"My dog Barney was floating past on a beer keg at one point on what's normally the street outside. We were closed on Thursday and managed to reopen on Friday evening.
"People here are resilient and flooding has been happening here for centuries, but the concern is it's becoming more frequent. I can see flooding getting worse as rainfall increases and get more unpredictable and tides get higher.
"Everyone agrees something needs to be done. But doing nothing is the worst thing."
John Greenwood keeps a constant check on river level data and tide times, knowing his defence plan will take 15 minutes to swing into action when the River Nith threatens to burst its banks.
Greenwood, 59, co-owner of 252 Spares, a car parts business at Whitesands, said: "We are the first building in Dumfries which gets water at our door when the flooding hits so we have got used to it and have defences in place. In theory no water should get into the shop but, in practice, if it's a big flood, it does. We've now had three significant floods in the last 10 years. We accept that flooding will happen here and we are likely to experience more with climate change.
"I have actually been quite impressed by Cop26 in that they at least seem to be trying to do something. What we have to hope is that we get some answers and solutions."
Rab Smith, 70, owner of Domino record shop, had to be rescued during the floods despite implementing safety precautions of his own.
"I have a flood gate and deployed more than 70 sandbags yet the fire service had to come and rescue my wife and me in an inflatable as there was a concern we could be swept away if we stepped outside. I lost seven days' trading and I am absolutely fed up with the situation," he said.
"We had promises back in the late-1970s that the flooding would be fixed and here we are nearly 50 years on and this part of the town is in as much danger as ever. The council has proposed a flood defence fund but the concern of many people locally is that it will just push flood water elsewhere, will have a seriously negative visual impact.
"I am in favour of proper dredging of the river and planting more trees upstream."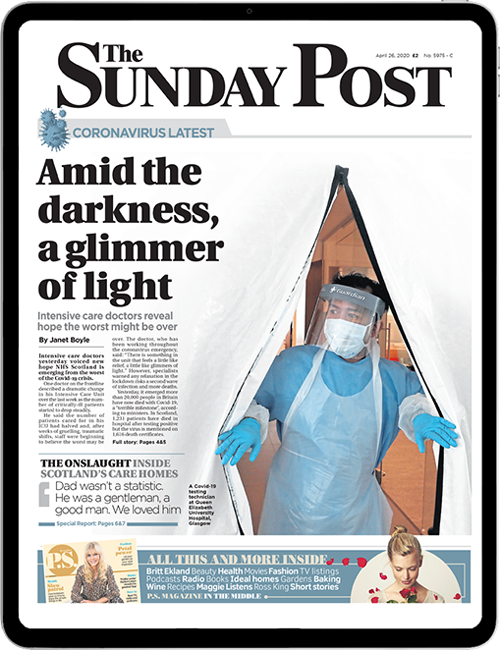 Enjoy the convenience of having The Sunday Post delivered as a digital ePaper straight to your smartphone, tablet or computer.
Subscribe for only £5.49 a month and enjoy all the benefits of the printed paper as a digital replica.
Subscribe