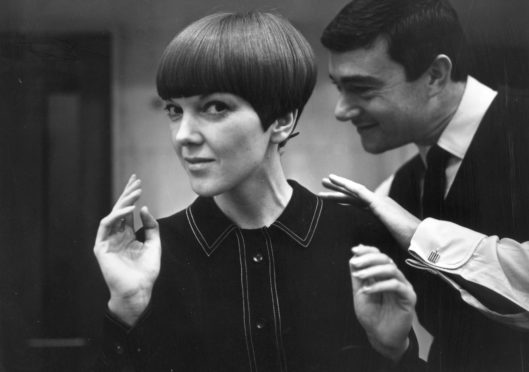 With her bright, playful designs, unstructured cuts and short hemlines, fashion designer Mary Quant was one of the key figures who helped spark and shape the radical, free-spirited revolution we now associate with the 1960s.
Bursting on to the scene alongside the likes of photographer David Bailey, hairdresser Vidal Sassoon and fellow designer John Stephen, Quant inspired young women to rebel against the traditional clothing worn by their mothers and grandmothers, dressing instead in youthful designs that captured the growing social change.
And now, a new generation of fashion lovers will get the opportunity to explore her ongoing legacy, as the V&A Dundee holds its first major fashion exhibition, Mary Quant.
First shown at their sister museum, V&A South Kensington, the retrospective opens on April 4 and runs until September 6, and will feature some of Quant's most iconic designs, including her pioneering Wet Collection PVC rainwear, jersey pinafore dresses and micro-miniskirts.
Stephanie Wood, co-curator of Mary Quant at the V&A, said: "The timing couldn't be more perfect to celebrate the trailblazing career of a woman who was, and still remains, a role model for women."
Here, we speak to three fashion experts to discuss Mary Quant's legacy and why, as the V&A display is launched, it's so important to inspire the next generation of Scottish designers.
Pam Hogg, fashion designer
Pam, who launched her first collection in 1981, has created clothes for the likes of rockers Siouxsie Sioux and Debbie Harry of Blondie. She says seeing Mary Quant's miniskirts influenced her to start designing different items.
She said: "Mary Quant was the biggest revelation when she arrived with her wedge haircut and miniskirt – the shortest skirts we'd ever seen.
"It caused so much trouble at school when we all started hiking up our skirts. For me it was the singular most important piece of clothing. Up until then all we ever wanted to wear were clothes that guys in bands wore. It was the first time I really wanted to make a dress."
Wendy Rigg, P.S. fashion editor
"There is no doubt that British high street fashion would not be what it is today without the influence of Mary Quant," said Wendy, P.S. magazine's resident fashion expert.
"She created a global brand with her instantly recognisable daisy motif, and it even reached the tiny village of Dairsie, near St Andrews in Fife, where I grew up.
"Quant's youthful designs were synonymous with swinging London – miniskirts, hot pants, Twiggy and Carnaby Street – and we all wanted a bit of that action. I can vividly picture an outfit I wore – denim hot pants, a striped cloche hat my friend crocheted for me, a lime green bell-sleeved Tweetie Pie T-shirt, Gola trainers, and over-the-knee cream, pink and lilac striped socks from Mary Quant.
"When I went to the exhibition at the V&A in London last year, I was transported back in time to the hot summer of 1973 and me, lying on the grass in our garden, with a transistor radio glued to my ear, listening to Bowie's Life On Mars wearing those MQ socks. The clothing range was not readily available in Fife, and would have been out of a teenager's budget anyway, but the make-up was affordable.
"No self-respecting teenage girl was without her Quant nail polishes in the signature round bottle. I had a bewitching shade called Evil Emerald from the Naughty Nails collection, which was brought out in 1973."
Holly Fulton, fashion designer
Born in Scotland, Holly studied in Edinburgh before attending the Royal College of Art in London, and later establishing her eponymous label in 2009. Looking back at the early collections, Holly admitted Quant was a powerful figure who paved the way for modern female designers. She said: "Her role as a female entrepreneur in the fashion industry really captured my imagination when I was starting out with my studies.
"I always felt a bit of an affinity with Quant in terms of design because I like quite simplistic silhouettes, and she really spearheaded that at the time she was designing. She always maintained that distinctive graphic line all the way through her career.
"I was also interested in her as someone who branched out quite early on into other fields, with cosmetics, lingerie and hosiery. That was quite a progressive move for a female designer to make.
"What's more, her daisy logo is also a perfect example of really early branding – you still know exactly who designed it, even many years later. Quant created an incredibly dynamic legacy."
Claire Adholla, Duncan of Jordanstone College of Art & Design lecturer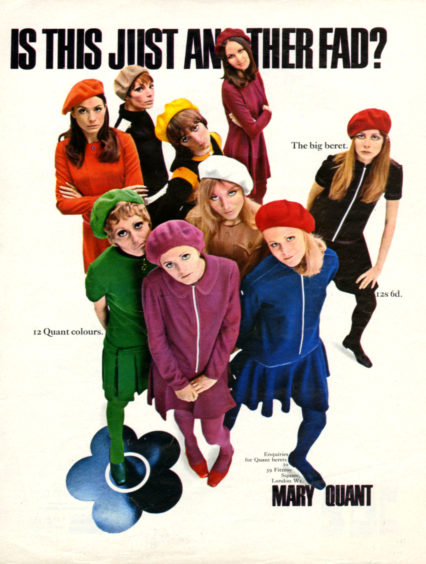 She inspired a cultural shift in the 1960s, and now the V&A exhibition could help Mary Quant reach a new generation of Scottish designers, according to Claire.
She explained: "The most interesting thing about Mary Quant is the influence she had on 1960s culture – so much more than creating a new print or pattern. Although her work was aesthetically exciting and even challenging from a design perspective, her legacy is more about the attitude shift that happened when designers like her came along.
"She changed the way people thought about clothes, and brought fashion into a place that was much more fun and expressive, allowing people to say something about the times they were living in.
"It's fantastic the exhibition is coming to the V&A in Dundee. It's amazing for our students at the Art College and the public. Many of my students haven't been to London, so for them to be able to see it on their doorstep will hopefully inspire them to think designing is something they can do, too.
"Ten years ago, when I graduated, I felt I had to go to London to succeed. Now, there's more happening here, and people are thinking about how they can contribute to a Scottish fashion scene."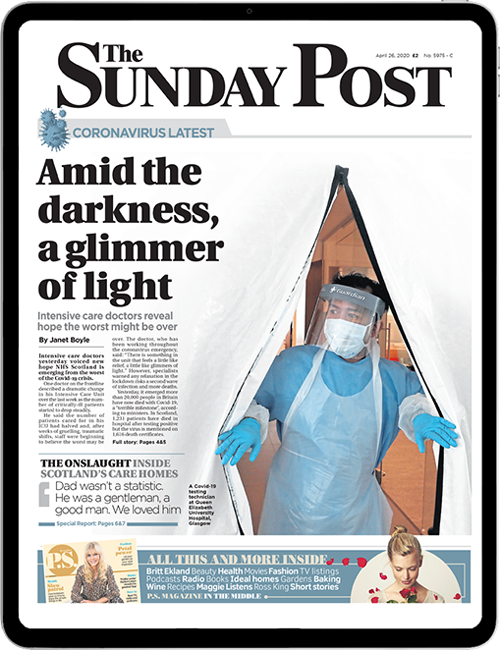 Enjoy the convenience of having The Sunday Post delivered as a digital ePaper straight to your smartphone, tablet or computer.
Subscribe for only £5.49 a month and enjoy all the benefits of the printed paper as a digital replica.
Subscribe