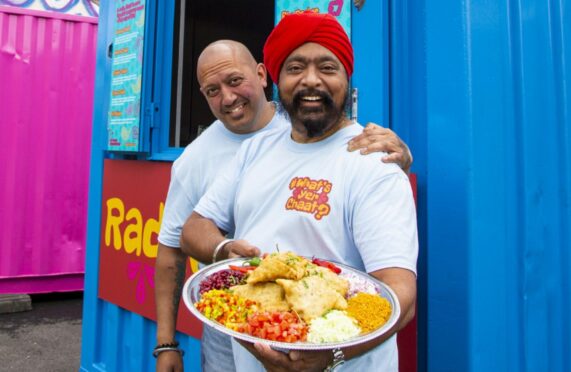 The challenges of the pandemic have forced many in the hospitality industry to think outside the box during lockdowns and rule changes – but TV chef Tony Singh thought, quite literally, inside the box to help keep his business afloat.
Unable to continue hosting bespoke "supper clubs" at his Edinburgh home, and inspired by the growing Scottish street-food community, Singh set up shop in a converted shipping container, where he now serves up Indian savoury snacks to hungry customers.
Singh's "Radge Chaat" eatery focuses on just one dish done well – the traditional street-food delicacy chaat. Often sold in a variety of combinations from roadside stalls and carts, the dish's name roughly translates into "licking one's fingers when eating", which is highly appropriate given the number of tasty ingredients packed into every bite.
Flavour sensation
The base of any good chaat is samosa or pakora, which are then topped with coriander, chutney and cooling fresh yoghurt. Crunchy ingredients such as fried diced potato and spiced chickpeas are added, before the whole dish is finished with fresh chopped vegetables, and a sprinkling of chaat masala, a ubiquitous Indian spice blended with black salt.
It's a flavour sensation, Singh says, that makes the tastebuds come alive.
"With chaat, there's always so many different flavours going on at once," explained Singh, whose new foodie venture can be found at Tollcross in Edinburgh. "You take a bite and with all the different sauces and toppings it's incredible – but still so simple.
"Chaat is always different depending on what region and city it's served in, so the ingredients are always very local and seasonal. We try to use Scottish ingredients as much as possible – potatoes, rapeseed oil, everything – and the menu will change to make our dishes seasonal, too.
"And my personal favourite? Both samosa and pakora with absolutely everything piled on top. On the menu it's called a Mad Radge!"
A family affair
Singh's new street-food offering is something of a family affair, as he'll be working alongside his brother, Lucky. Meanwhile his son, Balraj, has his own brightly coloured container just a few steps away, where Japanese street food is on the menu.
So, will there be any bust-ups with two brothers working in such closer quarters? Singh says spending more time with his brother is the icing on the cake – or topping on the chaat. "When you're a chef, you are always working in a small room with no windows – and it's always hot! My little brother is great to work with…and he does what he's told," he added with a laugh.
In the past few years, street food has become more and more popular in Scotland, and high-quality vendors serve up dishes from small, makeshift kitchens in the back of converted containers, like Singh's, as well as trailers, 1970s campervans, and old horse boxes. It's a welcome trend that Singh says has helped people try new dishes.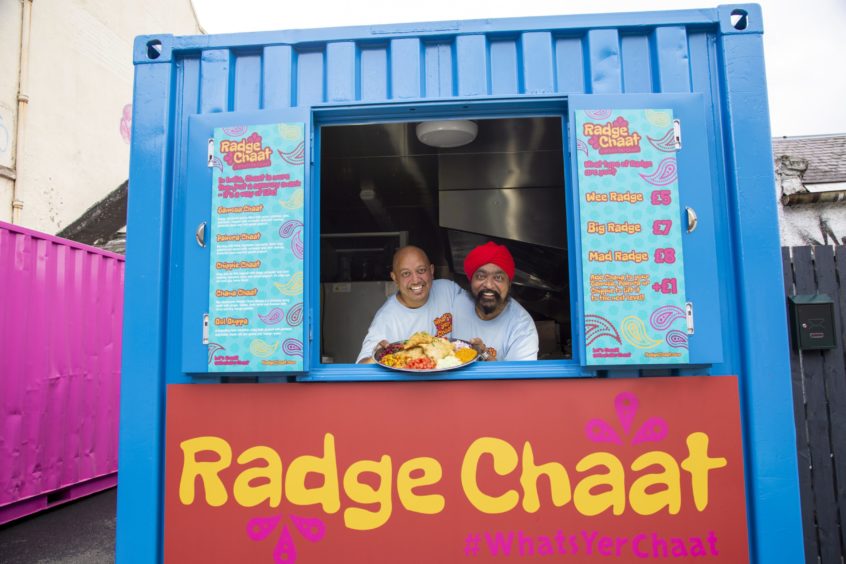 "During the pandemic, I could see eating habits were changing," said Singh, known for his BBC cooking shows, A Cook Abroad: Tony Singh's India and The Incredible Spice Men, which he hosted with Cyrus Todiwala.
"Not only were people buying more takeaways to eat at home, but they also started meeting friends to eat outside more. Being able to adapt with these changes has been essential, hence Radge Chaat.
"Plus, offering street food is much more flexible and very relaxed. It also lets people try new things. You might not necessarily go to, say, a Vietnamese restaurant for a full meal, but you might try a dish if you're visiting a market with friends.
"The essence of street food is enjoying the dish there and then, with sauce running down your hands."
---
Samosas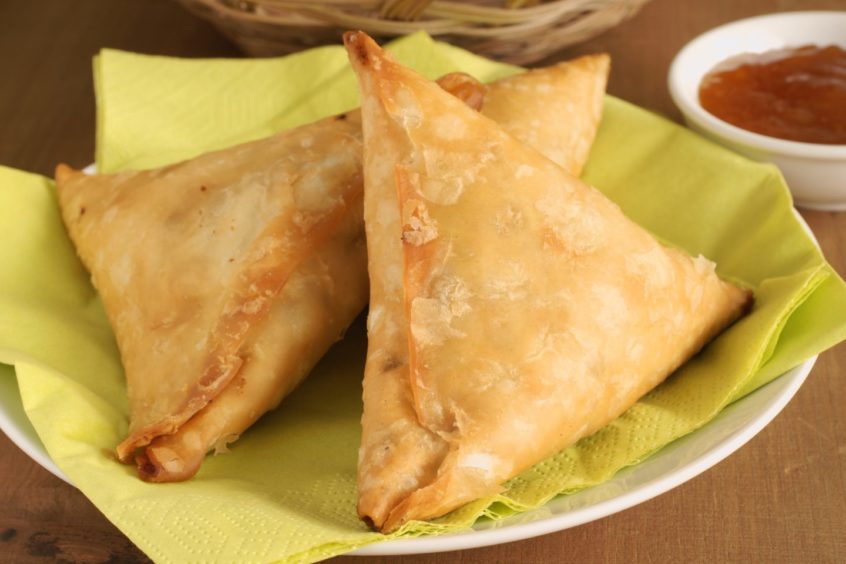 You'll need
For the filling
500g floury potatoes such as Maris Piper, peeled and crushed
200g frozen petit pois
1 medium red onion, peeled and finely chopped
2 cloves of garlic, peeled and crushed
3-inch piece of ginger, peeled and finely chopped
3 fresh green finger chilli, finely chopped with seeds
3 tspn cumin seeds
3 tspn garam masala
1 chilli powder
1 lime
30g fresh coriander, washed and dried
For the dough
550 g plain flour, plus extra for dusting
½ tspn baking powder
2 tspn ajwain seeds
Cold pressed rapeseed oil
Method
Start by washing the potatoes with skins on thoroughly, and place in a large pan of cold water with 3 tspn salt, ½ tspn turmeric powder, ½ tspn chilli powder, and 1 tsp of garam masala.
Bring to boil and simmer until cooked, drain and leave to cool. Once cool peel, off the skins and crush.
Make the dough. Combine the flour, baking powder, a good pinch of salt and ajwain seeds in a large bowl. Use your fingers to rub in 120ml of oil until the mixture resembles breadcrumbs. Stir in 150ml of cold water, then bring it together with your hands into a rough dough, adding a splash more water, if needed. Rest in a floured bowl.
Stir the onion, peas, spices and coriander into the crushed potato. Don't overwork it – you want a fairly chunky mixture. Squeeze in the lime juice and chopped coriander then season to taste
Preheat the oven to 180C/350F/gas 4. Lightly grease a large baking tray with oil.
On a flour-dusted surface, halve the dough and roll out each portion to about a £1 coin thick. Using a 12 to 16cm pastry cutter (or bowl or plate) make as many circles as you can, cut each round in half, then brush the straight edges with a little water. Roll into a cone shape, bringing the straight edges together and pressing to seal.
Spoon in the filling, brush the exposed dough with a little water, then fold over and press with fork to seal.
Place on to the prepared baking tray, then repeat with the remaining ingredients, keeping the samosas covered with a damp tea towel as you go.
Brush the samosas with a little oil and bake for 35 minutes, or until golden and piping hot through.
Radge Chaat is open Thurs to Sat, noon to 10pm, at 5 West Tollcross, Edinburgh. Visit tonysingh.co.uk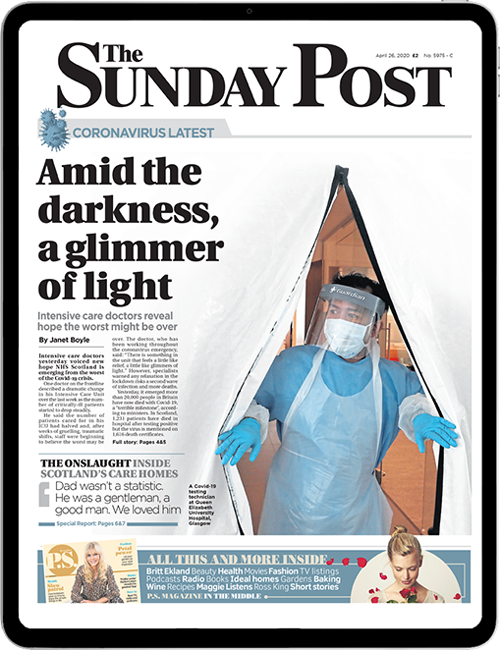 Enjoy the convenience of having The Sunday Post delivered as a digital ePaper straight to your smartphone, tablet or computer.
Subscribe for only £5.49 a month and enjoy all the benefits of the printed paper as a digital replica.
Subscribe