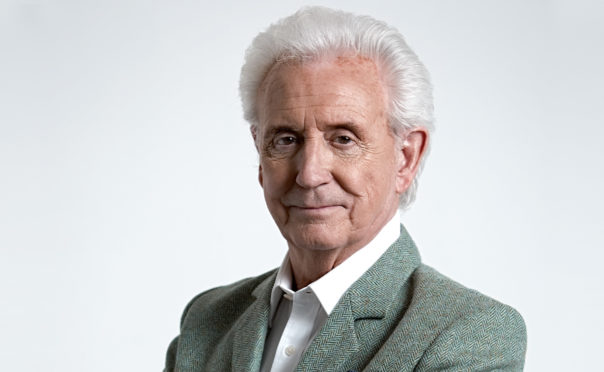 If things had gone slightly differently in his early days, Tony Christie might have become a rocker.
Thankfully, it didn't happen, and the man who idolises Frank Sinatra got to do the kind of music he, and we, love.
Tony has just published his autobiography, in which he reveals a lifelong love of Ol' Blue Eyes, but he also explains how one of his early recording sessions featured two rock legends.
In a Weekly News exclusive, the legendary singer talked to us about his incredible life and career, and we can be grateful that he has no plans to retire any time soon.
"In 1966 I was in a group – drums, bass and guitar – and we didn't even have a manager," Tony recalls, having got a call from Shel Talmy. "He did my first record, but I had never heard of him before!
"We went down to record, and I asked him, 'You're a producer? Who do you produce?' and he said, 'Oh, The Kinks and The Who.'
"So we went into the studio and ran through a song. It wasn't the full, fat sound he was looking for, so he sent us for a coffee while he found some session musicians.
"When we came back, I asked who was the guy on the keyboard, and it was Billy Preston, who they called the fifth Beatle! Then I asked who the young lad was on guitar and Shel Talmy said he was young but a great guitarist, called Jimmy Page!
"I'm more of a crooner, basically, and I didn't really want to be a rocker. I'm a ballad singer but did a bit of uptempo pop, too."
The resulting single, released just as England were making their way to the historic World Cup final at Wembley, wasn't a hit.
Tony and his buddies went back to the touring circuit, and when he met and married Sue and they were expecting their first child, he was still to taste the success he would later.
Did he ever think he might have to turn his back on a music career if he was to make the money needed to raise a family, buy a house and so on?
"Obviously that record never made anything, but I kept trying," he says.
"The next one I did a couple of years later was Turn Around, written by Les Read, whose funeral I went to a few months ago.
"He'd had hits with Tom Jones' Delilah, It's Not Unusual, but nothing really happened for me until 1971.
"By that time, my manager had got me away from groups, telling me I was a singer, not a group member.
"That year I'd had my first two hits with Las Vegas and I Did What I Did For Maria, and my manager went over to New York to meet Neil Sedaka in his apartment, and he played him some songs.
"He asked Neil, 'Have you got any songs that would suit that voice?' and Neil played him four or five songs, eventually playing Amarillo.
"Harvey, my manager, said, 'That's the best song you've played me so far! Why didn't you play me it first? That's a hit!'
"Neil told him, 'Well, it's not finished yet, with that bit where I just sing Sha-la-la la-la. We don't have lyrics for that bit yet.'
"My manager said, 'That IS the lyric, believe me!' In the end, I was sent two songs Neil had played, Amarillo and Solitaire, which I preferred, to be honest with you!
"But my record label wouldn't release it, after Amarillo. They said, 'No, you're a pop singer now!' Actually, I don't mind fast or slow, because my big hero was Sinatra and all the swinging stuff.
"I think I have everything that Sinatra ever recorded. I've got stuff that he recorded in some place in Australia, that's not actually even on a record. Somebody taped it."
It was a star better known here than the United States, however, who also eased Tony's path to stardom. Des O'Connor got him on the small screen, much to Tony and wife Sue's amazement.
"For me, that was the first big thing, really," admits 76-year-old Tony. "I was with my group, doing a nightclub in Birmingham, and Des was in a pantomime across the road.
"After his show was over, he came across to the nightclub and saw me. He was the biggest star in the UK at the time with the biggest audience, and he said he wanted me to be on his show, Des O'Connor On Stage, at the Palladium.
"Des asked me to give him my number and said he would call. After that, I forgot about it – I said to my wife, 'Des O'Connor's been to see me tonight and taken my number because he wants me on his TV show.'
"She said, 'Yeah, I'll believe that when you get the phone call!' About two weeks later, he rang and asked me to come on and it was great to sing at the Palladium for the first time, doing a song on my own and then one with Des.
"It was big for me, but it still took time until I had that first hit with Las Vegas in 1971, which had been written for me and it made the Top 20."
His follow-up, I Did What I Did For Maria, would have made No 1 if it hadn't been for the quirky Chirpy Chirpy Cheep Cheep by Middle Of The Road.
Did it irritate him, to just miss out to a song with such a title? Typically, the modest Christie laughs it off.
"Chirpy Chirpy Cheep Cheep!" he laughs at just the name of it. "Yes, it kept my single off the top of the charts, but things began to build from there.
"After Las Vegas was a hit, my career changed. After that, I had big hits across the continent, and I had lots of hits in Australia and New Zealand. It was then I started working abroad most of the time."
The strangest concert he's ever encountered occurred during Soviet times, in Bulgaria, in the days when such countries seemed to just make up their own rules about recording, copyright and all that sort of stuff.
"I did a thing in Bulgaria years ago," he recalls, "and I was top of the bill. At that time it was a real Communist country and I did it with an orchestra and my band.
"They said it was just a concert being filmed for Bulgarian TV, but years later someone said to me, 'Oh, we've got that album of yours that you did at Golden Orpheus, Sunny Beach, Bulgaria!' I said, 'You what?'
"Yes, it was big in Bulgaria and Russia and all these Communist countries! I never got a penny! I didn't know about this until, what, 10 years ago?"
Tony didn't go to the bother of following it up and trying to get a few bob out of the Bulgarians who sneakily released his concert.
For a man who's enjoyed fame like he has, the Yorkshireman just seems far too laid-back and content with his lot to get terribly bothered about such things.
As his new autobiography shows, it's all about having a loving family around him and while it might be easy for singing stars to get big headed, Tony has managed to avoid that.
"I never let it interfere with my family at all. I'm a different person when I go on stage," he says simply.
"When I'm working, I open the case, put my faces on, do my show, take it off again and then I'm back to being me."
So does a guy who has seen and done it all have any advice for kids trying to break through now?
"I don't know," he admits, "because the whole business has completely changed, with all these talent shows. They can be millionaires with one big hit."
What they don't have, however, is fans who stay with them forever, something that Christie finds very important.
"They are very good to me," he says of his superfans, who go to great lengths to let him know what they think, one even buying him a tie that had belonged to his great hero Sinatra.
"And they have been there for me for more than 50 years. They probably know more about my career than I do! In fact, we had to ask them about some things for the book, and we have pictures from them in there, too."
---
The Song Interpreter, by Tony Christie, is published by Great Northern Books, price £17.99. For tour dates and more, visit http://www.tonychristie.com/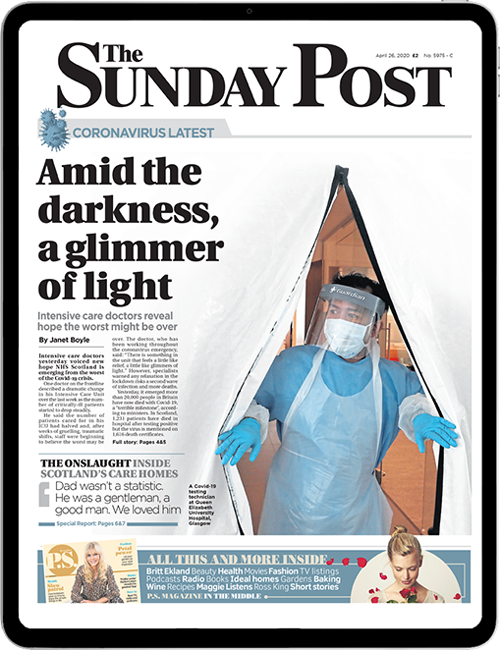 Enjoy the convenience of having The Sunday Post delivered as a digital ePaper straight to your smartphone, tablet or computer.
Subscribe for only £5.49 a month and enjoy all the benefits of the printed paper as a digital replica.
Subscribe