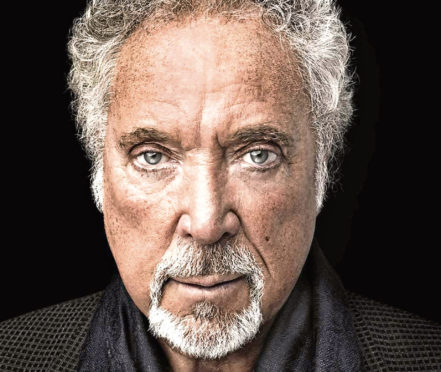 It was the hardest conversation he ever had. And, for Sir Tom Jones, as he sat by the side of his dying wife, Linda, the most inspiring.
In 2016, he had cancelled all his engagements to be at her bedside as she fought cancer but, even though Linda knew the end was near, she refused to listen as her husband of 59 years told her he didn't know if he could carry on.
Jones, 80, remembers: "I told her I didn't think I'd be able to sing again. I didn't know if I could get the songs out. They were sticking in my throat.
"I said: 'Linda, you know that this cancer is incurable, right?' She replied: 'Yes, I know.'
"I said: 'Look, I really don't know what I'm going to do. I don't see a life after this'. Linda knew she was dying, but she was the calmest person in the room.
"My son, Mark, and myself were like basket cases because we knew it was near the end but Linda said: 'You've got to do it. You can't fall with me. I have to leave but you don't have to'.
"She told me and Mark: 'You have got to carry on. You can still sing. You must promise me that you will'."
Linda died on April 10, 2016, at Cedars-Sinai Hospital in Los Angeles after fighting what doctors described as a "short but fierce" battle with cancer.
Before she became ill, it had been Linda's wish to return to the UK and, shortly after her death, Jones sold their £6.5 million mansion and moved back to London.
The couple were school sweethearts who married in 1957 – both aged 16 – when she was pregnant with son, Mark. Now, Tom has paid a heartfelt tribute to his wife on his new album, Surrounded By Time.
It features the song, I Won't Crumble With You If You Fall, written by acclaimed US social activist and Sweet Honey In The Rock founder Bernice Johnson Reagon. Her lyrics assumed a new significance for Tom as he and his wife came to terms with her illness.
He said: "When I first heard the song, I thought,' My God, this is unbelievable'.
"It says, 'I'll do everything for you when I wake up in the morning if you call for as long as I can. But I won't crumble with you, if you fall'.
"Linda didn't actually use the word 'crumble', but she may as well have. Instead, she said: 'Don't fall with me. That's what you've got to do. You've got to go forward and keep doing it."
Jones also revealed that after Linda passed away, he sought professional help to carry out her dying wish. He said: "I went to see a therapist and said: 'I don't think I'll be able to sing again'. She asked me what did I think was the most difficult song for me to do?
"It told her it was a Bob Dylan song called What Good Am I? – recorded on my album, Praise And Blame in 2010.
"It's about a man standing by and letting things happen that maybe he could change. I suddenly thought, 'Did I let this happen? Could I have changed anything?
"She said: 'Well, that's the first one you've got to try'. So I got some of my musicians together and said: 'I've got to sing this song'.
"And, I got through it. I told them: 'I think I'm ready now'."
Just four weeks after Linda died, Tom was back on tour again playing two outdoor gigs at Hampton Court Palace in Richmond upon Thames. Restrictions permitting, he's also scheduled to appear at Princes Street Gardens in Edinburgh in August. But he admitted it was tough to pick up his career.
"We opened with two nights at Hampton Court and the audience knew I was under pressure," he said. "But they were all with me. Linda was with me all the way through it, too. I could see her laughing. She loved jokes. Every time I would come home from the road she would say: 'Have you got any new jokes?'
"I could just see her laughing when I told her one. So, when I think of my wife, I think of her laughing.
"She got me through that first show. As she does with every show I do now. It's made me stronger, as opposed to falling."
Surrounded By Time is the 42nd album of Tom's incredible 50-year plus career, in which he's chalked up 36 Top 40 hits and sold 100 million records.
The singer – who has won Grammy, Ivor Novello and Brit awards – also has his own star on the famous Hollywood Walk Of Fame. In 2005, he was knighted by The Queen for his services to music.
The album features his interpretations of songs by stars such as Bob Dylan, Cat Stevens and Tony Joe White. It's also notable for the man known as "The Voice" – who is a judge on the ITV talent show of the same name – talking instead of actually singing on two tracks.
One song, Talking Reality Television Blues, deals with our obsession with living life through the small screen. Tom was inspired by his hero, country legend Hank Williams.
As a teenager, he bought the album Beyond The Sunset by Williams' alter ego, Luke The Drifter, from Freddie Fay's music shop in Pontypridd.
On the record, the US singer speaks the lyrics. Jones said: "I remember television when it first came on. When I was 12 years old, my mother and father bought a TV set for me because I had tuberculosis and was bedridden for two years.
"So I had a TV right from the very beginning. There wasn't a lot on in Britain in those days. But I saw the Queen's Coronation. I also saw the Moon landing live in 1969 and Michael Jackson doing his famous moonwalk, which are in the lyrics too.
"Surrounded By Time is one of the best albums I've ever made. Over the years, thank God, I've had the good fortune to sing some really interesting stuff. I've gone through a lot of different genres of music.
"I'm still doing it and enjoying it as much – maybe even more now – than in years gone by."
Several years ago, while recovering from illness, a doctor told him that – as he was getting on a bit – it was perhaps time to slow down a little. Those words were like a red rag to a bull.
But on June 7, the singer will celebrate his 81st birthday, and he's come to terms with the fact he's now in the twilight of his life. The track, I'm Growing Old, sees Jones address his advancing years for the very first time.
It was presented to him by jazz singer Bobby Cole after one of his shows in Las Vegas in 1972. But Jones didn't think he had enough life experience to do record the song, so he's been sitting on it for almost 50 years.
He said: "I told Bobby I really loved his song, but I was only 33 and I just didn't feel like I was old enough to do it justice at that point.
"Sometimes you just have to be patient."
Billy Sloan Meets Sir Tom Jones, BBC Radio Scotland, Saturday,10pm
---
Sir Tom Jones remembers his inspirational wife:
I will wake in the morning if you call
And I'll stand beside you long as I can
I'll hold back the evening of your sun
But I won't crumble if you fall
I will shadow the evening of your day
And I will drink from the sweat of your brow
I will walk to the tune of your song
But I won't crumble with you if you fall
---
Elvis wanted The Beatles to be our backing band. He was totally serious
Tom Jones couldn't believe his ears when Elvis Presley pitched him a crazy idea – teaming up to form a supergroup with The Beatles as their backing band.
The pair were close friends and used to hang out together in Las Vegas where they both had money-spinning hotel residencies, Tom at Caesars Palace, Elvis at The Hilton International.
But Elvis' madcap scheme to recruit John, Paul, George and Ringo as their backing band had Tom scratching his head in disbelief. He said: "I'll tell you a story that I don't think I've ever said before. And this is the truth. Elvis said to me, 'I see The Beatles have broken up'.
"I replied, 'Well, yeah. Lennon and McCartney are not gonna do any more live shows'.
"He said, and this is a fact, 'What a shame, because wouldn't it be great if we could use The Beatles as a backing band? We could go on stage, and you could sing some of your songs and I could sing some of mine and we could have The Beatles play them'.
"On my life! I said, 'Well it sounds a great idea, but it's not going to happen'.
"But that was the idea Elvis had. And he'd have done it. Really, because he loved
The Beatles."
Tom first met Elvis in 1965 when he visited the set of his movie Paradise, Hawaiian Style on a backlot at Paramount Studios in Hollywood.
He'd just release a new single, With These Hands, and he was stunned when Elvis walked towards him singing it.
They soon became close, but the hard-living Welshman admits even he, at times, found it difficult to keep pace with the King, who died in 1977, aged 42.
"Elvis was a very musical person and every chance he could get to sing, he would," revealed Tom.
"If he finished before me, he'd head over to watch my show. It would be an all-night session."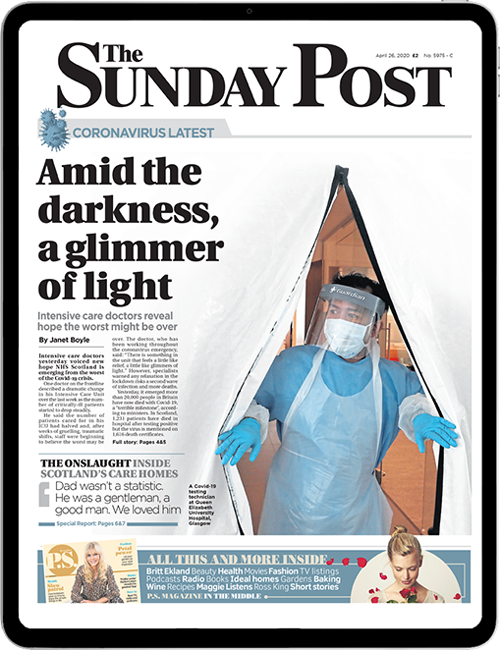 Enjoy the convenience of having The Sunday Post delivered as a digital ePaper straight to your smartphone, tablet or computer.
Subscribe for only £5.49 a month and enjoy all the benefits of the printed paper as a digital replica.
Subscribe