TODAY marks the 25th anniversary of a special day in Glasgow, where Nelson Mandela appeared in front of thousands in George Square.
The South African revolutionary was in the country to receive the freedom of the city, having spent 27 years in prison as he fought apartheid rule.
In the pouring rain, he captivated the gathered crowds as he spoke on stage, saying: "While we were physically denied our freedom in the country of our birth, a city 6,000 miles away, and as renowned as Glasgow, refused to accept the legitimacy of the apartheid system, and declared us to be free."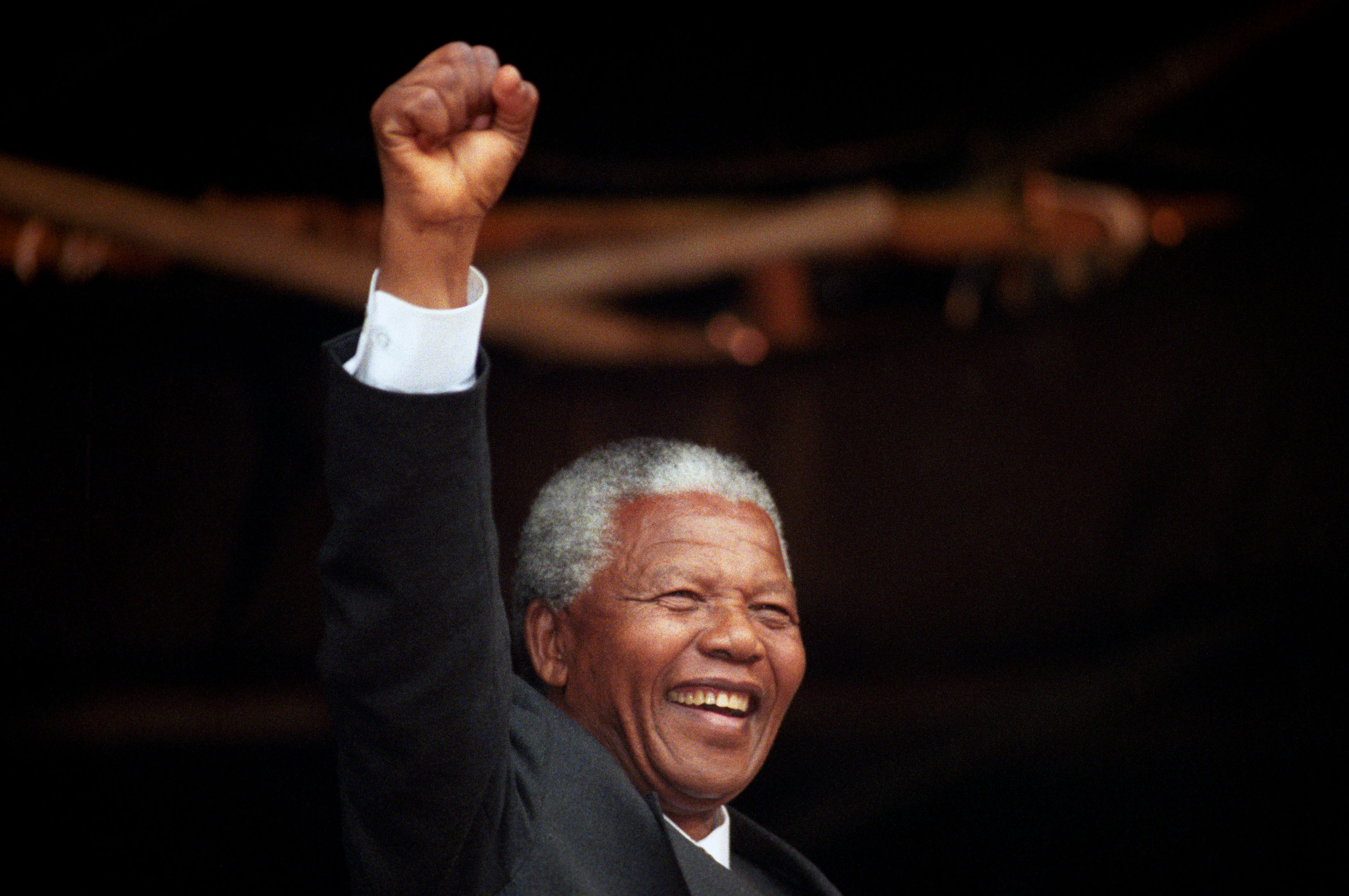 Looking back on the visit, John Nelson, former secretary of Glasgow's Anti-Apartheid Group and now member of The Nelson Mandela Scottish Memorial Foundation (NMSMF) said: "It was quite a spectacular day altogether. I was at the presentation at the City Chambers in the morning and it was an amazing day, even though it poured with rain.
"People in George Square were asked to put their umbrellas down so people behind them could see.
"Mandela made this huge impression, like he always does, and Marah Louw sang on stage and got him dancing."
Marah returned to Scotland earlier this year to perform at an NMSMF fundraising dinner to celebrate the 25th anniversary of Mandela's visit, as well as raising money for a permanent memorial statue to the great man in Glasgow city centre.
"It's something that I'll live with for the rest of my life," she told The Sunday Post in August.
"It's a memory that will never ever be erased. I had performed before coming to Glasgow at Wembley when Madiba came out.
"I thought that's it, I'm going to see Mandela and he's going to be so big no-one will be able to come near him, so the memory of that day in George Square is unforgettable."
One of the most memorable images from the day is of Mandela dancing alongside Marah as she performed.
"He was thoroughly enjoying himself," she said. "It was actually unexpected, first I had to sing and then he had to speak.
"Then I had to sing for him to leave the stage… but he didn't leave the stage, he decided to join me!
"That for me was the greatest honour from a great man."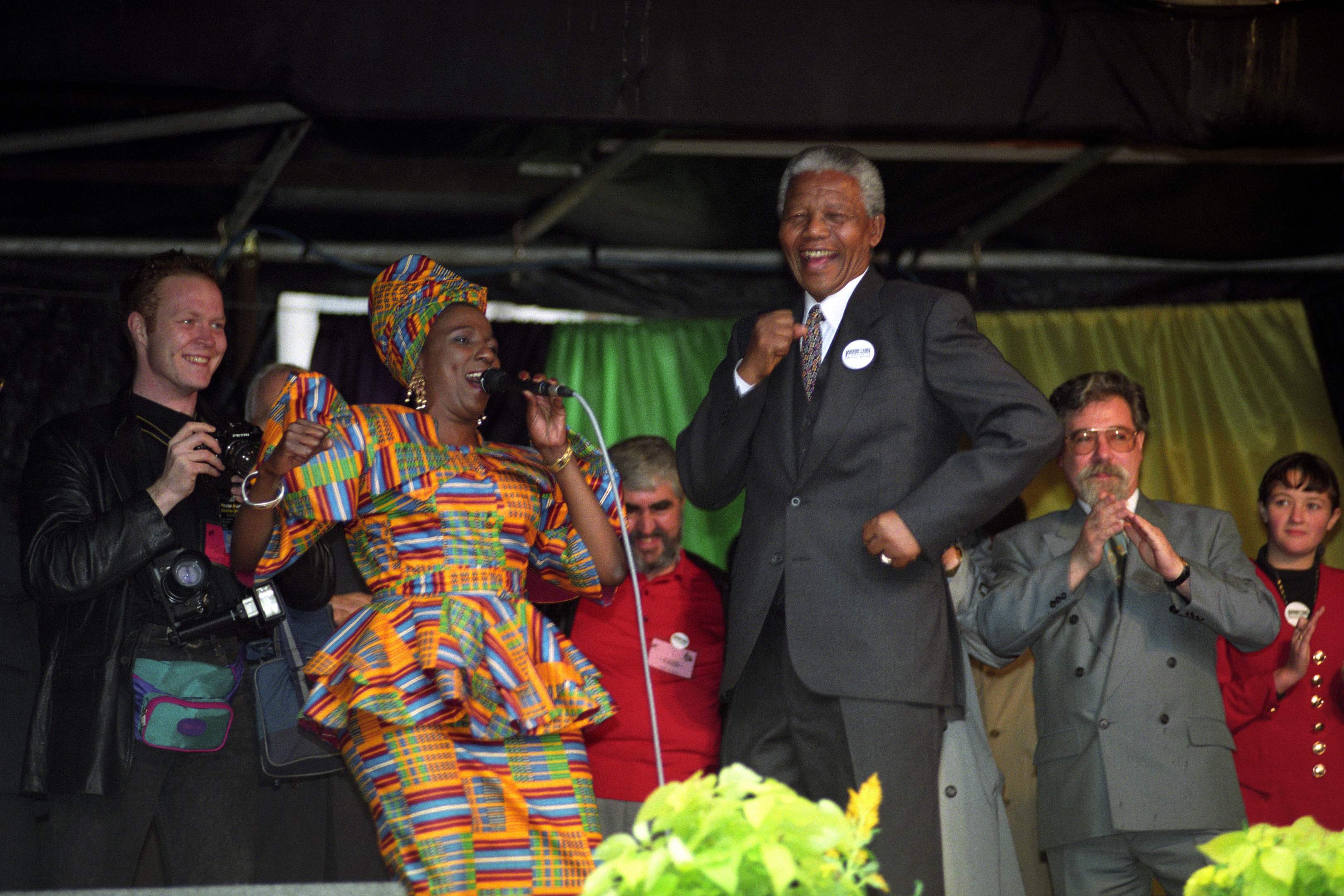 Mandela spent a few days in Glasgow, and was given a hero's welcome when he first arrived at the city's Hilton Hotel.
Each of the several UK cities that had honoured Mandela with their freedom sent delegates to meet him in Glasgow and bestow the honour in person.
Aberdeen's delegates had been reluctant to attend given how brief their meeting with Mandela would be – but they wouldn't regret making the journey.
NMSMF chair Brian Filling, who organised the visit and is the Honorary Counsel to South Africa for Scotland, explains: "He came into the first room, three cities in each room, to meet the delegates.
"I had the unfortunate task of telling them that they'd each only get five minutes with him, each city.
"He came in and said to the first woman: 'thank you so much for coming in this dreadful weather from the Granite City!'
"He talked to everybody. We had worried about him spending an hour shaking hands, it wasn't the best use of his time. But he transformed the thing from being a chore to something that clearly he really enjoyed.
"The leader of Aberdeen council apologised for their resistance… but said that it was the most wonderful five minutes of their life.
"When you see it on video, it was only three-and-a-half. He was that powerful, in a short time, the presence and impact he had on individuals was phenomenal."
This morning, First Minister Nicola Sturgeon shared her memories of the day.
She tweeted: "I was privileged to hear Nelson Mandela speak in Glasgow exactly 25 years ago today.
"I still remember vividly the sense of awe I felt at his presence – and the sense of pride that this great city had led the global fight against apartheid."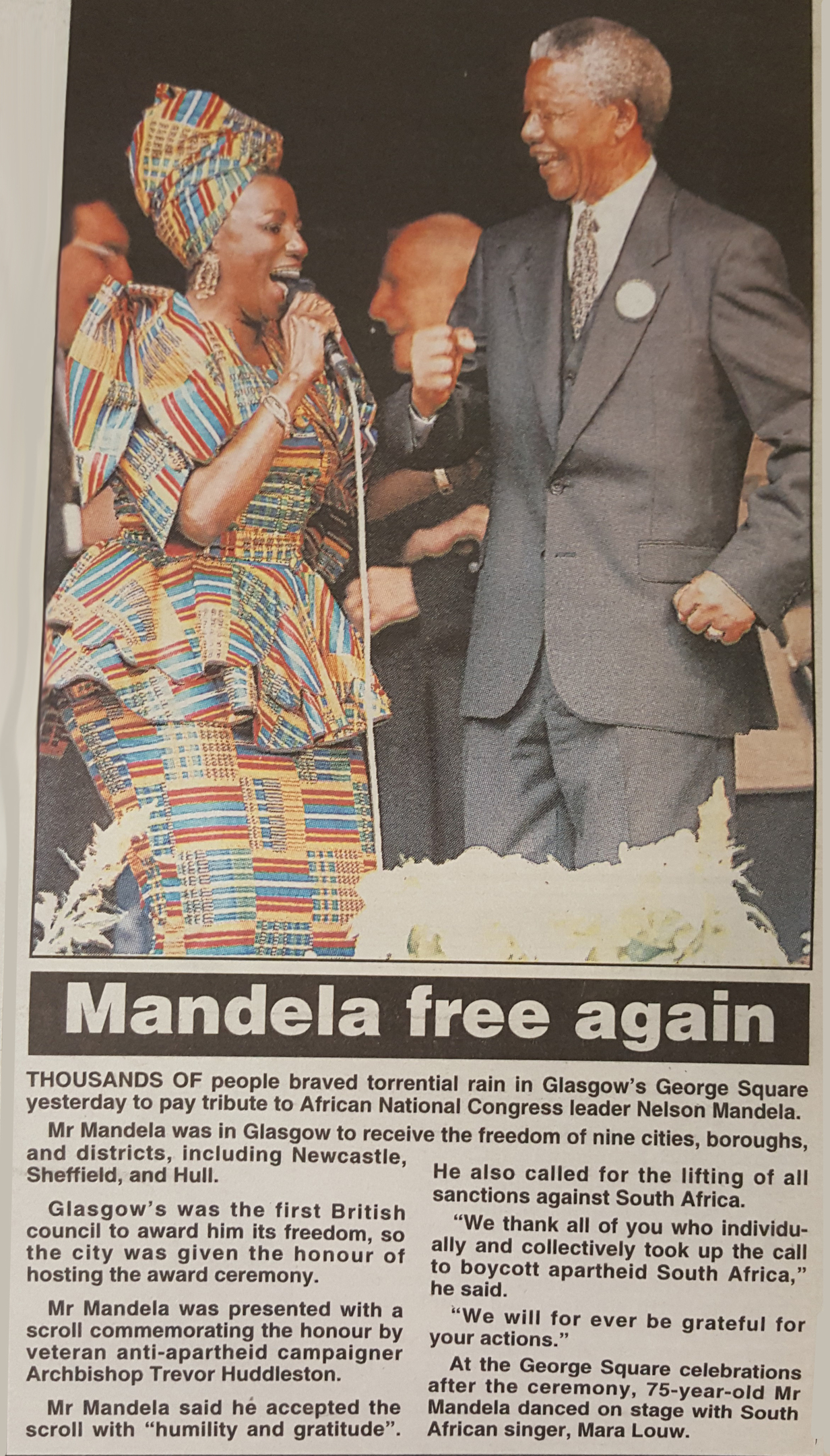 Glasgow's links with Mandela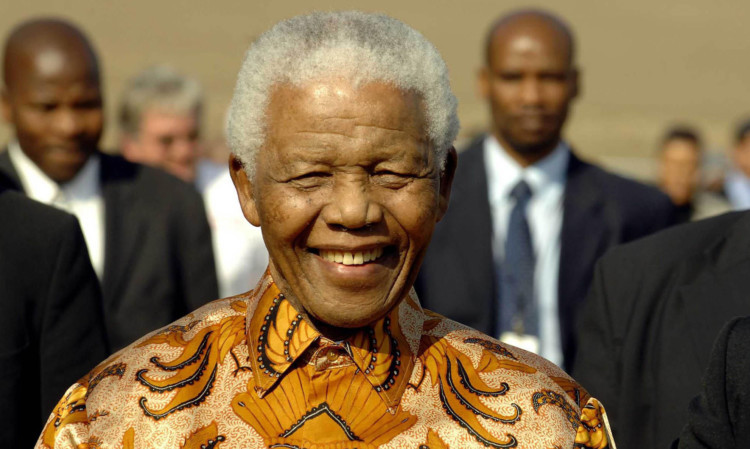 Glasgow's association with Mandela and the anti-apartheid struggle dates back to the 1960s.
An associate of Mandela, a white South African called Cecil Williams, had travelled to the city and befriended activists Phil and Cathy Filling.
They were instrumental in the anti-apartheid campaign in Scotland, with son Brian organising the 1993 visit.
Jailed in 1962, Mandela was finally freed from prison at the age of 71 on February 11 1990.
All throughout his incarceration, Scots had shown plenty of support for him.
Many rallied behind the anti-apartheid cause through boycotts, rallies and demonstrations.
A few Scots even became part of the underground movement to assist ANC activists in any way possible, from providing safe houses to acting as couriers for documents, and even arms.
In 1981, while he was still detained on Robben Island, Glasgow became the first major city to honour him with the freedom of the city.
It made waves across the world, and soon Aberdeen, Dundee and Midlothian also awarded Mandela with similar honours.
It was a time where many still condemned him as a terrorist, and there was a fierce debate over whether or not Glasgow authorities should have issued the accolade.
It was championed by Lord Provost Michael Kelly, who later issued a call for the release of Mandela.
This was backed by 2500 mayors from 56 different countries, as well as the United Nations.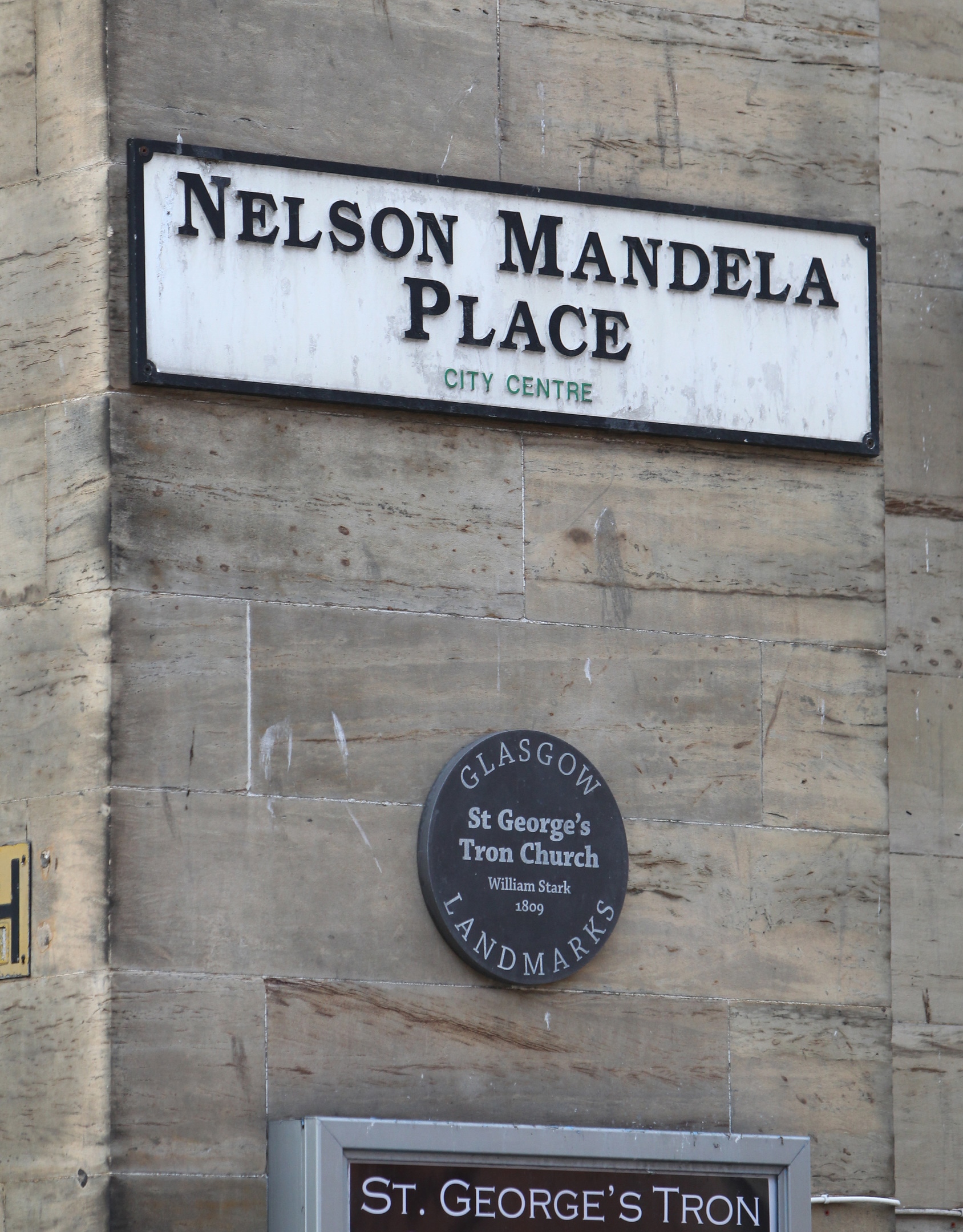 In 1986, the campaign went a step further with St George's Square in Glasgow renamed Nelson Mandela Place.
Not only was it a prominent area right in the city centre, but it was also where the South African consulate was based.
Again, this made headlines worldwide, with the consulate having to work out a way to avoid using Mandela's name in their address.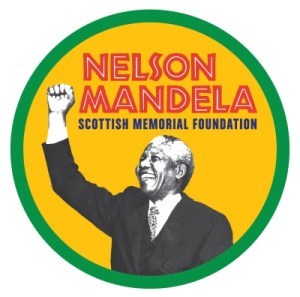 Nelson Mandela Place is where The NMSMF plan to erect a statue to honour his legacy.
Their recent fundraising dinner put them firmly on course to achieve their goal, which also includes increasing the knowledge and understanding of the life and legacy of Mandela and the role of Scotland and Glasgow in the worldwide campaign for his release.
The charity's patrons include Sir Alex Ferguson, Sir Billy Connolly and Sir Kenny Dalglish.
For more information on the NMSMF, visit their website https://mandelascottishmemorial.org/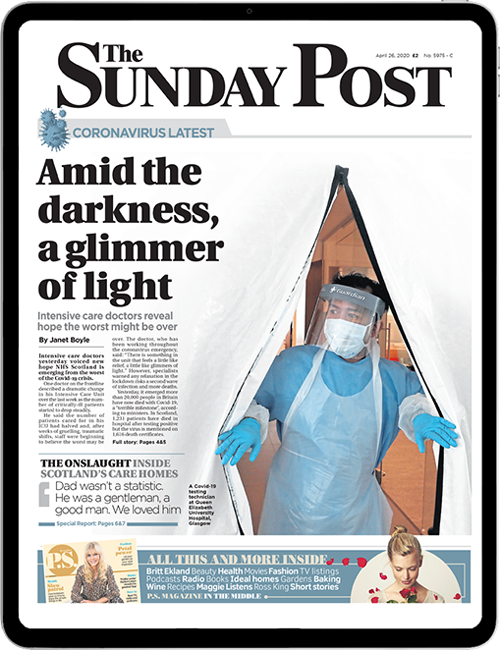 Enjoy the convenience of having The Sunday Post delivered as a digital ePaper straight to your smartphone, tablet or computer.
Subscribe for only £5.49 a month and enjoy all the benefits of the printed paper as a digital replica.
Subscribe