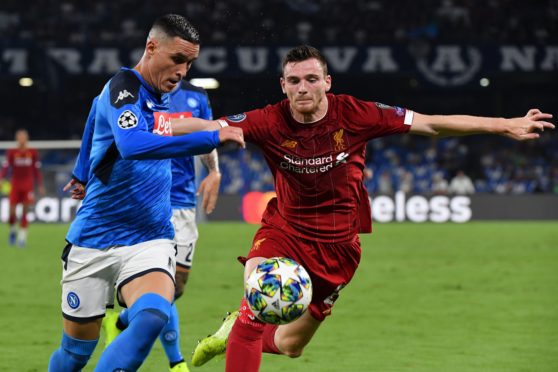 Footballers have always had to put up with abuse.
Lord knows I took my fair share during my playing career!
But at least back in my day, players knew that when the game was over, they'd be very unlikely to hear a peep from punters until they next took the field.
It was very rare that a fan would open his mouth in the street to say anything but "Hello".
Nowadays, footballers on social media have non-stop stick piped directly to them 24/7 through their phones.
So I'm not surprised Andy Robertson quit Twitter after Liverpool's Champions League loss to Napoli in midweek.
As soon as Robbo "gave away" the 82nd- minute penalty from which the Italian side took the lead – and I reckon the Napoli player was on his way down well before there was any contact – horrific, personal insults, started being hurled at him across cyberspace.
Most of the people knocking the Scotland star were, of course, anonymous cowards.
These people wouldn't say boo to a goose in real life, but stick them behind a keyboard and suddenly they're full of it.
I've experienced it myself with Twitter.
For me, it's water off a duck's back. I pay no attention.
But clearly Andy Robertson is different.
To be fair to the lad, he has always used social media to interact with fans.
So to be repaid with screeds of insults over a single incident must be irritating.
In fact, he's entitled to be raging.
The lad hasn't turned in a bad performance for Liverpool in months, for goodness sake.
If all it takes to turn fans against him is one error of judgment, that doesn't say much about the human race these days.
And Robbo wasn't the only Liverpool star to get it in the neck after the Napoli defeat, which was, let's not forget, their first in 12 games.
Virgil van Dijk was also targeted by the boo boys for his part in Napoli's second – a rare mistake from the big Dutchman.
It was one of those situations where a poorer centre-half would have hammered the ball up the field.
But van Dijk is full of confidence after an incredible campaign – one that has seen him installed as favourite to win this year's Ballon d'Or.
Instead of aiming for Row Z, van Dijk played an awkward pass backwards, right into the no-man's-land between Robertson and Liverpool keeper Adrian.
The pair hesitated, Napoli pounced, and all of a sudden, van Dijk, an absolute Rolls-Royce of a player, was suddenly useless in the eyes of social media idiots.
Honestly, what is wrong with these people?
In van Dijk and Robertson, Liverpool have two of the best defenders in world football.
In van Dijk, they arguably have the best player in world football over the last season.
To turn on these two guys over one match is downright insane.
In one way, the Liverpool pair should take it as a compliment.
They have set such high standards for themselves that people simply can't figure out how to deal with it when they have a bad night. But, on the other hand, they deserve much better.
Plenty of right-thinking Liverpool fans – in fact, the vast majority – have stood up in defence of their defenders.
That has been heartening to see.
But in Robertson's eyes, the damage has been done, and the decent football fans on Twitter will pay the price.