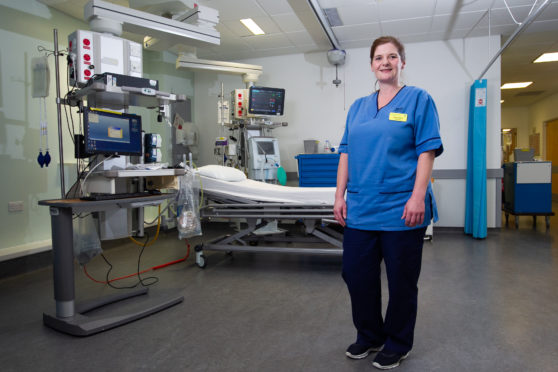 As a critical care nurse, Shona McKie could appreciate the irony.
In a twist of fate, she had been felled by a rare condition, a condition in which she specialised.
But the subsequent stay in a hospital ward – on the other end of the care she had spent 15 years providing as an NHS nurse at Glasgow Royal Infirmary – gave her a fresh perspective on a crucial aspect of her patients' recovery.
Sleep has been linked with good health, especially in patients recovering from critical care in hospitals.
And lack of sleep has been linked with ICU delirium, where patients, weak and in strange surroundings, begin to lose grip of reality.
Not only did mum-of-two Shona battle back to health, though, she went on to create the award-winning Sleep Well, Feel Well, Get Well initiative being trialled by NHS Greater Glasgow and Clyde.
Its results in improving sleep for patients have so far been described as "remarkable" and it's expected the programme will be rolled out nationwide.
Shona's groundbreaking work began three years ago when she fell ill on a trip to the swimming pool with her two sons, now aged 10 and seven.
"I collapsed in the changing room in Ayr Citadel," said Shona. "My little boys had just gone into their swimming lessons and I had just waved them off when I began to feel extremely unwell.
"One of the lifeguards phoned an ambulance and I was bluelighted to the hospital.
"I suspected I had gallstone pancreatitis, and I wasn't wrong. What happened was gallstones passed through my gallbladder and liver, and those organs just started to fail.
"People die from this condition but thankfully I got very good treatment at my local hospital.
"I couldn't believe it. I had a disease I knew the most about. Ultimately, I thought the worst outcome would happen to me.
"There were times when I thought it could go either way, but inside I was adamant it wouldn't happen to me. I have two small children at home."
During her battle back to health on a ward similar to the one where she worked, Shona struggled to sleep, something she knew would hinder her recovery.
"I'm a person who needs a sleep," explained Shona. "After my first son was born, I had a period of sleep deprivation so I know I'm a person who doesn't cope well physically or emotionally with not sleeping.
"When I was in hospital, I became aware that I wasn't, as a patient, getting the sleep I needed to recover.
"It quickly became apparent just how many factors there are disturbing a patient's sleep in the ward."
After two weeks in hospital, Shona began to recover and eventually returned to work. But it wasn't until she was back on the ward that she found her perspective changed.
"As a nurse I wasn't aware of it at all. The stay gave me a whole new perspective.
"On my first night shift it all came back to me," said Shona. "I thought, 'why are we going to wake this person who's sleeping?'
"I remembered what it was like and knew we had to change. I had a whole different empathy for patients. It completely changed how I nursed."
Senior staff nurse Shona describes herself as a problem solver, something she credits to her background in farming.
"I grew up in a farming background but I wasn't really interested in doing that," she said. "I always wanted to do nursing.
"I'm fascinated by the sickest patients because I like a challenge. I grew up as a farmer's daughter so I know all about challenge.
"We're a family of problem solvers."
Shona began to develop her idea by asking patients in her ward the things disturbing their sleep.
She and her colleagues were convinced pain would top the list. The results, however, were surprising.
"We found our patients slept lightly and poorly," she added. "As we investigated, we discovered 20% of the causes of sleep deprivation were down to doctors and nurses.
"More than chatter, more than alarms, more than even the telephone ringing. In fact, the telephone only caused 1% of disturbances.
"Just by doing things like observing, taking blood pressure, blood-sugar tests – in other words, normal, routine examinations – doctors and nurses were the biggest cause of disturbed sleep. They were a bigger cause than pain.
"We were shocked to find we were the main cause of sleep disturbance," said Shona. "We had to have a really good look at what we were doing, why we were doing it, and when we were doing it."
Shona began to develop practical steps for ensuring patients slept well.
As part of her initiative, doctors and nurses try to carry out routine procedures when patients are naturally awake, rather than rouse them from a slumber.
"If a patient wakes in the middle of the night, then we'll do every routine procedure we possibly can at that time. That's a window of opportunity," she said. "We'll only waken them again as necessary.
"Then there are simple things, like earplugs and eye masks. In wards, it's a case of checking things that can be missed, like turning down the volume of the telephone and the alarms on the machines.
"It was very simple stuff. There were bins banging against the wall when they were opened. We moved the bins.
"One patient complained about a flapping noise. We worked out it was nurses exuberantly flapping their aprons when they go to work. Now they carefully unroll their aprons."
Other measures include practical relaxation techniques, like simple YouTube videos that can be viewed on mobile phones, or even arranging for patients to have hand massages.
Patients were asked about the effect Shona's measures had. The results were startling.
Doctors and nurses' went from the most likely cause of sleep disturbance to one of the least likely.
Patients described their sleep improving massively, and Shona's scheme has won an award within the NHS for improvements it has made to patient care.
"In critical care, sleep has been under-appreciated," said Shona. "The sleep bundle has caught on because it's appreciated by nurses because it was a practical thing – it wasn't another tick-box exercise. It's something they can do, hands-on.
"It was taken on positively and has had great results.
"When we asked the patients, that's what they wanted – to sleep better. With the sleep bundle, they did."
---
There were people dressed as ninjas at each side of the bed. I believed they were trying to kill us
A lack of sleep is one factor in a condition called critical care delirium when patients can suffer disturbing delusion.
One patient developed the condition after spending four weeks in intensive care following a heart bypass.
She said: "When I became aware, firstly, I had terrible hallucinations. Other patients were not in their beds, they were in pop-up cars.
"There were people dressed as ninjas at each side of the bed.
"I felt they were going to harm us and we had to be good.
"Looking back now I believed that they were trying to kill us and they did it by injecting your stomach. On one occasion, I even hid in a cupboard to try to stop them killing me.
"When my family came to see me I was begging them to take me home and told them if they didn't take me home I would be killed that night.
"I started to text people and tell them to come and get me. It was worse for my family knowing I was so unhappy," she said.
"It would be reassuring for families to know that it is actually a condition and it's not just happening to you.
"You do feel very embarrassed about it and you don't want to bring it up because you feel so embarrassed."
---
One patient thought the blood pressure cuff was a tentacle
One of the risks facing patients in critical care is a condition known as ICU (Intensive Care Unit) delirium.
However, a good night's sleep can help with the condition, which affects half of patients in intensive care, according to Doctor George Gardiner.
The consultant at Belfast Health & Social Care Trust has studied the condition, and says its seriousness is often underestimated.
"In an intensive care unit, there's no night. There's always somebody working around you, you're connected to lots of monitors with flashing lights, there's constant noise.
"You've often got a tube in your throat, you're attached to various machines.
"The best way I can describe the conditions of intensive care is, if you did that to somebody anywhere other than a hospital, you'd be arrested and accused of war crimes. It's the sort of experience you would expect if you were training for the SAS."
For the delirious patient, the experience can be terrifyingly real.
"We put an inflatable band round patients' calves to stop them getting blood clots, it's sort of like a blood pressure device. I had one patient who thought the band on his leg was an octopus that was trying to drag him underwater and drown him.
"The external stimulus is being interpreted incorrectly by the disordered brain. You can imagine how distressing that would be."
ICU delirium takes two forms, according to Dr Gardiner – hypoactive and agitated.
The first is where the patient looks outwardly normal but is facing turmoil on the inside.
"The second is where you don't know where you are, or what's going on. You may have delusions or think you're being attacked, you start hitting out at staff, and become a danger. There's no magic bullet cure for ICU delirium, although there are things that can help.
"Trying to keep night and day as normal as possible is one way of doing it. We try to keep the clocks in the view of patients so they know what time of day it is.
"Getting people up, mobilising them and getting them sitting out of bed, even while they're still attached to their ventilator or their kidney dialysis machine makes a difference.
"Sedatives and keeping patients in a constant twilight state isn't helpful.
"We're trying to think of the intensive care unit as a gym, not as somewhere you go to rest.
"Then there's simple awareness of this condition. We often have relatives who are baffled their family member is suddenly accusing doctors and nurses of being Nazis who are trying to kill them.
"I'd like patients' relatives to keep in mind that this sort of delirium affects up to 60% of patients, and is much more common than people expect."