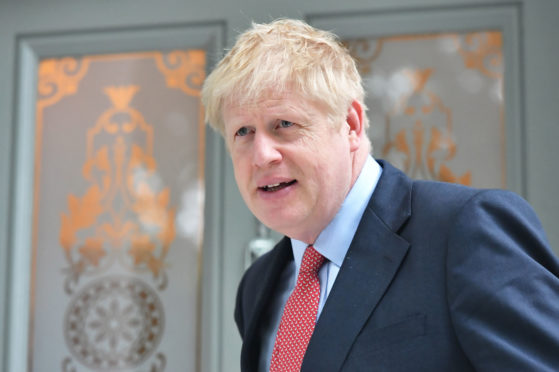 Watching the Tory leadership contest through the inevitable Scottish lens, there is an increasing foreboding that our future could lie either with a posh buffoon who paints buses on wooden boxes or with a man who can apparently forget his wife is Chinese.
The view from up here is dismal and the break-up of Great Britain seems more likely than ever.
And while his apportioning of blame deserves more scrutiny, former prime minister Gordon Brown sounded that constitutional klaxon loudly last week when he said that the Union had never been in greater danger.
Time was, in this Tory leadership contest, when Scotland was all to the fore, with candidates falling over themselves to offer baubles and bribes.
Scotland matters in this contest, it is the 13 Scottish Tory MPs that kept the party in No 10, but Boris Johnson and Jeremy Hunt pay lip service to the need to cherish it.
Indeed, the last time Johnson was here, he spent more time with a hen party at Aberdeen airport than he did with his own party members, whose conference a week earlier he had been effectively barred from. He talks of his "good relationship" with Ruth Davidson, who has previously stopped short of calling him a liar and, despite all evidence to the contrary, he brashly claims that Brexit will strengthen the Union, leaving the SNP, which he hopes to "swat" like a midge, without a "song to sing".
Hunt, meanwhile, a man who looks permanently surprised, tweets a picture of himself sitting at Heathrow, musing on the importance of a third runway for Scotland while concurrently severing Foreign Office support for Nicola Sturgeon on official trips abroad, for fear of her beating the independence drum, reveals his true hypocrisy is rooted in sheer opportunism. What tartan-covered, shortbread-tin image of Scotland do these privately educated, multi-millionaire, Oxford graduate, metropolitan elites really have of Scotland? What hicks do they really think we are?
For years, Scots have harboured a grievance around the idea of a democratic deficit that means that Scotland rarely gets the government at Westminster that it voted for but how stark that really feels today.
When even the leadership of the Scottish Conservatives cannot bring themselves to back Johnson, the clear frontrunner, and come belatedly to the support of Hunt, what hope do the rest of us have in garnering enough confidence to believe in the credibility of the man who will be our next prime minister?
This isn't an election, this is a grotesque beauty contest judged by the Tory selectorate. They have already said they would back Brexit above the Union and, more worryingly, would choose the leader of the Brexit Party, Nigel Farage, as their leader, if only he were in the running.
A Tory Government consumed by Brexit, pandering to English nationalism, and a Labour Party which appears all but indifferent to what happens next.
A majority of Scots may not want independence, they might not support the SNP, but there is a steady acknowledgement that the Britain that is hatching out of Brexit feels very like a foreign land.