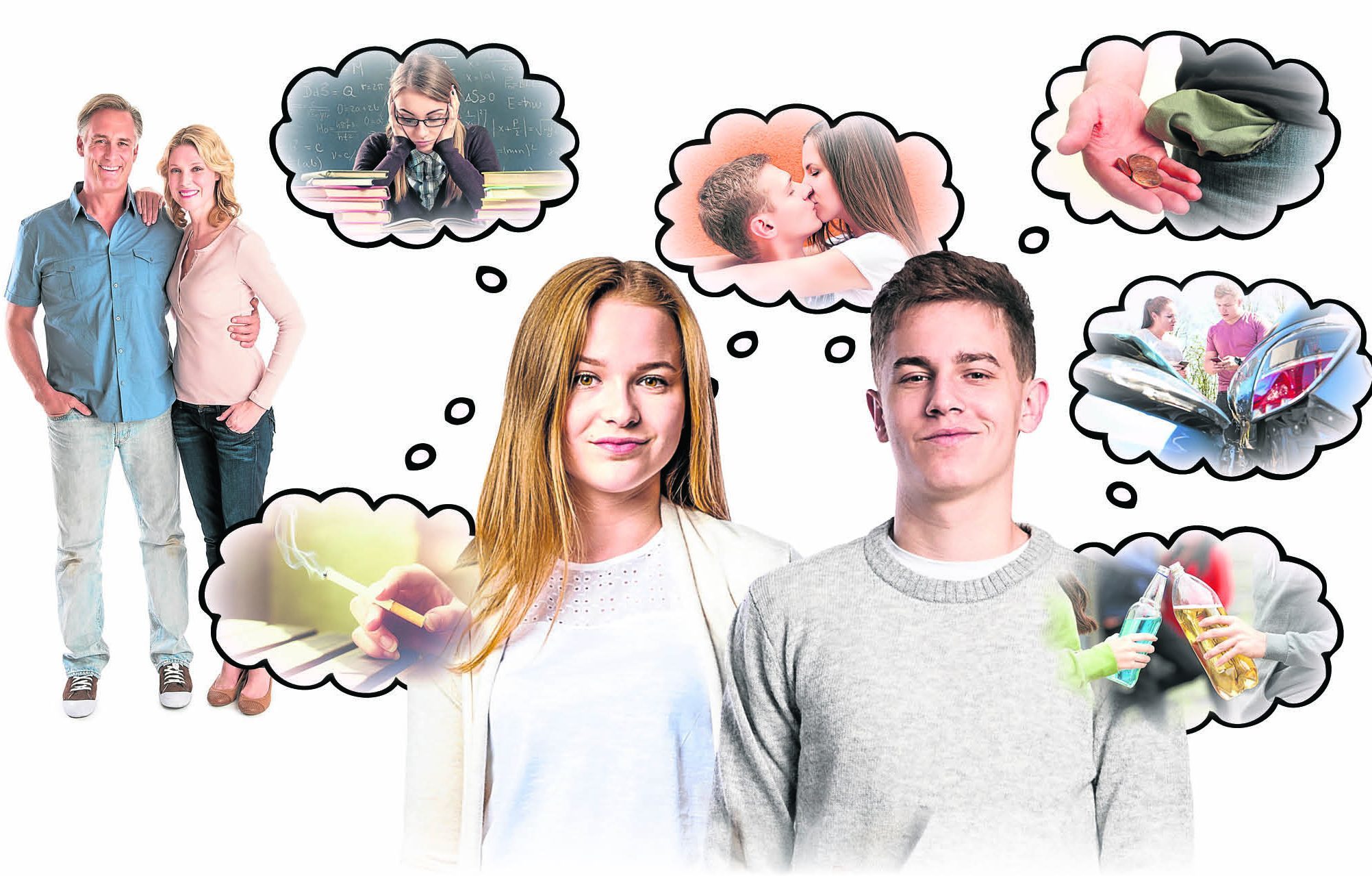 JUST how much do you tell mum and dad?
Deciding what you reveal is never easy when it comes to weighing up being honest with protecting their feelings… or even just your own.
Members of online community Reddit hit the headlines last week after they revealed the things they've never told their parents. One man pretended to be on holiday in Spain – but had in fact been serving a 30-day jail sentence.
A woman said she'd kept schtum after losing her late grandmother's ring when she was 13 – despite being warned by mum and dad not to wear it outside.
Other confessions included pretending to stay at a friend's house but instead going to a heavy metal concert in another city.
Two Sunday Post writers disagree on whether you should tell your parents everything – and if they'd want to know what their children are up to.
Stevie Gallacher : Honesty is the worst policy
Recently I was out for a coffee with a friend who told me about a drunken escapade.
Having lost his keys and been locked out, he ended up sleeping on a neighbour's trampoline. In Scotland, in January, while it was snowing.
"I was telling my dad, he was laughing his head off," he chuckled, all casual-like.
I was impressed, and not just because he'd managed to resist hypothermia, being eaten by a fox or having a wee shot on the trampoline.
How had he escaped the wrath of his parents?
My dad is 70 now, while I'm a grown man who has car insurance and enjoys Grand Designs.
But even imagining revealing to him I'd done something that daft gives me the fear.
Despite our advancing years I'm certain that my father would subject me to a time-honoured clip round the lug and a painful, extended lecture that even Latin History students haven't experienced.
When it comes to revealing certain bad behaviours to my parents I've cultivated a Don't-Ask-Don't-Tell policy.
I hope you don't ask because either way I'm not going to tell.
It may seem secretive but this approach has served me well over the years.
Crashing the car, being fined by the TV Licence authority, almost getting deported from Poland – my mum and dad weren't annoyed at these indiscretions mainly because they didn't know about them.
And I'm sure that's the way they wanted it.
In my glaikit teenage years I don't remember them looking as if they were enjoying shouting and pleading for me to at least try studying for the next chemistry exam.
What they didn't know didn't hurt them.
I can't imagine I'll want to hear about my own children's indiscretions either.
Who cares what people a generation younger than you are up to anyway?
It's probably something to do with Tinder or Kanye i.e. nothing you should concern yourself about.
Certain pals delve into the lives of their offspring with the tenacity of Jason Bourne looking for a CIA whistleblower.
It seems that instead of buying a What To Expect When You're Expecting childcare book they plumped for a copy of Tinker, Tailor, Soldier, Spy.
Facebook accounts are hacked. Movements are tracked via phone apps. Weekly interrogations are carried out under hot kitchen lamps.
Who cares whether your teenage daughter spent her Christmas money on a pair of overpriced shoes, or your son broke his watch?
They'll soon realise these things are a bit of a dampener.
And you won't even need to waste your time giving them a wild-eyed rant.
You'll be happier, and so will they – once the TV Licence people settle out of court.
Ali Kirker: The uncomfortable truth of family life
NOT long ago I was out walking with my mum in the area I grew up.
We lived on the coast and in my teenage years, parties on the wee cliff above the beach, were all the rage. My, but we were hardy souls in those days. This is Fife we're talking about, not Fuengirola.
"Aww, I remember spewing over the side of the cliff after I drank half a bottle of vodka, while Andy Malone held my ankles to make sure I didn't fall off," I reminisced fondly, while going to link arms with Mum.
An icy chill suddenly swept over me. "What?" she hissed, arms clamped to her sides. "I never knew about this!" Hmm.
I am allegedly a grown-up. But there are things my parents don't need to know.
I still shudder about the time I went to see a band in the Barrowlands, fell and split my chin open, ended up in the Royal Infirmary then realised I had no keys to get into the house.
So I slept in the car. And when my dad found me there in the morning, let's just say he wasn't happy to see me.
I was a quiet, well-behaved child. Or so everyone thought. This meant I could skive school very regularly and I always got away with it. (Kids. Don't do what I did. If I'd paid more attention at school, I'd be doing something useful with my life.)
I remember walking out of school and being challenged by a teacher. "I've got permission to go and watch a Spanish language TV programme," I said.
This was nonsense. Again, Fife not Fuengirola. She burbled a few words to me in Spanish. I mumbled: "Aye, senora," and went on my way.
I was going to my pal Shirley's house to play silly music, make up dance routines, prank phone call people and watch the lunchtime Neighbours. Then I'd get the school bus home and tell Mum I'd had a great day. Well, I had.
I grew up in the 70s. You were encouraged to experiment and think for yourself. It was great.
Even though there were things my parents 'didn't need to know', I'm the opposite with my kids.
I'm insanely nosy. They LOVE it when I ask if they're on Tinder, asking who it was they were cosying up to on Facebook and to explain 'Netflix and chill'.
I asked them to help me with a feature the other night. They were more than happy to help until my opening gambit.
"Tell me if there's anything you got up to as teenagers I didn't know about," I said.
Their chicken stir fry suddenly became incredibly interesting.
"Come on, it'll be a laugh and I won't be angry now, will I?" I said.
The youngest, 18, piped up. "We never told you stuff because we knew you'd worry. We were fine," he said. "I've remembered I've got that exam to study for." And he scarpered.
"I was at my friend's house as I told you," said my daughter. "We were drinking. Don't worry – I was 10. We'd reached double figures."
And she followed her brother out of the room. The eldest never said a word. Wish I'd never asked.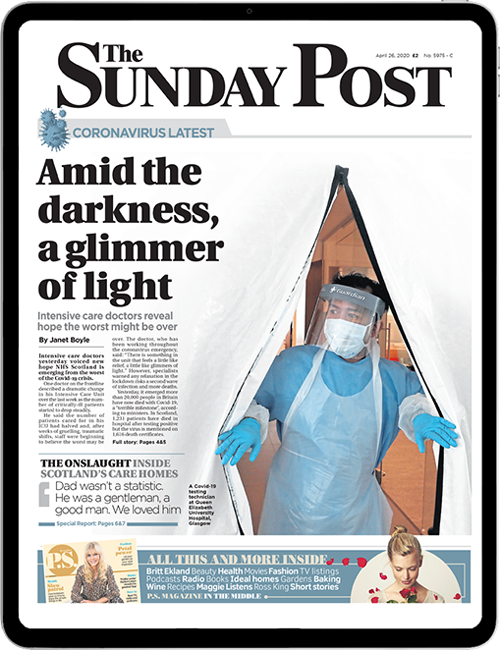 Enjoy the convenience of having The Sunday Post delivered as a digital ePaper straight to your smartphone, tablet or computer.
Subscribe for only £5.49 a month and enjoy all the benefits of the printed paper as a digital replica.
Subscribe