Nicola Sturgeon and industry leaders yesterday accused Boris Johnson of selling out Scottish fishing to secure his last-minute Brexit trade deal.
As politicians and lawyers began poring over the 1,246-page agreement document published yesterday morning, the first minister said that promises made by the UK Government over fishing – a major sticking point during negotiations between the UK and EU – had been "duly broken".
The deal includes a transition period allowing EU and UK fishing vessels access to each other's waters until June 2026. By the end of a five-and-a-half-year transition period, the share of fish in British waters that the UK can catch will rise from about half now to two-thirds. UK fishermen have previously said being tied to the EU customs union has decimated the country's fishing industry.
Ms Sturgeon posted on Twitter: "The fact that many predicted it, doesn't make it any less galling. The Tories have sold out Scottish fishing all over again. Promises they knew couldn't be delivered, duly broken."
Meanwhile, the Federation of Fishermen's Organisation accused Mr Johnson of having "bottled it" on fishing quotas to secure only "a fraction of what the UK has a right to under international law". Chief executive Barrie Deas said the Prime Minister had "sacrificed" fishing to other priorities.
He said: "Lacking legal, moral or political negotiating leverage on fish, the EU made the whole trade deal contingent on a UK surrender on fisheries.
"In the end-game, the Prime Minister made the call and caved in on fish, despite the rhetoric and assurances that he would not do what Ted Heath did in 1973."
UK Fisheries chief executive Jane Sandell said: "We're pleased that the UK-EU deal will bring some kind of certainty to parts of our industry, although we're still looking for the 'prodigious amounts of fish' we were promised and for us it changes nothing.
"The government must now urgently turn its attention to striking a good deal with Norway and other third countries if we are to be able to fish in the distant waters from January 1."
Salmon exports alone are worth an estimated £1 million a day to businesses in Scotland. David Thomson, CEO of the Food and Drink Federation Scotland, said: "The first reaction is relief that a deal has been signed because what that means is there are no tariffs.
"From a food and drink perspective, tariffs would have been crippling.
"There's no grace period so these things will come in on January 1 without a transition period to make sure businesses get this right.
"To be ready for January 1 is going to be quite difficult for businesses. We would expect there to be some issues and disruption. There's no way that we're going to find all the issues and fix them by Wednesday."
However, a member of the UK's negotiating team defended the fishing compromise in the trade deal, saying: "Fisheries was one of the areas where we had to compromise somewhat. Both sides have had to. But the crucial thing on the fisheries policy is that although there is a transition, at the end of the transition it returns to normal arrangements and we have full control over our waters."
There was also concern among Scotland's seed potato producers after being excluded from the Brexit agreement. Seed potatoes are used to grow crops rather than ending up on the nation's dinner plates, and have to meet stricter regulations.
Archie Gibson, executive director of seed potato merchant and breeder Agrico Uk Ltd, said negotiations must continue into 2021 as there is no time to resolve the issues ahead of January 1.
He said: "It's really bad news for the Scottish seed industry as a whole because we supply various markets within the EU, not least of which is the island of Ireland.
"We've had harmonised standards with the EU for 40 years.
"It's really disappointing that they're damaging a piece of industry trade for both European countries and the UK industry itself.
"What we would hope to see and would pressurise our politicians to do would be to redouble their efforts to have a conversation and negotiation with them early in the new year with a view to sorting this out."
Dr Kirsty Hughes, director and founder of the Scottish Centre on European Relations, said: "This does in a sense what Brexit was always likely to do and puts new barriers up to trade between the EU and the UK. It doesn't stop trade but it makes it more costly or more difficult.
"Every industry, sector and large and small business is going to have to check out the fine print of what it means for them. It's a huge change and the idea that you do that at a week's notice is extraordinary."
MPs and peers will be called back to Westminster on Wednesday to vote on the deal announced by Boris Johnson on Christmas Eve. SNP MPs will decide how they are going to vote in a virtual meeting being held today.
SNP Westminster deputy leader Kirsten Oswald said: "It is a democratic disgrace that Boris Johnson has left so little time for parliamentary scrutiny of his extreme Tory Brexit plans. As more details emerge of the lasting damage this hard Tory Brexit deal will do to the economy, it is now beyond doubt that Scotland will be forced to pay a devastating price. The only way to protect Scotland's interests is to become an independent country."
Liberal Democrat leader Sir Ed Davey said his party is likely to vote against the agreement with the EU.
He added: "This will be so bad for British business, so bad for families to mean they're less safe. How can a responsible party support such a bad deal?"
Labour leader Sir Keir Starmer has ordered his MPs to vote for the deal, but some shadow ministers are said to be preparing to step down over the vote. Some Labour peers are also set to vote against the trade agreement.
A UK Government source responded to SNP criticism of the deal, saying: "This is breathtaking hypocrisy from the SNP, who want to take the Scottish fishing industry right back into the Common Fisheries Policy.
We have sealed a deal that takes us out of the hated CFP, restores our status as an independent coastal state and ensures big increases in our share of the catch in our own waters. What's more, we will invest £100m in our fishing industry to help it take advantage of these new opportunities.
"The question for the SNP is – will they back this great deal for Scotland and the whole UK? Or will they vote against it and support a no-deal Brexit?"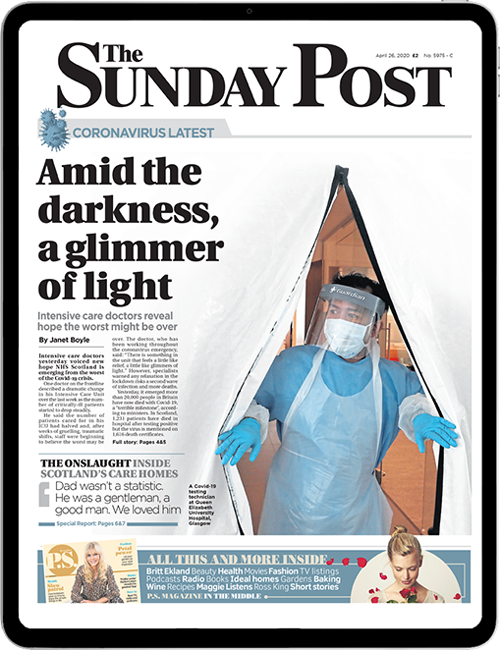 Enjoy the convenience of having The Sunday Post delivered as a digital ePaper straight to your smartphone, tablet or computer.
Subscribe for only £5.49 a month and enjoy all the benefits of the printed paper as a digital replica.
Subscribe