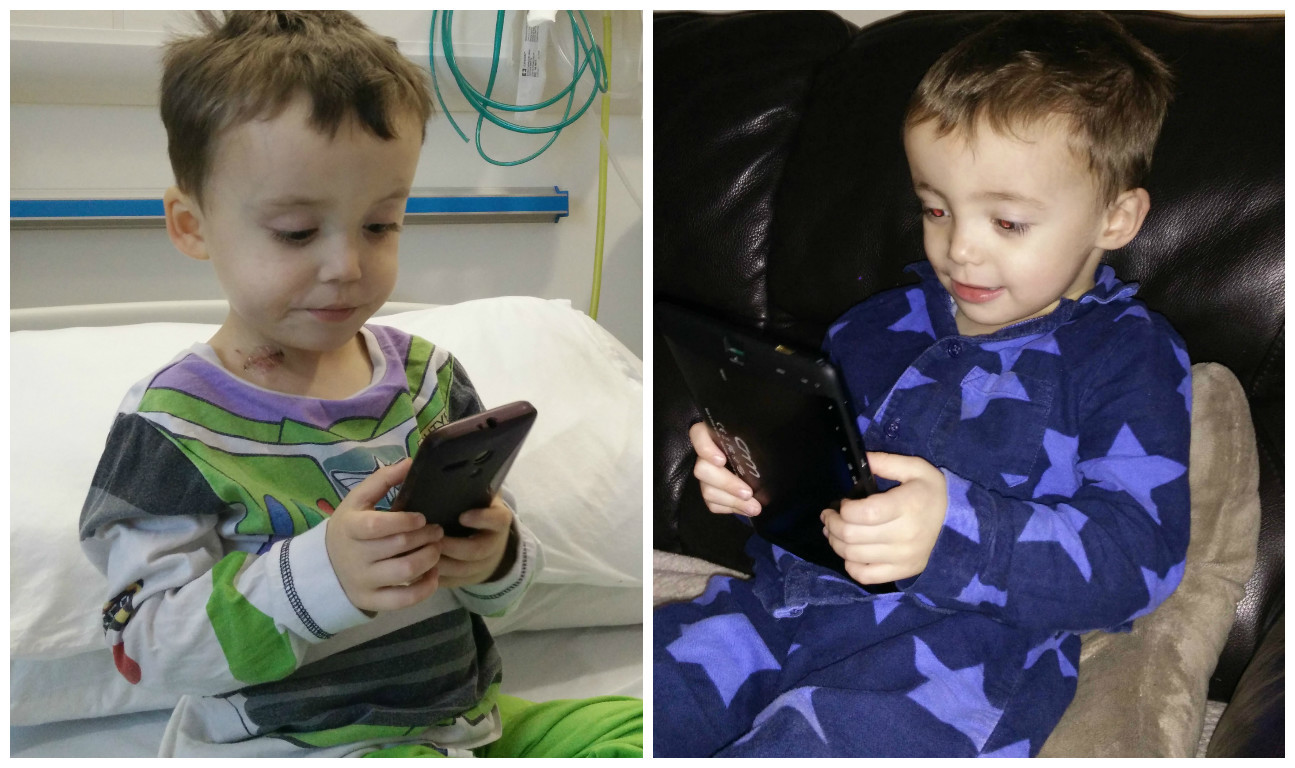 HIS little face lighting up, cute toddler Alex Whiteford reaches out to the image of his brother on the tablet computer.
Beaming like a Cheshire cat Alex, three, wants to tell non-identical twin brother Ryan all about his day.
But he's puzzled why he can't see Ryan or give his pint-sized partner in crime a wee hug.
The reason is devastating. Tiny Ryan was diagnosed with leukaemia three weeks ago, resulting in him being moved more than 100 miles away to a children's cancer ward.
The pair – inseparable beforehand – can now only chat and communicate over video calling service FaceTime.
Dad Paul and mum Leesa came up with the idea after Ryan, who faces three years of arduous treatment, was moved from the family home in Fort William to hospital in Glasgow for life-saving treatment.
"Our twins have never been apart since they were born so it's vital they see each other as much as possible," said Paul, 31, last night.
"Thankfully they can do this through video links on the phone and tablet.
"Alex is upset that Ryan is apart from him in hospital and misses him very badly.
"He is used to sleeping alongside Ryan.
"It is hard to explain to a three-year-old why his twin has had to go into hospital.
"In hospital Ryan is coping with his treatment and settling in.
"But he loves his video calls to Alex. I don't know how parents coped before this was possible.
"We firmly believe it is vital to keep the close bond between them.
"Leesa and I are going through the worst time any parent can imagine."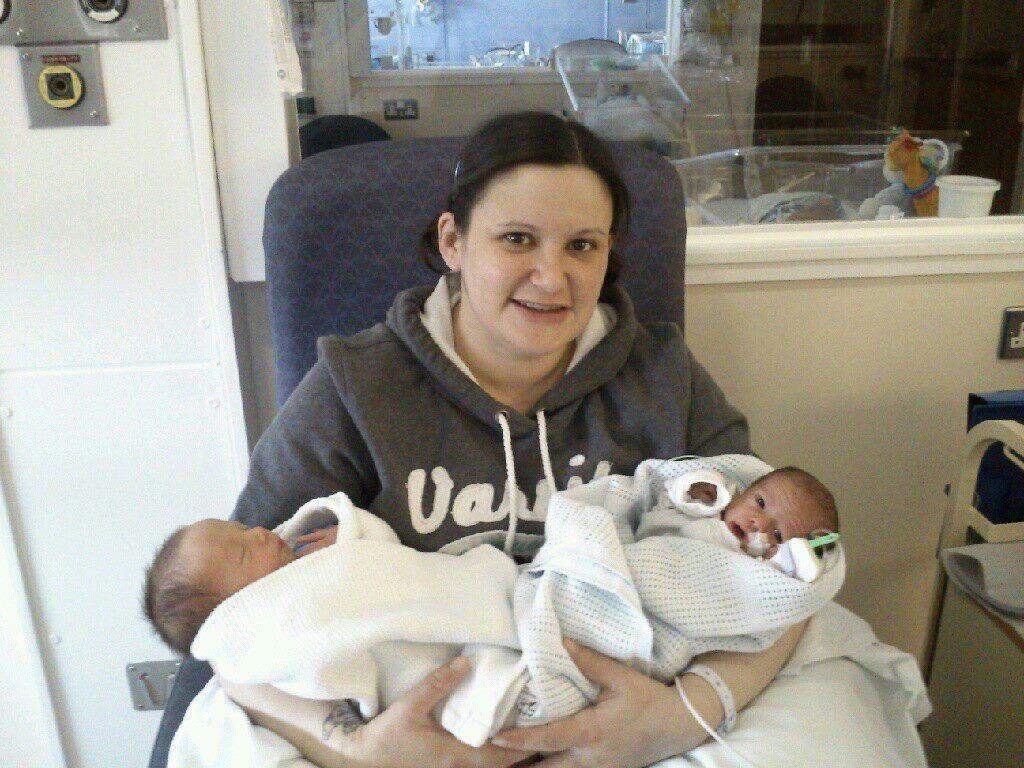 Ryan was diagnosed with the blood cancer just three weeks ago after becoming ill.
He became upset, sickly and developed mysterious bruises – often a hallmark of leukaemia.
"Ryan was out of sorts and easily upset but we thought it was a virus," said Paul.
"There was a moment at nursery when they were face-painting and I tried to get pictures of him to send to my mum, Kathleen.
"But he was so upset and we knew he was ill.
"He then developed bruises and a rash and we quickly took him to our GP.
"At first we feared meningitis but that was discounted.
"Our GP looked at him and quickly transferred him to Raigmore Hospital in Inverness, where blood tests suggested leukaemia.
"The news was devastating."
Mum Leesa MacNeil, 34, is staying by Ryan's bedside at the Royal Hospital for Children in Glasgow as the toddler undergoes cancer treatment.
Dad Paul splits his time between home and hospital trying to make life as normal as possible for Alex, Ryan and the family's other two children.
Paul added: "We are now in a world where other parents are facing bigger uphill battles and it is humbling to see.
"But we have been overwhelmed by the support of our home town of Fort William.
"People we don't even know are texting and calling to offer support.
"They are kind beyond words.
"Folk want to fundraise to help with petrol and expenses or give the family a lift somewhere.
"If there was an award for the world's best community, Fort William would win it hands down.
"They have lifted such a weight from our shoulders."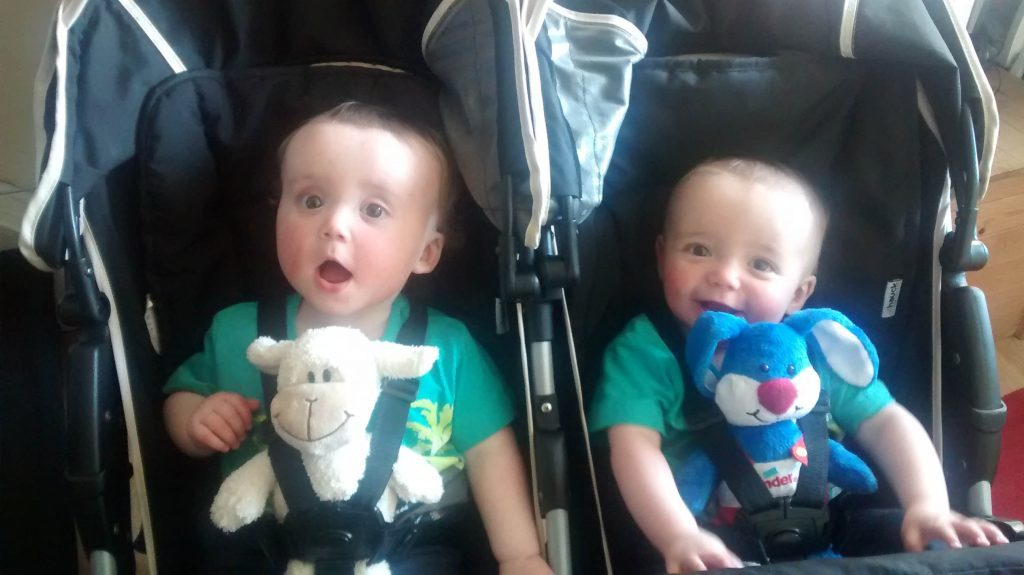 Paul has had to give up his job in a food outlet in Fort William to drive back and forward.
Like many couples whose kids have cancer, the couple are feeling a huge strain on their budget.
Incomes drop but the family purse takes a hit with petrol and eating out in hospital canteens for months on end. But relatives have rallied round to care for Alex and older children Sam, 17 and Ben, 13.
The parents hope their stoic youngster will be able to travel back home to allow their twins to spend time together and be as a family.
But for a large part of the time Ryan's immune system will be lowered to eradicate the cancer.
"We have been told that he will be susceptible to flu bugs and virus which most people could shake off," Paul added.
"But with his immune system being lowered they will threaten his life.
"Any time his temperature goes above 38 centigrade we have to call the hospital and have him readmitted.
"But all that is in the future and we are taking one day at a time."
Christmas will be a logistical exercise for Paul and Leesa.
"We hope that I can bring our other children down to Glasgow and, if all goes well, we can be together as a family," Paul explained.
"If we can't, because Ryan has to be isolated from others because of the risk of infection, then Leesa will spend Christmas Day with Ryan and I will be with the rest of our children.
"Our lives revolve around the children and it is important that we are the best parents possible for every one of them."
Developmental psychologist Dr Cynthia McVey said Paul and Leesa were very attuned to their children's needs.
Cynthia, an associate fellow of the British Psychological Society, said: "Allowing Ryan and Alex to keep in touch will reassure them. Especially at times when they miss each other, like waking up in the morning.
"Twins are especially close but at three there is only so much they can understand.
"It is your worst nightmare, when a child is diagnosed with a serious illness. But it is ok for them to feel sad and be upset."
'The most caring folk in the world'
JUST when you thought the world was running out of kindness, a warm-hearted community restores your faith in human nature.
As soon as the good people of Fort William heard of Paul and Leesa's plight they rallied to support the young couple.
"We didn't go looking for help – it found us," said Paul.
"A local building firm we didn't even know auctioned fencing and handed us £1200 it raised.
"Kindly friends and neighbours rolled up their sleeves and organised music events, raffles and the like.
"You hear so much about communities not being what they should nowadays. If there was a medal for the world's most caring community it should go to the good folk of Fort William."
One fundraiser, Liz MacMillan, 48, said: "As soon as we heard of Paul and Leesa's plight we dropped everything to help them. We're a strong community that cares. The support for them is incredible."
More than £2500 has been raised in a week.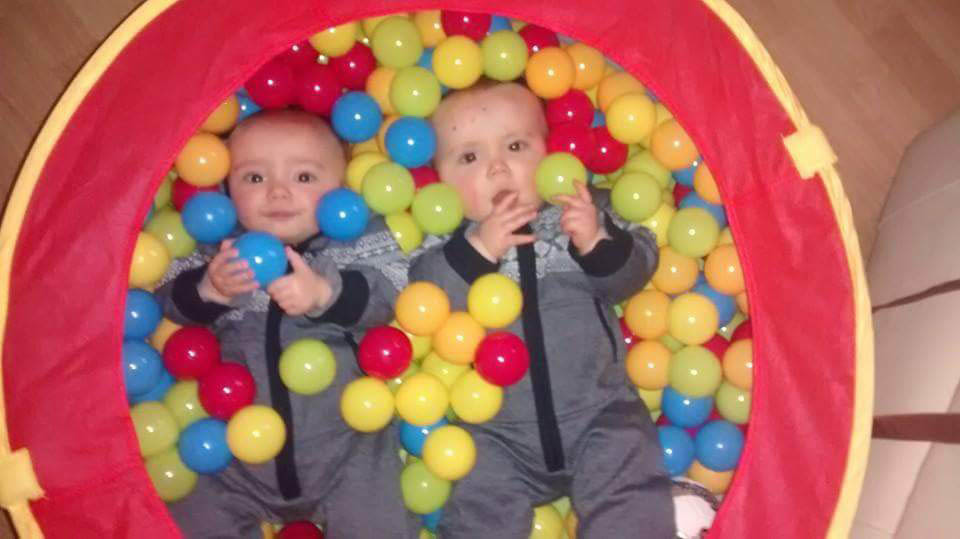 FACTFILE
TREATMENT for childhood leukaemia is long and arduous and often takes children to the brink.
It stretches on for up to three years has the effect of lowering the youngsters' immune systems, which leaves them prey to a myriad of bugs which others shake off.
The disease is the most common cancer in children and teenagers.
It accounts for one out of three childhood cancers.
The incidence peaks in children at the ages of two and three.
Survival rates, however, have climbed to 88%.
Ryan's type of leukaemia – acute lymphoblastic leukaemia – is the most curable.
"We hope all goes well for Ryan and that he responds to the treatment," said dad Paul.
"We are in a ward where some parents face a bigger battle as they watch their children struggle to survive.
"The staff are hugely supportive and are making this so much easier."
---
READ MORE: Mum tells of desperate race to save 9-month old daughter from cancer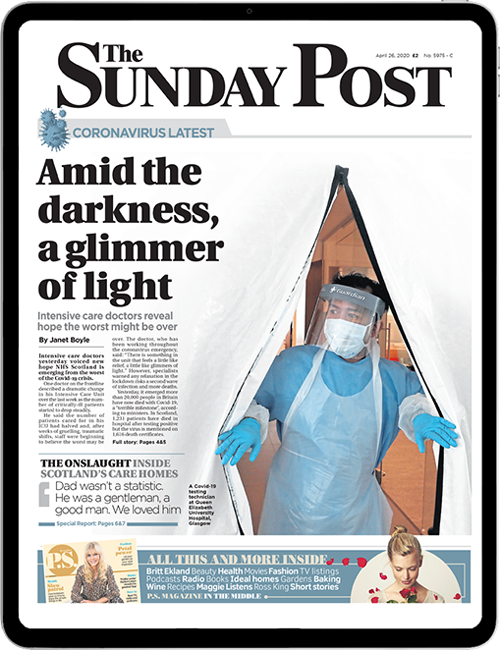 Enjoy the convenience of having The Sunday Post delivered as a digital ePaper straight to your smartphone, tablet or computer.
Subscribe for only £5.49 a month and enjoy all the benefits of the printed paper as a digital replica.
Subscribe