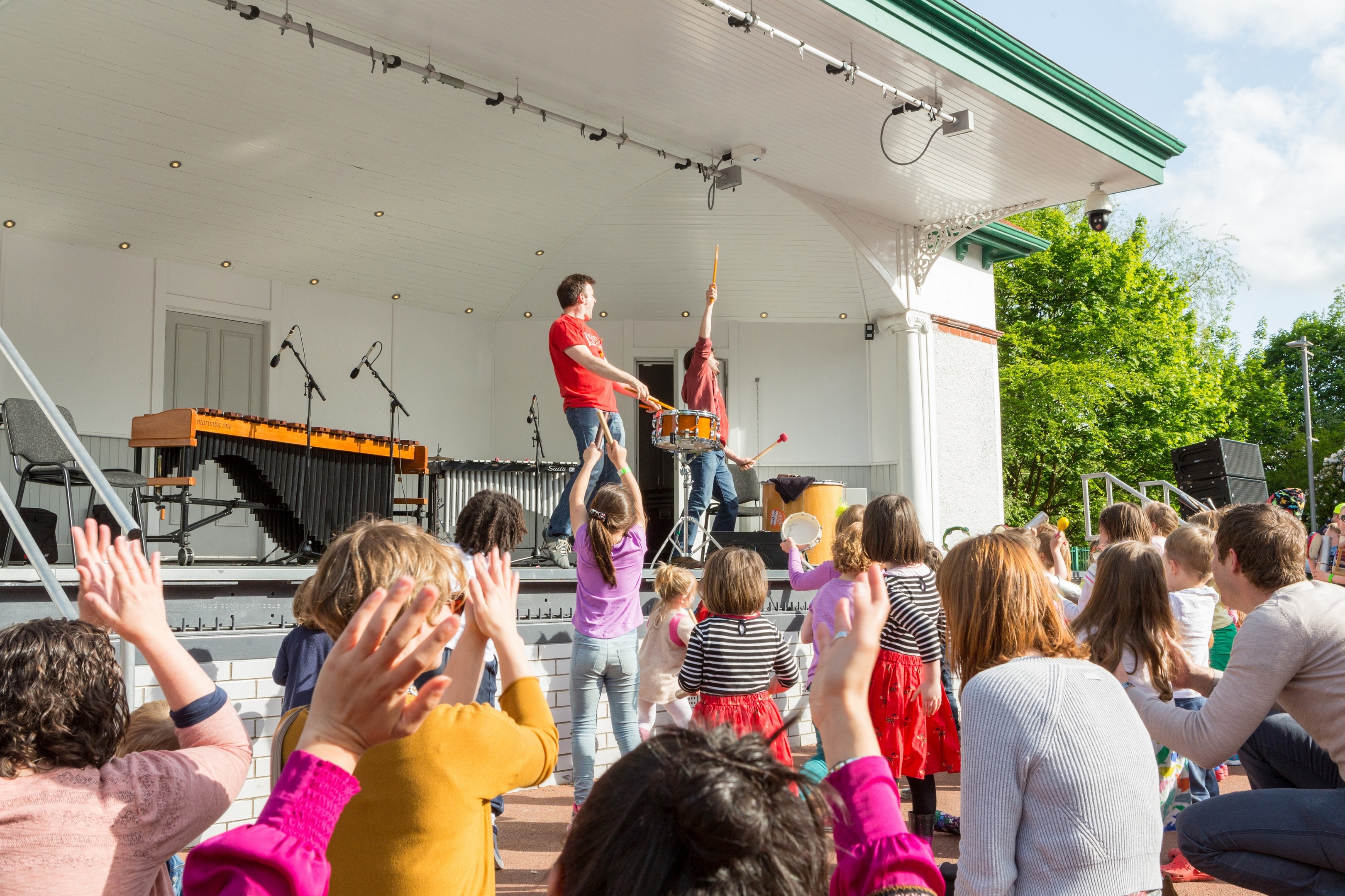 GLASGOW'S Kelvingrove Bandstand will be the host of a three-week family festival this summer.
The event is packed with free activities and features community groups and organisations from across the city.
A wide-ranging line-up of activities will make up the festival, from choir and band performances to drop in yoga and tai chi events.
It runs from Tuesday July 3 until Sunday July 22.
The events
Make It Tuesdays on July 3, 10 and 17 at 10.30am, explore arts and crafts with Glasgow Museums and Ricefield Arts Centre.
---
Each Tuesday evening at 6pm and 7.30pm drop into the Kelvingrove Bandstand for Yoga and Tai Chi.
---
Wee Write! Wednesdays bring the joy and excitement of Glasgow's Book Festival for Children and Young People to the Bandstand.
Featuring performances and readings all starting at 10.30am by authors including Mike Nicholson and Ron Fairweather on July 4; Allison Galbraith and Ron Butlin on July 11; and John Fardell, Coo Clayton and Alison Soye on July 18.
---
The Thursday Kids Club beginning at from 10.30am will have different activities each week to enjoy.
On July 5, a Magic Trail starts at the Bandstand with the Glasgow Science Festival and west end wizard Mark Walbank,
Events at Kelvingrove Art Gallery, Kelvin Hall or the Hunterian Museum will finish the trail.
On July 12, Be Bop Bairns and the Celtic Connections Family Ceilidh will fill Kelvingrove Bandstand with music, dance, singing and party games.
Then on July 19, turn your bike into a musical instrument with Children's Classic Concerts while artists Laura Sherry and Ruby Pester bring arts and crafts activities to the Bandstand.
---
Friday July 6 sees a very special event as part of the family festival – a Kids Open Stage.
Specially selected talented young people from across Glasgow will be invited to perform on-stage from 2pm.
You can apply by sending a quick clip to kgbandstand@yahoo.co.uk.
Children must have permission from a parent or guardian to apply. Applications are open to children aged 11 to 17.
---
On Friday July 20, Chris Henry brings his hilarious Balloonatics, which was rated among the top family shows of the Edinburgh Fringe in 2017, to the Kelvingrove Bandstand from 2pm.
That evening at 7pm Glasgow Unesco City of Music Artist in Residence Richy Carey will be hosting an Open to All Singing Workshop.
---
On Saturday July 7 it's Community Centre Stage, when Merchant Sinfonia, Romane Cierhenia and Voicebeat Choir provide the music and entertainment, from 2pm.
July 8 is Big Band Sunday when Glasgow Senior Citizens Orchestra, Byers Road Big Band, Brass Aye? and The Berrie Big Band perform a dazzling range of music to suit all tastes, starting at 1pm.
---
On Saturday July 14 and Sunday July 15, the Kelvingrove Bandstand becomes the Pride Glasgow Community Stage. To find out more about this event visit: http://www.pride.scot/
---
Free summer music event at Glasgow's Kelvingrove Bandstand will showcase top Scots talent
The final weekend of the festival may be the biggest of them all.
Come Rain or Come Shine will be a family friendly celebration of independent record labels from Glasgow. Enjoy some of the country's best indie artists and international artists.
Tickets are needed for this event but are available for free at https://www.tickettailor.com/events/lastnightfromglasgow/170159/
---
The closing event on Sunday July 22 is Young People Perform! featuring Girls Rock Glasgow, Glasgow Connected Arts Network's Bold Creative and DLÙ, a band formed at Glasgow's Gaelic School whose unique brand of trad / contemporary music will see the whole programme out in style.
---
There'll be food and drink on site for the whole three weeks courtesy of Big Feed.
Councillor David McDonald, Chair of Glasgow Life and Deputy Leader of Glasgow City Council, said: "Kelvingrove Bandstand's Family Festival brings together an incredible range of hugely talented community groups and organisations from across the city for three weeks of fabulous activities.
"There's something for everyone to enjoy, with arts, crafts, readings, and much more.
"As a UNSECO City of Music, Glasgow has an incredibly talented and diverse range of community musical groups and organisations, and we will be able to enjoy this rich vein of talent at its very best during the Family Festival.
"There is nowhere else like Kelvingrove Bandstand in the heart of Kelvingrove Park on a Summer's day. It's the perfect setting for families to enjoy themselves and be entertained this July."
For more information visit https://www.glasgowlife.org.uk/arts-and-music/venues/kelvingrove-bandstand-and-amphitheatre