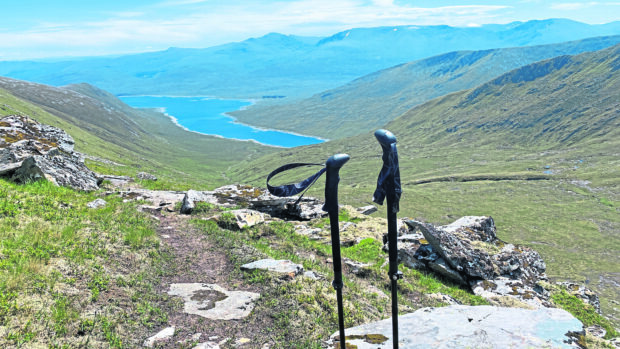 Reaching the second summit of the day in the spectacular Highlands area of Glen Carron, a quiet confidence seeps in.
A glance at my watch reveals it has taken three and a half hours to summit two Munros – Sgùrr Chòinnich and Sgùrr a'Chaorachain.
My husband Gordon and I have covered 11km (7miles) and climbed almost 1,220m (4,000ft) – and it is not yet lunchtime.
"Not bad," I thought, especially after so many months away from the mountains due to Covid-19 restrictions. "Just one more Munro to do. It's not so difficult is it?"
My husband's face reveals more doubt than I was hoping for. "I'm not sure we are even halfway," he says. He is right. Without properly considering the facts, I've falsely congratulated our progress. Looking ahead at the route on paper, I realise we are barely a third of the way.
The day had started with an almost continuous uphill bike ride from a forest car park at Achnashellach, just off the A890 at just 60m (200ft) above sea level. We had pushed hard, climbing almost 250m (800ft) in the first leg.
It was a challenging way to start a big mountain journey but it made sense to reduce the mileage we had to walk – and the end of the day would be a joy as we whizzed back downhill on two wheels.
Most people suggest Sgùrr Chòinnich and Sgùrr a'Chaorachain are best walked in a single outing, leaving a third Munro of Maoile Lunndaidh for another day.
However, I had a hunger to tick off the three summits in one trip. With only eight mountains left to finish my first round of all 282 Munros, I was keen to reduce the tally. It would have been a good idea to consider our lockdown fitness – or lack thereof – and the forecast for a very hot day, but I felt a driving mission to complete my Munro round.
Leaving our bikes by the wide track at Pollan Buidhe, we begin the climb to Sgùrr Chòinnich on foot.
A comical river crossing by way of a basic wire bridge takes us to a well-formed mountain path. The dry, dusty track zigzags steeply upwards. Higher up, the route is a fainter path with a gentler gradient, and we walk alongside the rushing waters of Allt Leathad an Tobair.
We stop to refill our already near-empty water bottles and enjoy the views of mountains all around. The sun shines and clouds float away.
Heading towards a low rise between the western flanks of Sgùrr Chòinnich and another mountain, Sgùrr na Feartaig, the ascent once again steepens.
Turning east, our route winds round and between the rocky crags of our first Munro summit. A few short, scrambling sections call for hands and feet, but it's manageable.
Finally we reach a high point of 998m (3,277ft) and a small cairn. The views are breathtaking, with mountains near and far including Torridon and the Fisherfield Forest.
Leaving our vantage point, we continue east to the far end of the summit ridge and descend on rocky terrain.
The path comes and goes but it's mostly easily visible.
Suddenly, we are treated to a stunning vista over Loch Monar far below, before we then start another climb.
Although steep, the path winds upwards and before too long we've reached the second summit, Sgùrr a'Chaorachain at 1,052m (3,454ft) above sea level. At the large shelter cairn, two other walkers are resting and we stop to exchange Munro-bagging stories.
More fantastic panoramic views include easily-recognisable Torridon summits to the north and the Munro, Lurg Mhor, to the south.
It's here that my previous confidence is dented with the realisation of how far we still have to walk.
Yet I'm upbeat because I've bagged two of my last few Munros. My tally of 276 Munros has taken me a decade and only in recent years has it seemed possible I might one day complete it.
As we descend, at first on a faint path and then over a rough terrain of grass, moss and rocks, then peat hags and bog, we dare to look upwards to the next summit.
The huge hulk of Maoile Lunndaidh looms ahead and to the distant east. I question our sanity and then notice another solo walker making far quicker progress behind us.
Normally, Gordon and I are quite swift Munro baggers but it feels like we are hiking through treacle.
With heavy, tired legs we are committed to the three Munros, though we're both lacking our usual enthusiasm.
We spot a faint path, which we had not expected, rising up the first western flanks of the mountain and make a beeline for it.
Fortunately, the weather is still fine and the views continue to provide superb rewards as we climb laboriously uphill.
The ascent of Maoile Lunndaidh proves to be one of many false rises and summits. We climb upwards, finding short sections of paths in between thick and pathless vegetation again.
Carn nan Fiaclan at 995m (3,267ft) – almost as high as the first Munro – gives false hope, before a small cairn – also not the summit – rises ahead on the wide final ridge hike of Maoile Lunndaidh.
And so it goes on, until we start to wonder whether we have missed the summit. Finally, there it is, a large cairn marking the high point of 995m (3,297ft).
Taking care not to say anything to Gordon, I quietly consult the map to assess how far we still have to go to reclaim our mountain bikes.
My heart drops – especially as I realise I've finished all my food except for a couple of pieces of extremely sugary Scottish tablet.
It takes in excess of another hour to make our northerly descent on the open slopes of rocks, heather and grass before reaching a small lodge and a wooden shelter at Glenuaig and then on to a wide track at the base of the glen.
The tablet offers a brief energy boost as we walk in tired silence for another hour back west towards Pollan Buidhe and the relief of swapping feet for wheels.
The ride back to Achnashellach is exquisite. It is a huge relief to be suddenly pedalling easily downhill and eating up the final miles, while also relishing a cooling breeze in early evening temperatures tipping 27C.
The full distance turns out to be 32km (20 miles) with a total ascent of almost 1,800m (5,900ft).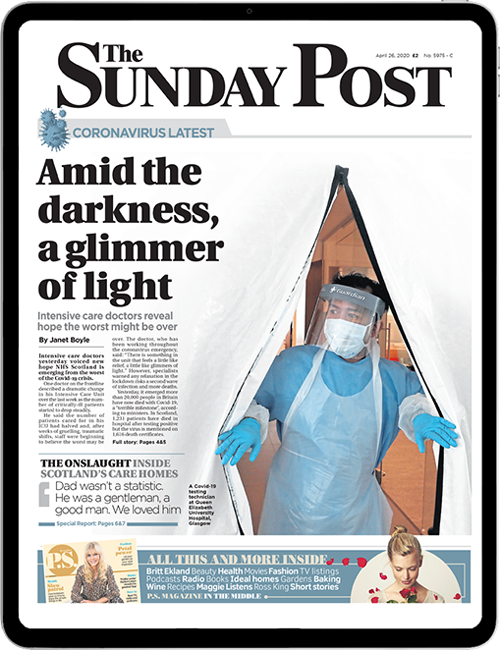 Enjoy the convenience of having The Sunday Post delivered as a digital ePaper straight to your smartphone, tablet or computer.
Subscribe for only £5.49 a month and enjoy all the benefits of the printed paper as a digital replica.
Subscribe