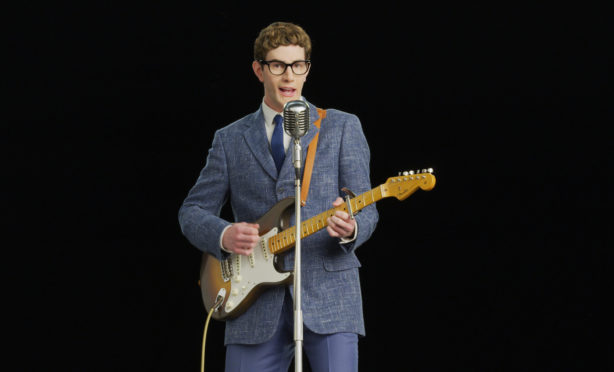 Buddy Holly never made it to Scotland during his whirlwind UK Tour in 1958 and, after a plane crash robbed the world of his musical genius the following year, it seemed he never would.
But now, 60 years after his death, fans will finally get to see their hero on stage when his hologram plays at Glasgow's Armadillo on Wednesday.
The "Holly-gram" will be appearing in a rock'n'roll double act alongside a digital version of Roy Orbison in a ground-breaking tour that gives fans the chance to see two legends for the price of one.
It comes after the huge success of last year's sell-out Roy Orbison In Dreams hologram tour, which drew massive crowds to venues in Glasgow and Edinburgh.
Producers of both shows, US firm BASE Hologram Production, have also released tickets for a Whitney Houston hologram world tour that will come to the UK in March, while a separate tour of Abba avatars is also eagerly awaited.
Holograms have concert-goers hooked but is it ethical to bring the dead back to life? And can it ever be as good as the real thing? Here, we asks the experts.
---
The producer
Our shows are like no other experience
Gary Shoefield, 59, is executive vice-president for BASE Hologram Production and the LA-based Londoner, who early in his career "grew-up with" Scotland's Simple Minds, said: "We are the first company in the world to do global tours of hologram stars.
"Whitney Houston will be the biggest, most expensive hologram show staged. I can't tell you the budget, but it is millions and millions of dollars.
Gary, an expert in buying rights, particularly for dead celebrities, said: "I work with the families. I put the deals together for the families.
"Everything we do is official. We got the Whitney rights almost at the same time as we got Amy Winehouse and, though there is a tremendous demand for Amy, there were certain offers we were being given for Whitney which we couldn't ignore.
"There are issues with Amy that we don't have with other stars, and are working to iron those out.
"I can't comment on what the problems are, but it's a show that we can't wait to see.
"At some point we will have an Amy show out there."
BASE Hologram's technology is a closely guarded secret. But the company's CEO of production, Marty Tudor, is said to have had the idea of touring the technology after seeing a hologram of long deceased Tupac Shakur rapping with real-life Snoop Dogg at Coachella Valley Music and Arts Festival in the Colorado Desert in 2012 and began research.
The company will only say it uses a military grade Epson Laser projector. But it is thought the holograms are created from scratch by filming a body double mimicking the artiste and then enhancing the picture using computer-generated imagery.
High-powered projectors are used in the venues to create the holograms. Accommodating the technology means reduced crowd space, with Glasgow's 3,000 seats cut to 2,400.
Gary said: "We don't go into detail about how we build them because if you go and see one of our shows, the less you know, the more wonder and wow it is.
"It is like no other experience you will ever have. You can't tell the hologram from the real people on the stage.
"In 10 years' time, someone will ask, 'Did you ever see Roy Orbison?' and they will just say, 'Yes' and not even remember it was a hologram."
---
The promoter
I was absolutely knocked out
"The Holly-gram is the closet fans will get to the real thing," said promoter Danny Betesh. And, while the promoter never had the chance to meet Buddy in life, he knew Roy Orbison well; they dined together, laughed together and sometimes partied. The pair became friends during the 1963 UK tour he organised with Brian Epstein for The Beatles.
And Manchester-based Danny revealed he is such a big fan he backed the ground-breaking hologram tour without even having seen the technology in action.
He said: "I promoted Roy in life, the first time, way back in 1963. It was an amazing show with The Beatles. We played throughout the country, including the Glasgow Odeon.
Roy was a very private person. The Beatles used to like partying somewhere after a show. But I always remember Roy being the quiet one. He would sometimes come along but he would be the calming influence on us all. He was great to get on with.
"The first time I saw him in hologram we'd already done the deal. When we booked the show, BASE Hologram hadn't completed all the production stuff. They did a showcase in New York in January 2018 – three months before the show in April – and I went over.
"I saw Roy on the stage as a hologram and was absolutely knocked out. They captured him completely; all the little mannerisms, like where he'd turn round and have a word with his band before a song, or the occasional thank you to the audience. The hologram show is just like I remember him.
"To have Roy's music playing round the country to his fans is great," he added.
"It gives them an opportunity to see him again. At the end of the day we are in a business that is entertainment and enjoyment."
---
The professor
It's similar to fake news
Nick Prior, professor of cultural psychology at Edinburgh University, said there was a backlash to the first on-stage hologram, of rapper Tupac Shakur at the Coachella festival in 2012.
He said: "Lots of people had mixed feeling about it because Tupac had come back from the dead," he explained. "There was a purist backlash, people thought it was pretty insensitive to raise him like that and that it didn't fit with ideologies of rap, which were about realism, and authenticity."
But the opposite seems true for Orbison and Holly, with retro-mania serving as an antidote to the stresses of the digital revolution.
The professor said: "All those once stable ideas of what it is to be human and to be alive are under constant reformation in the digital present. That digital present involves phenomena that might or might not be real, such as fake news. Holograms and fake news are quite similar in that sense.
"Nostalgia is a paradoxical entity, because on one hand we are looking to the past to give us some sense of stability when things were simpler. Roy Orbison and Buddy Holly are representations of that idea.
"And yet that nostalgia is accessed through the same technologies that are making it increasingly uncertain as to what our place is in the world."
---
The families
It's beyond cool they get to tour
The families of Roy Orbison and Buddy Holly are thrilled to see them perform from beyond the grave.
Orbison's son Roy Jr, who is president of Roy Orbison Music, said: "My father's music meant the world to not just us Orbisons but to millions of fans worldwide.
"Being able to reopen his legendary songbook and again hear his voice bounce off great concert hall walls is both a transcendent and cathartic experience.
"Dad jammed with Buddy in Lubbock Texas and helped change music history by turning Buddy on to Norman Petty Studios; Buddy later returned the favour by recording two of Dad's songs on his first Cricket's album. How beyond cool and special that these two great friends, now get to tour the world together."
Holly's wife Maria Elena added: "Buddy and Roy were Texans who shared a mutual respect and admiration for each other's creative musical genius and brilliant songwriting abilities. Their long-time fans and a new generation of fans will now have the opportunity to see these great legends perform together in a unique setting, showcasing two of the most influential artists in music history."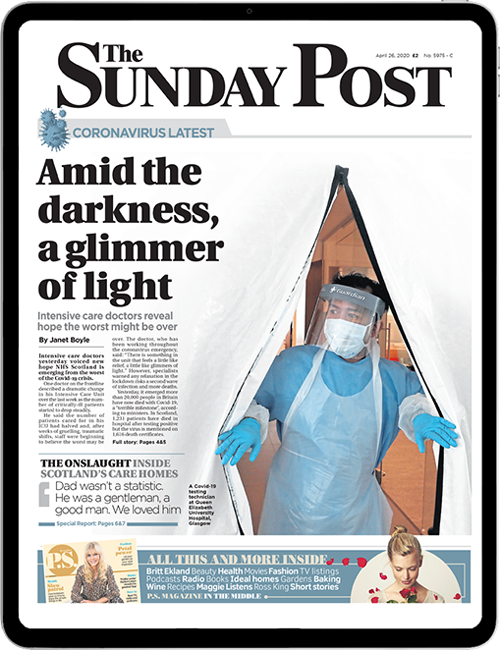 Enjoy the convenience of having The Sunday Post delivered as a digital ePaper straight to your smartphone, tablet or computer.
Subscribe for only £5.49 a month and enjoy all the benefits of the printed paper as a digital replica.
Subscribe