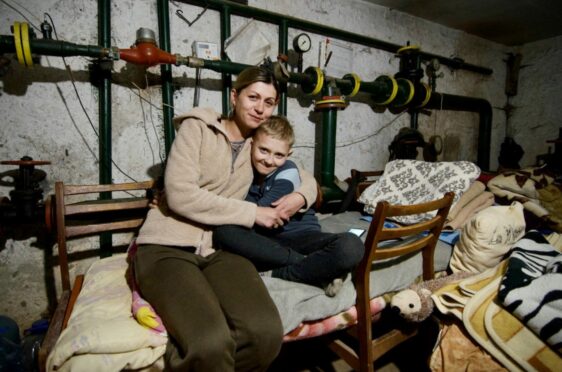 The districts in the north of Kharkiv are ghost towns. Closest to the Russian lines, they've been pounded by rockets and artillery since February 24.
On a street with the very Soviet name "Heroes of Labour", a burnt-out van and smashed glass surrounds one housing block. Some windows have been boarded up, but many are just left shattered, the wind blowing in. The low thud of artillery to the north is almost constant. And yet there are still six people living on this stair.
Yulia, 32, shows the way to the basement. It's a precarious scramble down makeshift steps in almost total darkness, through a warren of rooms full of spare furniture, tools and water bottles.
In the last dimly-lit room, she's set up house. Misha, her eight-year-old son, is curled up on his camping bed, watching something on a phone. Behind him the heating pipes and valves for the building run along the wall.
They've spent most of their time in this basement for more than two months.
"They [Russia] usually fire in the morning," Yulia says, adding sarcastically, "Like – 'Good morning'!"
"At first there were hysterics, fear, but then we got used to it," she adds. "And, really, over the last week it's been much quieter – till today, that is."
In February, when the Russian army was massing on the border just a stone's throw from Kharkiv, Yulia did want to leave.
"But it didn't work out," she said, "and then, after the invasion, it became too scary to go out.
"Where would we go, anyway? And, yes, you can leave, but then a time comes when you have to come back and start all over again," she says. "So you gradually just get used to it."
Misha should be in school but instead is spending his life in the dark. Next to his bed is a drawing in felt-tip: Misha and Yulia's block of flats, surrounded by a rainbow, with an angel hovering above. "God save and protect us!" it reads.
He is a keen chess player with an impish smile. When asked if he gets scared by the bombing, he replies "of course", laughing at the silly question.
Yulia has done everything she can to make the room nice for her and her son. There are piles of blankets, toys, and a computer monitor set up to play music. Misha's school books are lying open on a little table, and Yulia has a makeshift kitchen at the back: tins of food, huge containers of water.
"Thank God, we have this humanitarian aid delivered," she says. "Yes, we're fine here, just sitting tight. The boiler room is here, it's nice and warm. And if you want to create coziness, you can do it anywhere."
She also has her manicurist's tools laid out on a bench, and says a few clients still come by to get their nails done.
Leaving Misha, we climb back upstairs, blinking in the bright sunshine of the courtyard. No sooner have we stepped outside than a series of rumbling explosions come from the north. It's outgoing fire, but impossible to ignore. Yulia, though, is unfazed. "I don't have any fear of death," she says calmly, lighting a cigarette. "We are in God's hands."
---
Human rights lawyer: Victory Day? Putin will never be victorious
Vladimir Putin's Victory Day in Moscow tomorrow will be a hollow celebration of military might because, according to Oleksandra Matviichuk, he will never be victorious in Ukraine.
The Kyiv-based human rights lawyer told the Russian president: "You will never win because we are fighting for our freedom and our survival."
Matviichuk, head of the nation's Centre for Civil Liberties, which documents Russian atrocities, said Putin was in danger of falling victim to his own hubris as he leads Russia in the nation's annual celebration of victory in the Second World War.
The parade, set to take place in Moscow tomorrow, has been widely seen as a crucial moment in the war for Russia. It was thought Putin might use it to claim victory and end the onslaught but UK ministers now fear he is more likely to ramp up the conflict and mobilise Russia for all-out war.
However, Matviichuk said Putin's ­invasion had strengthened her nation's resolve to embrace democracy. She said: "Putin failed. Russia and the Kremlin like symbolism. They would love to have some victory to celebrate on this date but there is no victory for them at all. Ukraine is resisting. We pay a very high price for this resistance so the Russians have to invent things to present as a victory to their own population.
"I would tell Putin that he will never win in Ukraine because we are fighting for our freedom and our very survival. Putin is a victim of his own Russian propaganda. Maybe he is actually starting to believe that Russian and Ukrainians are the same people but they are not. We have other values – the values of freedom. I would tell Putin that he repeats the mistakes of the past.
"We have seen such behaviour from other authoritarian leaders in the past but he is fighting against the future. Sooner or later, he will fade. He will fail."
Matviichuk's conviction follows the ­liberation over the past few days of a series of villages north-east of Kharkiv.
She was speaking ahead of tomorrow's Victory Day parade in Moscow where thousands of soldiers, tanks and military vehicles will march through Red Square, commemorating victory over Hitler.
It marks the 77th anniversary of the Soviet Union's victory over Nazi Germany in the Second World War, known as the Great Patriotic War in Russia. The first Victory Day was in June 1945 when 40,000 troops marched past Stalin. Since then, it was held every year on May 9. In the 1990s, after the end of the Cold War and the dissolution of the Soviet Union, the parade seemed to lose its significance but Putin revived it in a bid to rekindle Russian patriotism.
Some observers, including UK Defence Secretary Ben Wallace, fear Putin will use the parade to announce a mass mobilisation of reserves, to allow a massive expansion in the Russian army, which is struggling with a shortage of soldiers.
Speaking last month, Wallace said: "I would not be surprised, that he is probably going to declare on May Day that 'we are now at war with the world's Nazis and we need to mass mobilise the Russian people'."
No foreign leaders have been invited to this year's Victory Day parade and it is also expected to be a third smaller than usual.
'My grandson crawled out, his hair on fire, his clothes on fire': Horror of Odesa tower block rocket attack
However, Matviichuk insists there will be no victory in Ukraine for the Russian president and cited the besieged and ruined city of Mariupol as proof that Putin was not winning. She said: "Will the Russian population perceive places like Mariupol as a victory or not? When you see Mariupol, it is totally destroyed by the Russians.
"Is that a victory when you destroy a city and push hundreds of thousands of people to leave that city? So maybe for Russia it's a victory but for the majority of people, it is clear that it is not a victory.
"There is no doubt we will resist as long as it is needed – we have no choice. People in Ukraine understand it is a war for survival. We have no other choice. Freedom is the main value for Ukrainians. We will never live in Russian slavery.
"We are fighting to have the right to have a democratic transformation. People have paid a high price to have a government that is independent, transparent and accountable."
She added: "Kyiv region is much calmer but the situation is still unstable. Several days ago, a Russian rocket hit residential buildings and our colleagues, journalists from Radio Liberty, were killed in their apartment. We are documenting war crimes through various methods. We use open source intelligence and various verification methods and gather testimonies of victims and witnesses of war crimes."
Yesterday Russian forces fired cruise missiles at the city of Odesa and bombarded a steel mill in the port of Mariupol, hoping to complete their conquest of the city in time for Victory Day celebrations. Ukraine's deputy prime minister later confirmed all women, children and older adults had finally been evacuated from the steel mill, with the Russian news agency Tass confirming 50 people had left.
UK Government continues to frustrate Ukrainian refugees attempting to reach country says Scots based charity
But defence expert Tim Ripley said Putin could still produce a surprise at the parade: "Putin loves dramatic public relations stunts so all bets are off for as to what might happen tomorrow morning. Whatever stunt Putin pulls will be designed for maximum propaganda value to drive home to Russians that ultimate victory is only a matter of weeks away. The Russian president will also want to demonstrate to foreign audiences he is still very much in control and up for the fight."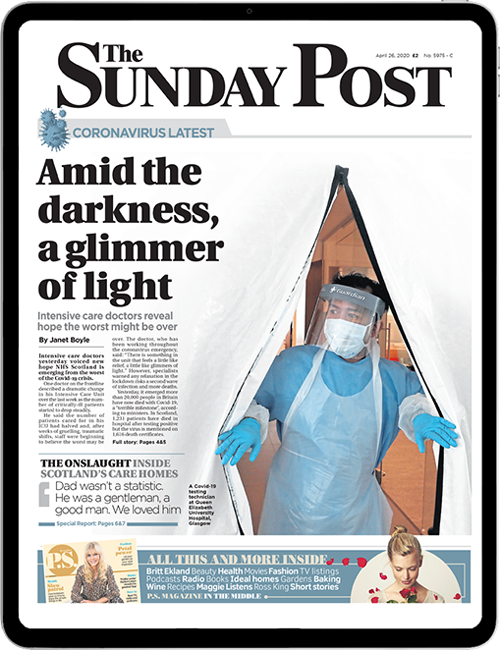 Enjoy the convenience of having The Sunday Post delivered as a digital ePaper straight to your smartphone, tablet or computer.
Subscribe for only £5.49 a month and enjoy all the benefits of the printed paper as a digital replica.
Subscribe