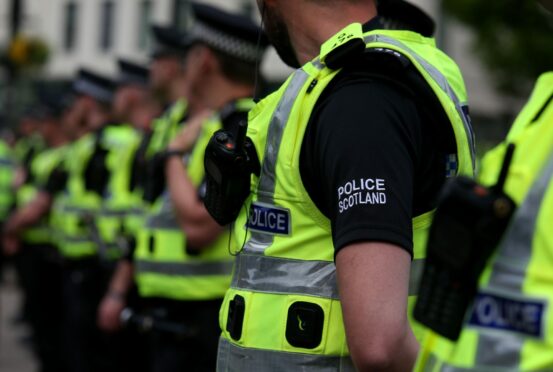 Police, who investigated an officer's allegations that a detective raped her while she slept, assured watchdogs she was treated like any other member of the public making such a serious complaint.
That, she has told friends, is both dismaying and alarming.
She made a formal complaint of rape and sexual assault in October 2020, six months after the alleged assaults, but claims investigating officers made a series of errors in the investigation before deciding there was no evidence a crime had been committed.
The detective constable accused of raping her was arrested and interviewed in February 2021 but released without charge. The allegations were never reported to the Crown Office.
The alleged victim, who is 31, accuses officers of serious failures, including failing to interview witnesses, not detailing all the relevant information in her statements, losing crucial evidence, and mistakenly handing the entire contents of her mobile phone – six discs of personal data – to the accused officer.
The officer, who had specialist training in domestic abuse, also accuses investigating officers of fundamentally misunderstanding the nature of the crime and how to recognise coercive and controlling behaviour.
Five complaints to watchdogs about how the investigation was conducted were upheld – after being rejected by Police Scotland – while the force has been forced to apologise for wrongly handing over the six discs of information from her phone to her alleged attacker.
She told a friend: "Even if the investigation had been conducted professionally and competently, which it wasn't, it should not have been for police to decide if there was evidence of a crime. Of course it should have been sent to prosecutors.
"I've been subjected to repeated interviews by around a dozen different officers from various departments, vital evidence has apparently been mislaid, deleted or cannot be accessed.
"I feel bullied, intimidated and undermined by my own force and officers who seemed determined to minimise what happened to me.
"Whatever they might think, I made a serious allegation against a serving police officer and surely prosecutors, not Police Scotland, have to decide if there is evidence a crime has been committed."
She was 28 when she began a relationship with her alleged attacker, an older colleague, who was married.
She says he admitted assaulting her in her sleep in April 2021 but that she stayed with him because of his controlling behaviour.
She told a friend: "At first, I thought I must have been dreaming, but when I asked him about it, I was shocked to discover he had sexually assaulted me while I was asleep.
"He attempted to brush it off but, a few days later, he raped me while I was sleeping. He sent text messages which confirmed it then made me delete them. I assumed they would be recoverable but I don't know if the investigating officers even tried."
After splitting six months later, she claims to have threatened to report his alleged assaults if he did not stop harassing her. However, he told his bosses of her claims in August 2021 and she made a formal complaint alleging rape and sexual assault as part of a pattern of coercive and controlling behaviour in October 2021.
The woman officer has been dismayed by her treatment and told a friend: "I feel I have been thrown to the wolves for daring to report a fellow officer.
"I felt as if I was being deliberately passed from pillar to post because there was no will to pursue this investigation properly.
"I was trained in domestic abuse but officers were telling me that unless he had been financially controlling me and preventing me seeing my family, it couldn't be considered coercive control. That is not the case and, deliberately or not, the officers seemed determine to minimise what happened to me.
"One even told me that break-ups can be bitter instead of properly investigating what I was telling him.
"I felt as if I was fighting to get officers to take my statements and complaints seriously. What they did with my phone was only one obvious example of their disregard and disinterest."
After demanding her mobile phone as potential evidence in the criminal investigation, Police Scotland shared all the data they recovered, including medical records and personal photographs and messages from years before, with the man she was accusing of rape and coercive control.
Police Scotland have since "apologised unequivocally" for the serious data breach saying officers were obliged to share information relevant to disciplinary proceedings against the accused – despite him being under criminal investigation – but he should only have received relevant data.
His alleged victim had a baby last year and was shocked when police proactively raised concerns about her with social work after an interview when, according to the officers, she seemed more concerned with the progress of their investigation than her child.
She told a friend: "I was taken aback when a social worker told me police officers had questioned him about me and my fitness as a mum. I have a letter from him which supports me and describes their behaviour as 'unusual'.
"I've no idea what they were trying to do? Alarm me, worry me, intimidate me? Who knows? I do know it wouldn't have happened to a man."
Police also investigated posts she made on social media about the events and officers interviewed her neighbours and previous boyfriends. While her alleged attacker has not been reported to the Crown, she was. Prosecutors are still deciding if she should be charged with stalking offences in relation to online posts.
She told a friend: "I made a serious allegation of sexual violence against a serving officer but I would appear to be the target of their investigation.
"My neighbours have told me they've been questioned about what kind of mum I am, and someone I dated just once, many years ago, got in touch to inform me police had contacted them to ask if I ever shared intimate images of myself. It is abhorrent."
The accused officer is understood to have been suspended and is expected to face disciplinary proceedings.
His alleged victim made ten complaints to Police Scotland about how officers investigated her claims. All were dismissed by the national force but the watchdog, the Police Investigations Review Commissioner (PIRC), would later uphold five.
They included her claims that officers had not noted all the information she gave them, including incidents of previous controlling behaviour by her alleged attacker; that an officer appointed her Sexual Offences Liason Officer was involved in the arrest and interview of the suspect contrary to procedure; that she was not updated properly during the inquiry; and that officers did not understand the nature of the offence of coercive and controlling behaviour. After conducting a review recommended by PIRC, Police Scotland have again rejected all her complaints.
The alleged victim now her experience has been so disillusioning that she fears for her future in Police Scotland.
She told a friend: "I was so proud to join the police as a teenager and was looking forward to my career.
"Now I have no idea what will happen but I do know that my experience suggests the police have much to do about the culture, attitude and training around how domestive violence is regarded and investigated.
"I do not believe a male officer making such serious allegations would have been treated like this. I have been cast adrift."
Angela Wilson, a former assistant chief constable at Tayside, said the case deepens concerns about how forces police themselves: "It seems clear that a truly independent body should be established, headed by a judge or senior legal figure, to investigate cases such as this.
"While what we have seen at the Met with Wayne Couzens and David Carrick is deeply disturbing, there are also cases within Police Scotland which the public will find unacceptable. They must be dealt with and not by Police Scotland.
"The force are now reviewing its own procedures but that is too much like marking their own homework. Any review should be only be handled by an outside independent body if Police Scotland are to retain the confidence of the public."
Police Scotland's Chief Superintendent Catriona Henderson said: "A 38-year-old police officer was arrested in November 2020 in connection with a complaint of serious sexual assault.
"After a thorough investigation, no evidence of criminality was established. Further enquiries are being carried out into this matter following new information being received.
"As is normal procedure, conduct investigations by the Professional Standards Department are put on hold until completion of the criminal enquiry and the officer remains suspended."
Responding to officers sending the contents of the alleged victim's phone to the man she was accusing of rape, she said: "Initial learning from a reported data breach has already been introduced to improve our procedures. However, as this matter is being investigated by the Information Commissioner's Office, we are unable to comment further."
Continues on Page Eight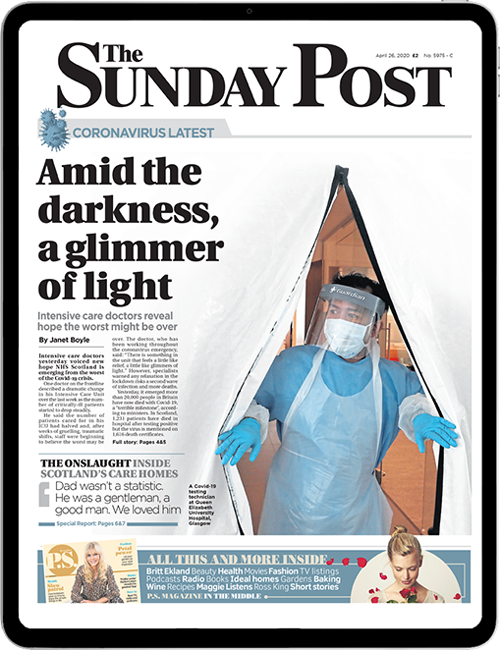 Enjoy the convenience of having The Sunday Post delivered as a digital ePaper straight to your smartphone, tablet or computer.
Subscribe for only £5.49 a month and enjoy all the benefits of the printed paper as a digital replica.
Subscribe