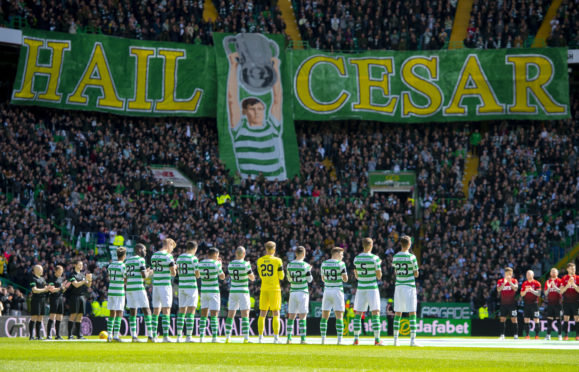 They came, they sang, they remembered. Mourning a hero at Celtic Park yesterday, fans celebrated a legend and hailed Cesar.
Outside, at the statue of Billy McNeill – now surrounded by flowers and the scarves of clubs from around the world – as Celtic's captain and manager laid a wreath, a wee boy, waving his own scarf, was hoisted above his dad's head, like a European Cup, to see above the crowds.
The Celtic legend's death last week at the age of 79 inspired an emotional day in and around the club's stadium in Glasgow's East End.
Thousands gathered hours before kick-off of Celtic's Premiership game against Kilmarnock at the statue of their greatest ever captain.
In the silence, many thumbed away tears as they watched as the club's current captain, Scott Brown, and manager Neil Lennon laid flowers at the foot of the statue just before 11am.
Afterwards, Lennon hugged McNeill's widow Liz in an embrace as the Celtic family came together to draw strength and comfort.
The mood was sombre outside the stadium to begin a day of deep emotion outside Celtic Park, and high drama inside.
"I had to come today," said Paul Houston from Irvine. "Big Billy was a hero of mine and my dad who died 11 years ago.
"I got talking to another supporter on the way to the stadium, he felt the same – he just had to come and say goodbye to the big man.
"Someone stole his wallet last night with his ticket to the game inside. He didn't have any money so I bought him a ticket and gave him £20 for something to eat.
"My wife is in hospital today – she's not very well but she told me to go and that she'd still be there afterwards.
"It's just one of those days."
There was little of the heat of Lisbon – scene of McNeil's and Celtic's greatest triumph – at Celtic Park yesterday where the drizzle threatened to dampen the mood.
But, as the Celtic team bus arrived, a patch of blue sky appeared and, on cue, the sun broke through.
The Celtic squad were joined by the Lisbon Lions from the 1967 triumph Bobby Lennox, Jim Craig, Bertie Auld, Charlie Gallagher, John Fallon and John Clark.
The McNeill family joined to warm applause at the statue, where fans have been gathering since Tuesday night, when news broke of McNeill's death after a battle with dementia. There have been so many scarves, wreaths, framed photos and football shirts laid an overspill area was created for them. Among them were tributes from Kilmarnock fans as well as countless others such as the red and white of Aberdeen, the blue and black of Inter Milan – and even the red, white and blue of Rangers.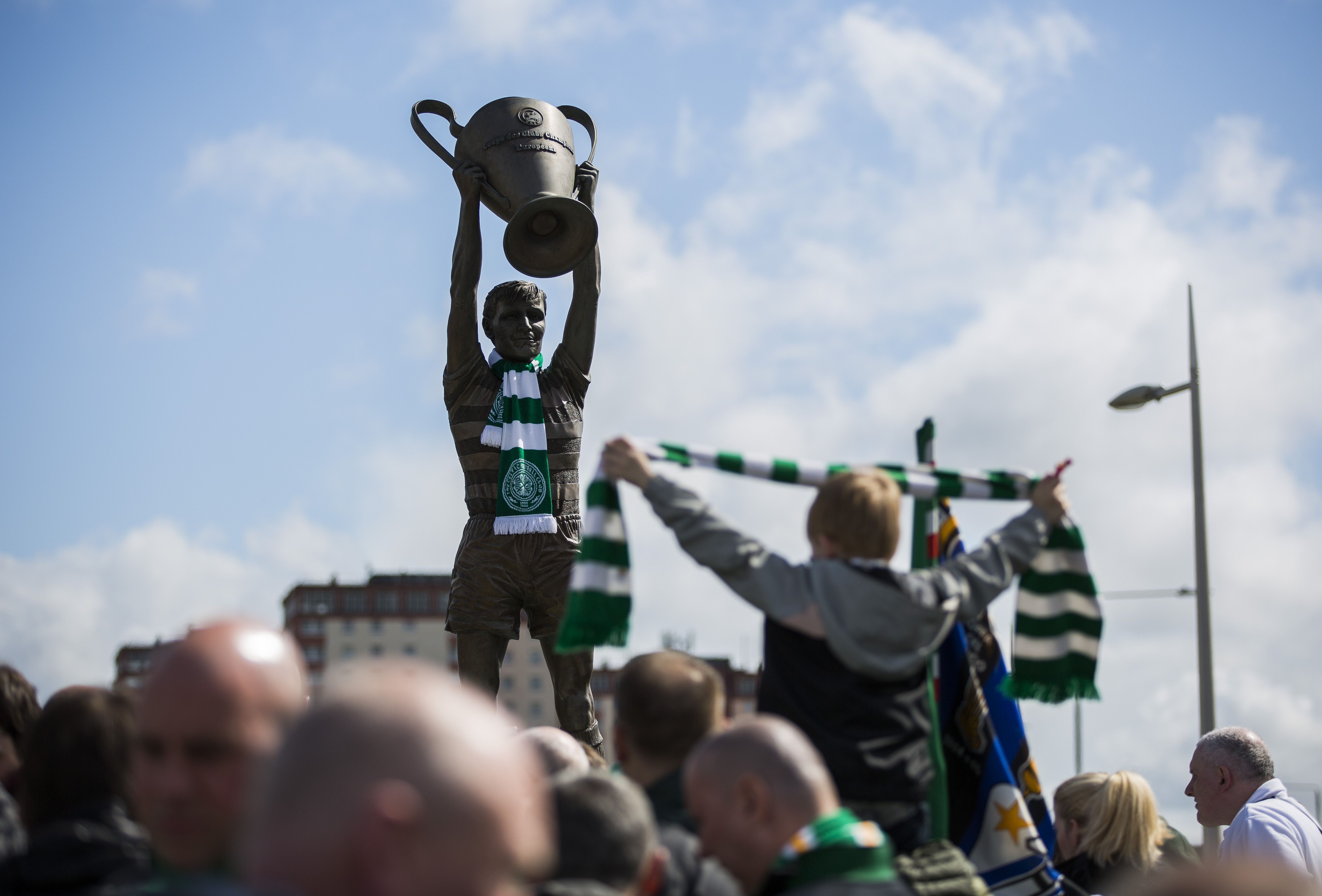 "It's nice to see," said Harry McLean, from Glasgow. "There was a lot of respect for Billy as a player and a man from Rangers fans. John Greig was here and got a wonderful reception.
"And of course it's only a game."
For the rest of the day at Celtic Park, it was also much more important than that.
For 15 minutes prior to kick-off, Celtic paid tribute to their former captain and former manager. A video of his career highlights played on giant screens, edited and, appropriately for one of the game's most celebrated warriors, sound-tracked by music from the movie Gladiator.
Snapshots were shown from his heroic victories on the battlefields of Hampden, Ibrox and, of course, the Estadio Nacional in Lisbon. Already this was a fitting swan song, but then things literally became operatic. People's Tenor John Innes emerged on to the pitch to the strains of Puccini to sing Nessun Dorma.
It may translate as None Shall Sleep but many in the stands were openly weeping.
This was followed by 67 seconds of applause from both sets of players and fans, in honour of the year of Celtic's most famous cup win.
Fans' group the Green Brigade created a huge display which took up one corner of the stadium and hoisted white scarves and a huge banner, reading Hail Cesar, above their heads.
As the fans' anthem You'll Never Walk Alone was belted out, a second banner rose up depicting McNeill's finest moment in Lisbon.
The tidal wave of praise almost made you feel sorry for Jozo Simunovic, the current holder of Celtic's No 5 jersey. He gamely vowed to pay tribute to McNeill before the match but it would have been one of those horrible moments of football drama if the big Bosnian had, instead, gifted Kilmarnock a goal.
But the stars aligned for him to write himself into the history books for happier reasons and turn the atmosphere inside Celtic Park into a stunned celebration.
With the stadium clock at 67 minutes – of course – and a feeling building that Celtic might toil to earn the three points, Simunovic rose to head the ball past Kilmarnock's goalkeeper to net what would turn out to be the winner.
And it was a winning contribution reminiscent, as everyone pointed out, of one of Big Billy's own trademark headed goals.
His family had urged fans to sing his fans' song, tell his stories and celebrate his life. They would not have been disappointed.
Afterwards, Simunovic presented his No 5 jersey to Liz McNeill – a jersey which manager Neil Lennon said the club has considered retiring. The joy following the winning goal was palpable, and not just because it took Celtic closer to another league title.
After the final whistle, hundreds of fans returned to the statue where the tearful faces from earlier had, for the most part, become cheerful. One loudly recorded a Snapchat video for his followers, telling them: "This is for a legend, a leader and a hero."
A funeral will take place on Friday at St Aloysius in Glasgow. Then, a cup final on the anniversary of Lisbon. More days to mourn and hail Cesar.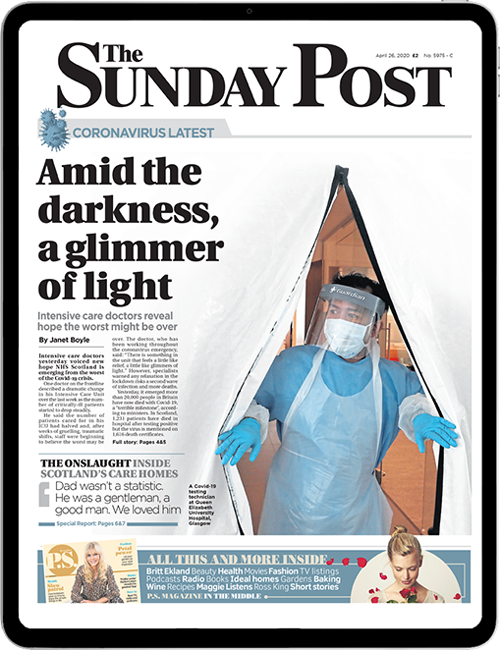 Enjoy the convenience of having The Sunday Post delivered as a digital ePaper straight to your smartphone, tablet or computer.
Subscribe for only £5.49 a month and enjoy all the benefits of the printed paper as a digital replica.
Subscribe