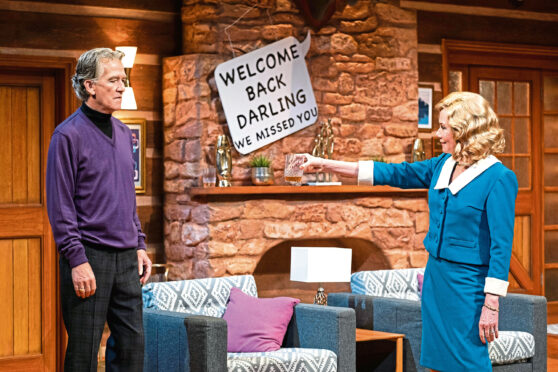 As the actor synonymous with the most famous plot twist in television history, Patrick Duffy has been right at home these past six months, touring the UK in a play laden with twists and turns.
He is starring in Catch Me If You Can, alongside former Corrie actor Gray O'Brien and Linda Purl, from Happy Days. Duffy plays a husband who has reported his wife missing.
When a woman turns up claiming to be his wife, he is adamant she's an imposter. It's a story that draws gasps from the audience, a scenario Duffy is familiar wife from his Dallas days.
When he was invited back to the glossy show in 1986, just a year after his character, Bobby Ewing, was killed off, producers came up with a scenario that is still talked about to this day and is known simply as "the shower scene".
"When I left, I intended for it to be forever and I didn't want to trick the audience into thinking I might come back, so that was why Bobby died," explained 73-year-old Duffy.
"When they invited me back, the producer said in order for me not to be playing my evil twin or someone with plastic surgery, Bobby had to be brought back and the only way to do it was to erase the last year.
"We would start from before I was hit with the car and it would be a dream. I thought the same as the rest of the world. 'Wait a minute, how can you do that?' But when you think about it, some of the greatest storylines have been resolved with a dream sequence – The Wizard Of Oz, Alice In Wonderland, Shakespeare's plays. Someone wakes up. It's not unique but I think for TV and the investment our audience had in the show, it was a stunner for them.
"To be honest, some people were upset. They thought they had been cheated. It took us a little while but they all came back and we did five more years, so it turned out to be the right thing. I've been working for 50 years and to say I have a moment in TV history that people talk about makes me feel pretty good."
Duffy may have 50 years in the business but this is his first time touring the UK. This week's Glasgow shows will be his first time in Scotland and they also bring the six-month tour to a close.
"Every venue and city has been my first time visiting. I've worked in London several times but this is my first time seeing the country and boy are we seeing it," he continued.
The "we" Duffy mentions is his co-star and partner, Linda Purl. Their relationship's a pandemic romance that was as unexpected as it was welcome. "When the pandemic started, Linda and I knew each other through a mutual friend, that was why we had each other's numbers. But during the pandemic, we kept up the conversation, as I was alone at my ranch in Oregon and Linda was alone in Colorado," explained Duffy, whose wife of 43 years, Carlyn Rosser, passed away in 2017.
"Each night, we sat on Zoom and developed an intense understanding of who the other was. Sometimes we would listen to music together, just for company. It got to the point we had to see what was going on, so I drove to her home and, from that day, June 24, 2020, we've never been apart."
Their mutual friend, Bill Kenwright, wanted them to work together on a play. Twelve Angry Men was mooted but the rights fell through, then Catch Me If You Can came along. Not to be confused with the Leonardo DiCaprio film, it is based on a play, Trap For A Lonely Man. It was adapted for the screen three times, most recently as the 1986 film Vanishing Act, starring Margot Kidder, Elliott Gould and Mike Farrell.
"It's such a benefit being able to tour with each other – neither of us would have done it had we been apart for seven months," he continued.
"This is the right play for this time – it's fun, it's humorous and it has mystery. It's Agatha Christie on steroids. Nothing's resolved until the end, and then we hear the audience gasp."
Catch Me If You Can, Theatre Royal, Glasgow, Monday-Saturday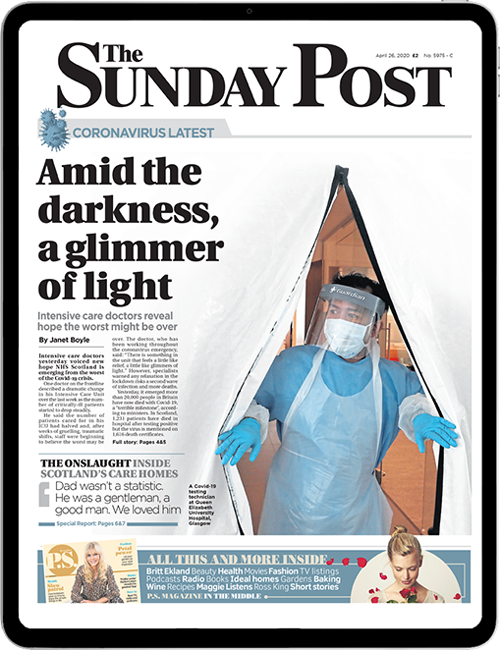 Enjoy the convenience of having The Sunday Post delivered as a digital ePaper straight to your smartphone, tablet or computer.
Subscribe for only £5.49 a month and enjoy all the benefits of the printed paper as a digital replica.
Subscribe