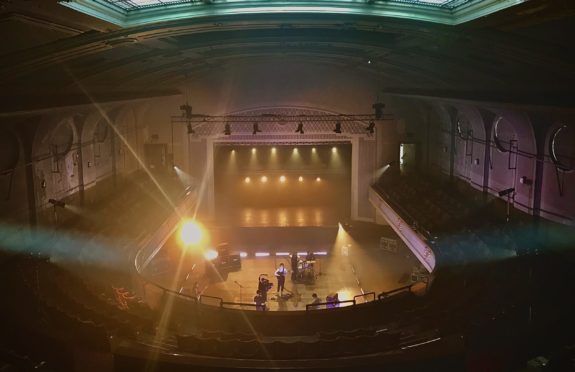 Leith Theatre has been hailed as an example of how at risk venues can still be an important part of their communities throughout the pandemic and beyond.
One of three Scottish sites on the Theatres at Risk Register, announced by the Theatres Trust last month, the Edinburgh venue has remained in operation as a community space.
It entered into a partnership with Empty Kitchens, Full Hearts CIC, allowing the charity to use the kitchen and hall to feed those in need, and has been used as a filming location for several music videos.
During lockdown it operated as a foodbank and collected materials for masks, and next month it will host Live in Leith, a series of gigs broadcast online.
Get your LIVE IN LEITH tickets NOW! 🎟️🎟️🎟️ https://t.co/al5W0PXCSR

March 20: @retrovideoclub & @ConnorFyfeMusic
March 27: @novascotiatruth & @RansomFA
April 3: @THENINTHWAVE_ & @LuciaBestBoys

Host @VicGalloway
#Leith #Edinburgh 👇videography @GarethGoodlad @DangerKillProd1 pic.twitter.com/OFr29enA87

— Leith Theatre (@LeithTheatre) February 12, 2021
Claire Appleby, architectural adviser for the Theatres Trust, said that it was a prime example of the value of places where communities can come together.
"I think what the past year has shown us is that people really value places where they can come together," she said. "We all miss that social interaction and audiences miss live performance.
"It's been a hideous year for everybody, and the theatre industry has been hit particularly hard. We really do believe though that, after the pandemic, theatre will come back stronger than ever.
"Leith Theatre's doors have been shut for the pop-up performances they'd normally be doing but they've worked really hard engaging with the local community.
"It's really important and vital work and there are so many examples of theatres up and down the country who have done similar things."
'Irreplaceable' buildings
The At Risk register was created by the Theatres Trust, the national advisory public body for theatre buildings.
They were set up in 1976 to promote better protection for cultural and social heritage after more than 800 theatres were lost up and down the country in the 60 years prior.
The organisation uses the list to highlight the buildings with strong architectural merit and community value that are at risk of redevelopment or closure.
Dundee and Kirkcaldy's King's Theatres are also on the list of 31 venues across the country.
"Once these buildings are lost, you cannot replace them," Claire said. "We work really hard to make sure that that doesn't happen any more and now it's rare for a theatre to be demolished without a suitable replacement.
"If demolition is absolutely necessary, which we hope it won't be, we'll always fight for a suitable replacement cultural venue to be put in its place."
As there isn't always a quick fix, many of the buildings listed have been on the register for years.
Claire explained: "It can be a very long, slow process but we always hope that at the end there's a viable use for every building. It's about finding a use that's long-term, community-based and self-sustaining so you don't need subsidy to keep these buildings going.
"All of these buildings, we believe, have the potential and opportunity to be right back at the centre of their communities again and to be valuable assets to them, bringing footfall back into town and city centres.
"We see that there's a big economic impact on local areas when you bring theatres and live performance back in. Each of the buildings has the potential to be a viable and vibrant part of their communities, and even be a spark for regeneration of certain areas."
Public support
In the case of Leith Theatre, the building was closed for performances in 1988, but was resurrected as an arts space after a community group saved it from being sold for residential development.
Before Covid, performances were brought back to the space despite its state of disrepair, with hopes of one day reinstating it to its former glory.
Key to the success of any project like this is the support of the public, and Claire has hailed the backing received for venues all across the country.
"The local people who have that passion and can often remember these buildings from the past or have grandparents who have such fond memories of the buildings, they're the ones who have the commitment," she said.
"So often they're working other full time jobs and campaigning for these buildings in their spare time and really putting together strong business plans to bring these buildings back, talking to their local councils and authorities.
"It's not about preserving these theatres in aspect, we're looking for these re-uses of them.
"We'd always hope it would be live performance but in some cases there might be a new use in there, it could be opened up for community events or something along those lines. Something that doesn't preclude that theatre being brought back into life for performance eventually."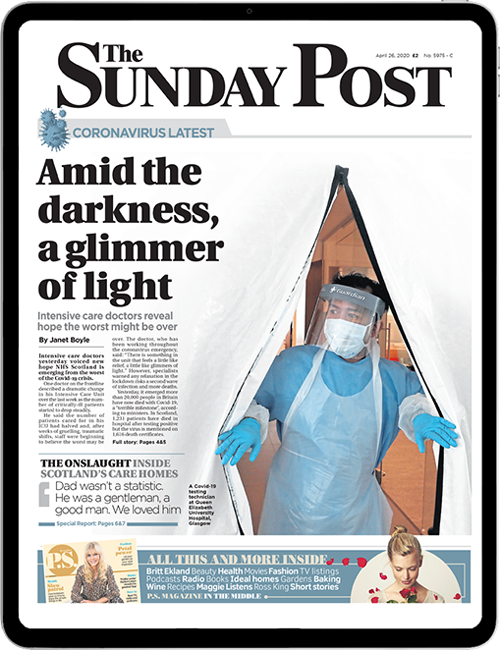 Enjoy the convenience of having The Sunday Post delivered as a digital ePaper straight to your smartphone, tablet or computer.
Subscribe for only £5.49 a month and enjoy all the benefits of the printed paper as a digital replica.
Subscribe