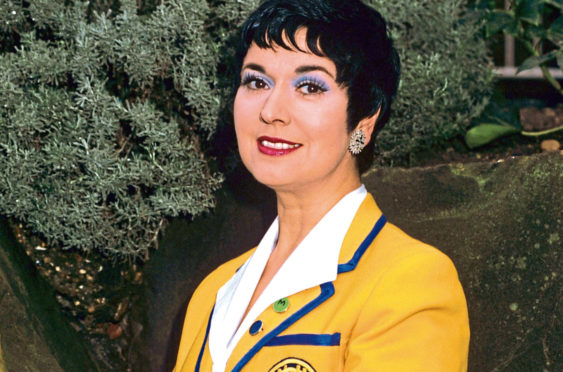 It's 40 years since Maplin's holiday camp first opened its gates and introduced us to Spike, Ted, Gladys, Peggy, Barry and the rest of the Yellowcoats.
We're talking Hi-de-Hi! of course, the popular sitcom penned by Jimmy Perry and David Croft which ran to 58 episodes between 1980-88, entertaining millions in the process.
After the success of Dad's Army and It Ain't Half Hot, Mum, Perry and Croft turned their attention to the holiday camp scene, a world they knew well.
While Perry had donned a Butlin's Redcoat during holidays from RADA, Croft had produced revues at camps around the country.
A warmly received pilot episode in 1980 led to the first of eight series, but as Jimmy Perry – who died in 2016, aged 93 – once told me, not everyone was initially enamoured of their idea.
"Nearly everyone threw up their hands in horror! 'That old thing's been done so many times' was the comment. But all the others who'd made shows about holiday camps had got it the wrong way round – they were full of jokes about guards on the gates, barbed wire and escape tunnels.
"From the start, our premise was that campers had a wonderful time, which was the truth, and the humour would come from the entertainment staff."
Set in 1959, when holiday camps were all the rage, the Maplin's cast included Ruth Madoc, Felix Bowness, Su Pollard, Simon Cadell and Jeffrey Holland.
Paul Shane, meanwhile, played the camp's comic, Ted Bovis, a role Perry and Croft had difficulty filling.
"We saw many known and unknown actors, none of whom were right," explained Perry.
"Time went by and we were getting desperate. Then, I turned on TV to watch Coronation Street and there was Paul – he fitted the character to perfection."
Maplin's was, in fact, Warner's Holiday Camp at Dovercourt, near Frinton-on-Sea, Essex. It became the show's adopted home after Butlin's refused permission to film at one of their locations.
Filming took place at the end of the summer season, just when the weather turned colder.
For the pilot episode, cast and crew stayed in unheated chalets and nearly froze to death!
David Croft – who died in 2016, aged 78 – recalled: "It was October and, for budget reasons, we hired the chalets. They were designed for summer occupation, so there was no heating.
"The cast bore it all with great fortitude and as many blankets as we could muster. I was particularly worried about Leslie Dwyer (Mr Partridge, the Punch and Judy man), who was elderly – to put it mildly – but to our relief he didn't get pneumonia!"
Someone who'll never forget the cold conditions is Jeffrey Holland, alias Spike Dixon, the naïve comedian.
"I was thrown in the pool quite regularly but usually given a wet suit to wear underneath my costume. On one occasion, though, I was dressed up as Miss Maplin in a woman's bathing costume, fishnet tights, high heel shoes and long blonde wig. There was no way I could wear a wet suit that time.
"Although not the strongest of swimmers, I was treading water while they shot the scene. Trouble was, it was taking a long time.
"In the end, I had to shout: 'David, I've got to get out as my legs are going numb!' It felt like hypothermia was setting in, it was that cold.
"After being pulled out, I jumped in a hot bath. Believe it or not, one of the tabloids got hold of the story and published a double-page spread with the headline, 'The day I nearly Hi-de-Died!'"
The sitcom won a BAFTA for Best Comedy Series in 1984 and made many of the cast household names.
Holland, now 73, will always be remembered as Spike, not that he's worried.
"I still get people in the street calling me Spike. Whatever I do in the future, I'll always be that bloke from Hi-de-Hi! to many people but that's great."
Even after all these years, he still receives letters from fans of the show. "It proves that the sitcom still affects people. I get fan mail from young people who weren't even born when we made it."
Reflecting on why Hi-de-Hi! remains popular today whenever it's repeated, Holland says: "It's very colourful and has all kinds of different characters – young people, old people.
"The older generation remember those days in the 50s – I do. I went to Butlin's with my parents several times. I recall the regimentation of the holiday camps.
"Children, meanwhile, love the wonderful characters, such as Peggy and silly Spike. Then there are all the daft costumes, the unrequited love of Gladys and Jeffrey – it's all there. Life is in there."
Flirty Yellowcoat Sylvia Garnsey, seen in every episode was played by Nikki Kelly, who was offered two other jobs the same time as Hi-de-Hi!.
"I chose Sylvia because of the possible longevity. Fortunately it was the right choice.
"It was up to me how I played the character but David and Jimmy always cash in on their actors' personalities," explains Kelly, now 68.
"I was a hands-in-my-pockets flirt and they used those characteristics when writing for Sylvia.
"Every series, I got my shorts made shorter. Shorts in the '50s were big and baggy and I refused to wear them. Having them shorter and shorter, though, meant it reached the point where it looked like I didn't have anything on under my jacket!"
In charge of the Yellowcoats was Gladys Pugh, queen of the false eyelashes. The role made actress Ruth Madoc a household name. "She was wonderful to play and remains a big part of my career because people still recognise me for that role."
Madoc, 76, delights in talking about her role. "I'm so proud of the series and the fact Gladys appears to have found a place in the psyche of the nation – what more could one ask for?"
Making TV programmes rarely goes to plan and Hi-de-Hi! was no exception. Among several incidents which spring to mind when asked to pick her favourite, Ruth Madoc recalls a scene where the Maplin's staff partake in the local carnival.
"We were standing on a float which was meant to catch fire, at which point it would be driven into a swimming pool. Of course, we only had one chance to get it right.
"Unfortunately, Simon Cadell – who played camp manager Jeffrey Fairbrother – fell off the float into the swimming pool prematurely and the weight of his clothes pulled him under."
Realising his predicament, all the Yellowcoats dived in to save him. "We impressed the director so much, he kept the sequence in the show, despite it being a real-life incident."
One cast member who had first-hand experience of working in a holiday camp was Barry Howard, alias snooty ballroom dancer Barry Stuart-Hargreaves, who appeared in the first six series before ill health forced him to quit the show.
Howard, who died in 2016, aged 78, recalled: "My first theatre season after graduating from drama school was at Butlin's in Ayr. So when I joined the cast of Hi-de-Hi! almost 20 years later, it felt like I'd come full circle. Having worked at Butlin's helped me get into the holiday camp mentality.
"It was a very happy period, the value of which I truly appreciated years later – perhaps more than at the time. I used to drink more than was good for me in those days and got into trouble for shoving one of the Yellowcoat girls into the pool. I thought it was a wheeze but it didn't go down terribly well!"
But like the rest of the cast, he had nothing but fond memories of the sitcom and lamented the loss of such shows. "It was expensive to make because in some episodes there were lots of people sat around the pool, all needing feeding, dressing and paying. But they don't make them like that any more."
In fact, David Croft usually employed around 60 extras to represent approximately 600 campers at Maplin's. The extras moved about, often in different costumes, to give the impression the camp was full.
Croft remembered telling one man with a beard that if he wanted to work on the show for more than half a day, he should shave off his beard, which he did.
Our final visit to Maplin's was in January 1988 when staff were informed that Maplin's was turning the camp into a self-catering resort which meant no Yellowcoats.
So, it was a sad farewell to a much-loved sitcom and another fine example of Perry and Croft's ability to write pathos as well as comedy.
Great writers, wonderful sitcom. Still, frequent repeats and DVDs will always keep Hi-de-Hi! in the public consciousness.