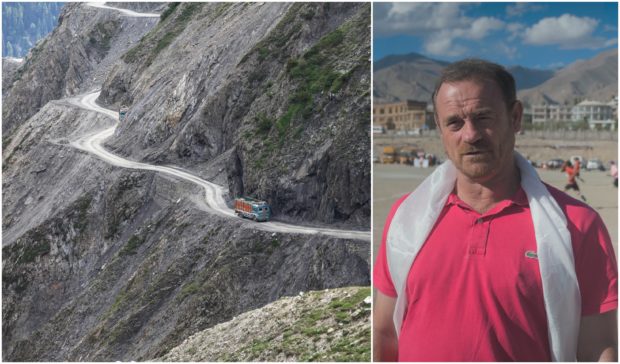 It may have been the journey from hell, but David Robertson was just happy to have a ticket.
The former Rangers and Aberdeen footballer endured a tortuous three-day journey last week from wartorn Kashmir to his home in Aberdeen.
Robertson, 51, the manager of Indian League side Real Kashmir, had spent 49 days in a tiny hotel alongside his wife Kym and son Mason, who plays for the team, in Srinagar as they tried to find a way back to Scotland after India was put into a coronavirus lockdown. Their escape came via a road which David describes as the worst in the world.
"The Srinagar to Jammu road is a terrifying journey," he admitted. "It took us 16 hours to travel 250 miles. It's basically a dirt track, built on the side of a cliff, with no barriers. There are bumps all the way, and horses and goats coming in the opposite direction.At the best of times, you can only just get two cars passing by each other, but in the winter the track becomes smaller with snow, so for two days there is only traffic allowed in one direction and then two days the other way.
"I'd done it once before and said never again, but desperation meant we had to."
David, Kym and Mason, along with English footballer Kallum Higginbotham and two Scottish coaches, were told their journey could have been even worse.
"We were asked if we'd made it through the borders OK, because two militants had just been shot and as a result everything was shut down," said the former Scotland international. "We'd left at 5am to start the trip, but had we departed later we wouldn't have got out at all."
The relieved party flew out of Amritsar in Punjab on Thursday.
David said: "Once we were through security, it was great to know we were on our way.
"The flight was jam-packed and the staff all had white protective suits on. We had to wear masks.
"There were no meals. Instead, we were given a plastic bag with a cheese sandwich and chocolate buttons, but it was just great to get out."
From London, a minibus eventually returned David and his family to Aberdeen at 6am on Friday. "It's good to be home," he continued. "My mum's not well but now I'm back I can go and stand outside her window from a safe distance and talk to her."
This was David's third season in Kashmir. He won the second division title with the club in his first season, came third in the top league last year and was on course for a second-placed finish this campaign.
"When you look at where we started from – no training kit or changing rooms, not in a league, the players bringing their own footballs – I didn't realise what I was getting in to," he explained.
"It's in a war zone, a really troubled region, and I don't think any manager in the world has had to deal with what I do on a daily basis. Every morning when I wake up, I know there's going to be something.
"But it's not only made me a better coach, but a better person. It makes you realise how lucky we have it at home."
The incredible story of Real Kashmir under David has brought huge media attention. A Bollywood movie is to be made about their rise and a BBC Scotland documentary last year won a Scottish Bafta and was a ratings winner.
The follow-up, Return To Real Kashmir FC, airs this week and shows David exploring the country while trying to take his team to the next level.
"I've seen some amazing things," he said. "You tell people Kashmir is beautiful and they laugh at you, because of the situation, but it really is a lovely place. It's just in the wrong location."
The same can be said for his job, and it's for that reason Davie says he will return to Real Kashmir once the coronavirus lockdown is over and football can be played again.
"I have a great relationship with the club's owner, Sandeep Chattoo, and his family," he said. "The pandemic there is three or four weeks behind everywhere else, and obviously with the conditions in some parts of India it might take them longer to recover.
"I feel like I need to try to win the championship for him next year, so I don't know when I'll be able to go back, but I will."
Return To Real Kashmir FC, BBC Scotland, Tuesday, 10pm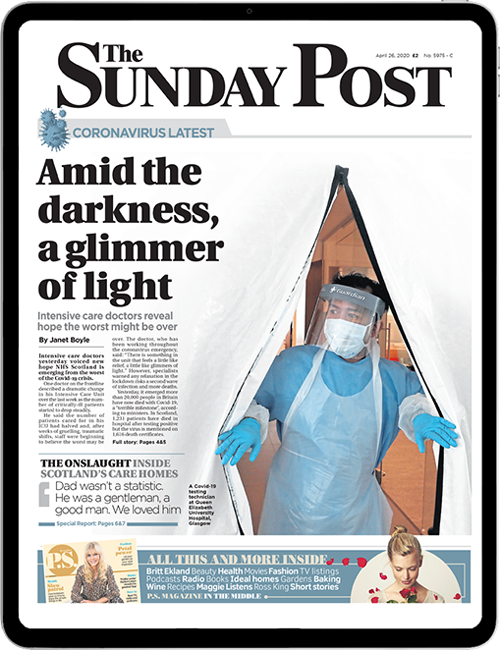 Enjoy the convenience of having The Sunday Post delivered as a digital ePaper straight to your smartphone, tablet or computer.
Subscribe for only £5.49 a month and enjoy all the benefits of the printed paper as a digital replica.
Subscribe