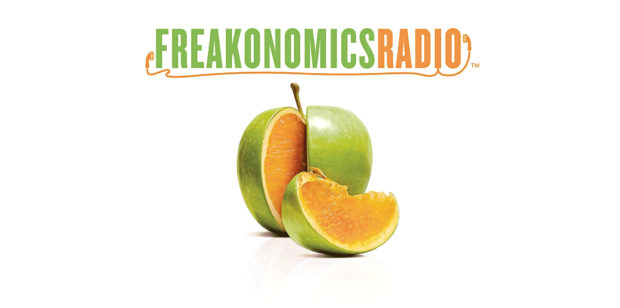 Freakonomics (Apple Podcasts)
Economics is a hugely important subject and…wait! Come back!
It might seem like a deathly dull topic, but economics isn't just about money, supply and demand, and accountancy practice.
It can explain how the world works in lots of different ways, according to certain big brains – and often it's surprisingly little to do with money.
For instance, economics has shown how your name can make the difference in how successful you are, how having a swimming pool is more dangerous than owning a gun, and how birth control helped improve the crime rate.
All of these odd links are explored in Freakonomics, a podcast based on the hit book of the same name.
It was written after economist Steven Levitt was interviewed by journalist Stephen J. Dubner for an article.
The relationship led the pair to produce more than 350 episodes of the podcast, and the topics are always varied.Dubner and Levitt, for example, looked at the record of sumo wrestlers in Japan.
And they found evidence of corruption in the tight-knit community.
Wrestlers would let those who were in danger of being relegated from the league win in order to preserve the status quo.
The findings annoyed the sumo community in Japan – but after the book's release, the championships in Japan were cancelled amid the scandal.
---
The Worst Idea Of All Time (Apple Podcasts)
Two New Zealand comedians watch and review the same movie weekly, for one year.
The pair have watched Grown Ups 2, Sex and The City 2, We Are Your Friends and, most recently, Sex And The City, 52 times each.
Stupid, maybe, but more importantly, quite funny.
---
Broken: Jeffrey Epstein (Apple Podcasts)
Whether you're familiar with the case or not, it's worth learning about Jeffrey Epstein.
The disgraced financier died in prison last month with questions about sex trafficking and links to some very powerful people hanging over his head.
Now filmmaker Adam McKay (The Big Short, Vice) has launched a podcast exploring Epstein's case.