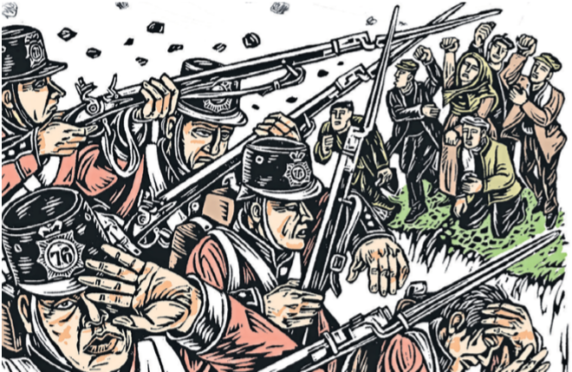 It is a savage, brutal episode in Scotland's history and largely forgotten.
But the potato blight that preceded the harsh winter of 1847 sparked fear and chaos across swathes of the country.
News of Ireland being ravaged by its own famine only heightened tensions and led to rioting and unrest the authorities were ill prepared to combat.
So when the price of oatmeal, the main replacement for potatoes, rocketed as farmers realised they could gain a better price for exporting the grain rather than selling it locally, it sparked demonstrations and stand-offs that often turned violent.
James Hunter, emeritus professor of history at the University of the Highlands and Islands, wanted to investigate after coming across some boxes at the National Records of Scotland which were simply labelled, "Disturbances in the north".
The result is Insurrection: Scotland's Famine Winter, which tells the story of that devastating season through the human tales James uncovered in his research.
Ultimately it was the goodwill of fellow Scots to help those less fortunate, James found, which prevented a bad situation from becoming much worse.
"It didn't become quite as catastrophic as Ireland, although there was a fear it could have done," he said.
"What interests me is trying to get the story of ordinary folk – who they were and what they were doing. That's the kind of history that needs to be told and I think Scottish people should be aware of what their ancestors did."
The potato blight that began in August 1846 affected the Highlands and Hebrides in the west, while in the east, communities from Aberdeen to Wick and Thurso raised up in protest at the skyrocketing cost of oatmeal.
"By January 1847, the oatmeal price had doubled," continued James. "Farmers were attracted by the fact you could ship this stuff out to the central belt and down to England for a wholesale price that was better than selling in dribs and drabs locally.
"People took the law into their own hands, trying to stop shipments with some considerable success.
"Aberdeen, Fraserburgh, Macduff, all along the Moray Firth and up to Thurso, it was a movement that went right round the coast.
"There was no police force of any consequence, so the local sheriff would try to mobilise the most respectable parts of the communities as special constables."
But there was widespread sympathy for what the protesters were trying to do, so people refused to help.
The Army was called in and at times the situations became violent, especially in Wick, where the troops fired into the crowd.
"Another problem the authorities had was a lack of military resources up north," said James.
"There were no Royal Navy ships, only one small gunboat on the east coast, and there were just 1,500 troops available in all of Scotland.
"Scotland was expected to be a peaceful place, whereas there were 30,000 of an Army presence in Ireland, where there was always an expectation of an uprising. The Army firing on people caused a lot of consternation, to put it mildly."
The military action was successful to the extent that shipments started again, but by this point communities realised they had to do something.
Seeing their neighbours being arrested and others becoming ill, or worse, due to starvation, led to large sums of money being raised in towns like Inverness and Elgin.
"There were vast amounts of money raised for famine relief, many millions in today's money.
"Those large sums were used to subsidise the price of oatmeal, which was then sold on to the working people below the market price.
"Quite a bit of that money would have come from tradesmen donating a few shillings, ordinary folk who might not have been well off but helped people who were worse off.
"People on the islands with a little food would share it with those who had none."
By mid-March of 1847 the riots were over, although the effects of the famine would be felt for much longer in those families who had lost loved ones to starvation or had relatives jailed for protesting in desperation.
"There is a feeling of solidarity, humanity wishing to help in poor circumstances," James added. "Without getting starry-eyed, I found it remarkable the way people rallied round. Although I don't touch on it in the book, thoughts of current food poverty and food banks did come to mind as I was writing.
"I think it's worth reminding ourselves just how many people did so many good things to help others.
"It is one of the best sides of human nature."
---
OPEN FIRE
On February 24, 1847, the Army's 76th Regiment marched down Union Street in Pulteneytown, near Wick, with two men they had arrested.
As demonstrators threw stones, the sheriff of Caithness ordered the troops to open fire. William Hogston was struck in the hand with a bullet, mutilating his fingers and leading to his hand being amputated. He was a cooper by trade, rendering him unemployable and leaving his wife and five children destitute.
OUR LOST CHILD
Catherine MacMillan, 14, of Barra, died as a result of starvation. Her parents, Archibald and Jean, and her five siblings had frequently been without food for a period of months. They had lived principally on the remains of diseased potatoes, which they had taken from fields where they were left to rot. Catherine became so emaciated, "falling away greatly in strength and appearance", that she was unable to withstand the illness, perhaps dysentery or typhus, that was the immediate cause of her death.
THE FLOUR BAGGERS
A ship containing 6,000 barrels of flour ran aground at the Sound of Harris. Like Whisky Galore, many locals took what was going to end up in the sea anyway. Eight men – honest or foolish enough to own up – were jailed for three months. But the sheriff of Inverness, William Fraser-Tytler, had sympathy. He interviewed them, had them bailed, gave them work on his estate, and wrote to the Lord Advocate asking they be admonished in a rare show of humane Victorian justice.
A WALK OF HOPE
In August 1847, three women walked from Newtonmore to Kinlochlaggan in a desperate attempt to change their family's fortunes. Mary Jack, Isabella Main and Margaret Main hoped for an audience with the holidaying Queen Victoria and Prince Albert, after three relatives were sentenced to seven years' transportation after pleading guilty to mobbing, rioting and assault. They were told to send a petition to the Queen. The men were released back to their home village of Burghead.
---
Insurrection: Scotland's Famine Hunter by James Hunter, is published by Birlinn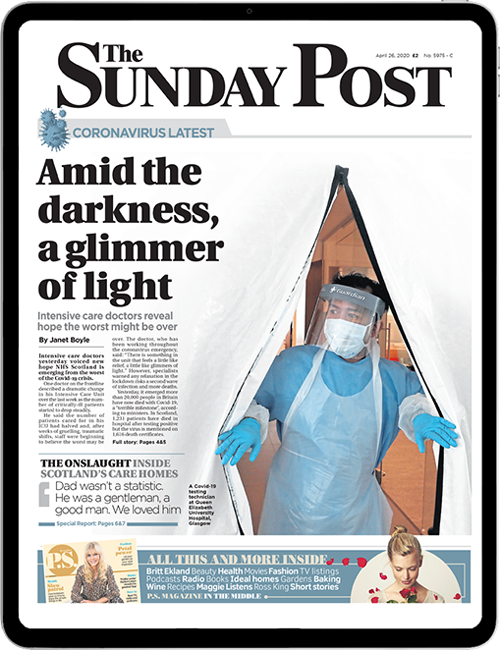 Enjoy the convenience of having The Sunday Post delivered as a digital ePaper straight to your smartphone, tablet or computer.
Subscribe for only £5.49 a month and enjoy all the benefits of the printed paper as a digital replica.
Subscribe