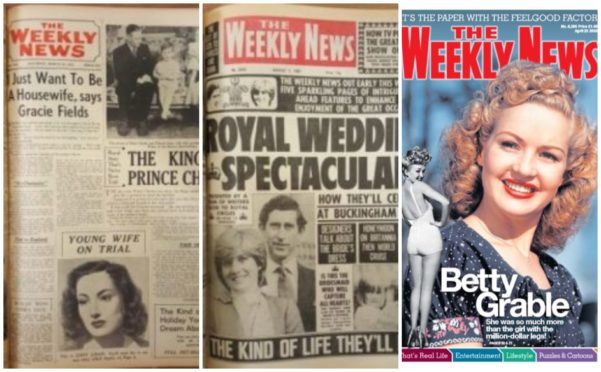 The Weekly News, a sister title of The Sunday Post, is to close at the end of May after 165 years of publication.
First published in 1855, The Weekly News has continuously published through The Crimean and Boer Wars, two World Wars and the Spanish Flu pandemic 100 years ago.
The publication evolved from a being a conventional weekly newspaper title into 'the paper with the feelgood factor', with the focus on features, nostalgia and cartoons, for which it has always been well regarded.
During the paper's peak in the 1960s and 70s, The Weekly News sold nearly 1.5 million copies per week.
Operating in a challenging market and with increasing competition from different forms of media, sales of The Weekly News have been in decline for a number of years.
And with the 165th anniversary of The Weekly News in May, it has been decided that now is the appropriate time to close the title.
The decision to close was taken before the coronavirus crisis struck.
https://www.facebook.com/weeklynewsuk/photos/a.117317608438618/1234887086681659/?type=3&__xts__%5B0%5D=68.ARBgoZpzLPGuWto8ucd9O4FCHm8m_WP4hp3mlKKQSgipRtALgS4u8H5gbSH_dKqaW7H6bPiJzHIXlSgcljIsiY1Nr_j-N8LeZ-fjqvxtsAeehUbCk-S9kdaKHaDROEo6cuWW2KWPyvSLw1G40ZU98O1o42W2a3MDBMbbdz8nWDaDDFsBmXIflZ7gs-R3qkbSxpoFDoMyeklCUfZ79mvIln34LABEXVqFPfZRXRmBYqVmg_JmZyz30A9Ca6igNKCbrkFW0lOb-tWP0w9HvCFVsJ4UHaqMD4lg_dgzt9e2tPuK62QAp-d6vyMZmkkROoWhpKyaOH1xTU-bgzvT4be4z_PTVg&__tn__=-R
Billy Higgins, Editor of The Weekly News, said: "I'd like to thank all our readers for their loyalty to the newspaper over the years. Some of our readers have been Weekly News fans since the 1940s, and we are hugely grateful for that.
"It is pleasing that we have the opportunity to complete our planned goodbye to such an iconic title in the shape of our last four issues each featuring eight pages of Weekly News archive material, telling our story from 1855 to 2020.
"Our last issue will be a special bumper edition, and we look forward to producing that."
Richard Neville, Head of Newspapers at DC Thomson Media, said: "We took the decision to close The Weekly News with a heavy heart but wanted to ensure the final few issues were a celebration of what was a world beating newspaper at its height.
"The team have kept the standards up throughout its life but it was really suited to a non-internet age and its formula has become less relevant in today's media landscape."
The last edition of The Weekly News will be issue May 30 (on sale 27th May).
---
A message from Billy Higgins, Editor of The Weekly News…
In bringing the first number of THE WEEKLY NEWS before the public, it may be expected we should make it the first duty of our pen to introduce ourselves, and enlarge upon the benefits we are to confer upon our readers. We have no inclination to do this, however, preferring to be judged by our performances. We shall strive to deserve public support, and having done so, we are willing to stand or fall by public opinion.
And with that above passage from the front page of the first edition of The Weekly News on May 12 1855, a newspaper was born.
It was the time of the Crimean War, of Florence Nightingale, of Queen Victoria on the throne (in the 18th year of her reign), of Henry John Temple, 3rd Viscount Palmerston's first term as prime minister, of post boxes being introduced to London's streets.
And since May 1855, your Weekly News has been proud to continuously publish through that Crimean War, through the Boer War, through two world wars and, of course, through a pandemic more than 100 years ago.
From being what could be described as a conventional newspaper (the clue is in our title!) with serious news content in the beginning, we have evolved over the years into The Paper With The Feelgood Factor that you know today, offering a much lighter touch, probably more akin to a magazine.
At the height of our success in the 1960s and '70s, we regularly sold more than one million copies per week, even reaching an extraordinary 1.4 million at our peak, which would be an incredible circulation figure for any print publication these days.
We were a big deal, you know!
We've seen off all of our rivals from "back in the day" – remember Reveille, Titbits, Weekend? All long gone.
Even some of our massively successful sister titles, such as Jackie and The Dandy, have beaten us to the great publication heaven.
Alas, though, and very sadly, it's almost time for The Weekly News to join them.
As the years have gone by, and competition and different forms of media has increased to levels that were scarcely believable even in the 1980s when I joined this paper straight from school (and stayed ever since!), it has been increasingly difficult for The Weekly News to make ends meet.
That's why we've taken the decision to close the paper at the end of May.
Ironically, given the current global situation, this move isn't linked to the health and economic disaster zone we find ourselves in.
We had decided at the turn of the year that May 2020 – our 165th anniversary – was the appropriate time for us to call it a day.
So, you could say it's been a plan with an exit strategy…
We're still around for the next four weeks and we think you'll enjoy our last four issues, featuring eight-page archive specials of classic Weekly News material telling our story from 1855 to the present day as we celebrate our lengthy life.
Our final issue, dated May 30, will be a special bumper edition.
My men in Havana, our principal writers Craig Campbell and Alan Shaw, are currently beavering away on that. In fact, in these days of remote working, the dynamic duo might actually be in Havana for all I know.
It hasn't been easy to keep things light these last few weeks in the middle of the worst pandemic for 100 years, but I think it's important that we've tried.
It just leaves me to thank you, our remaining readers, for sticking with us all this time. We know some of you have been readers since the 1940s, and we are hugely grateful for that.
If you have any memories of The Weekly News, please do email us at weeklynews@dctmedia.co.uk
We'd love to hear from you – and stay safe everyone.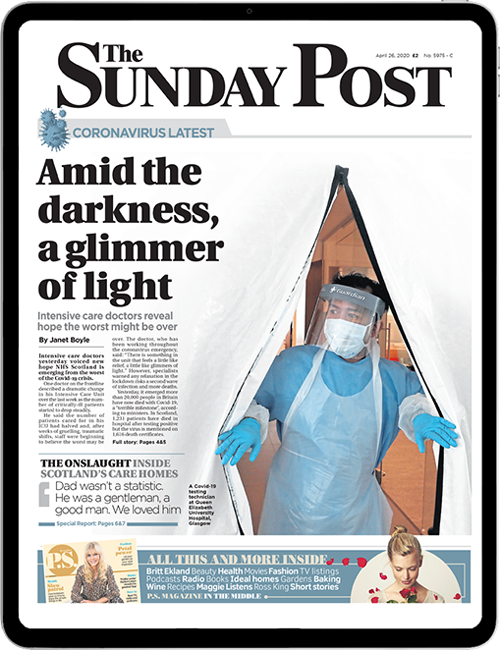 Enjoy the convenience of having The Sunday Post delivered as a digital ePaper straight to your smartphone, tablet or computer.
Subscribe for only £5.49 a month and enjoy all the benefits of the printed paper as a digital replica.
Subscribe