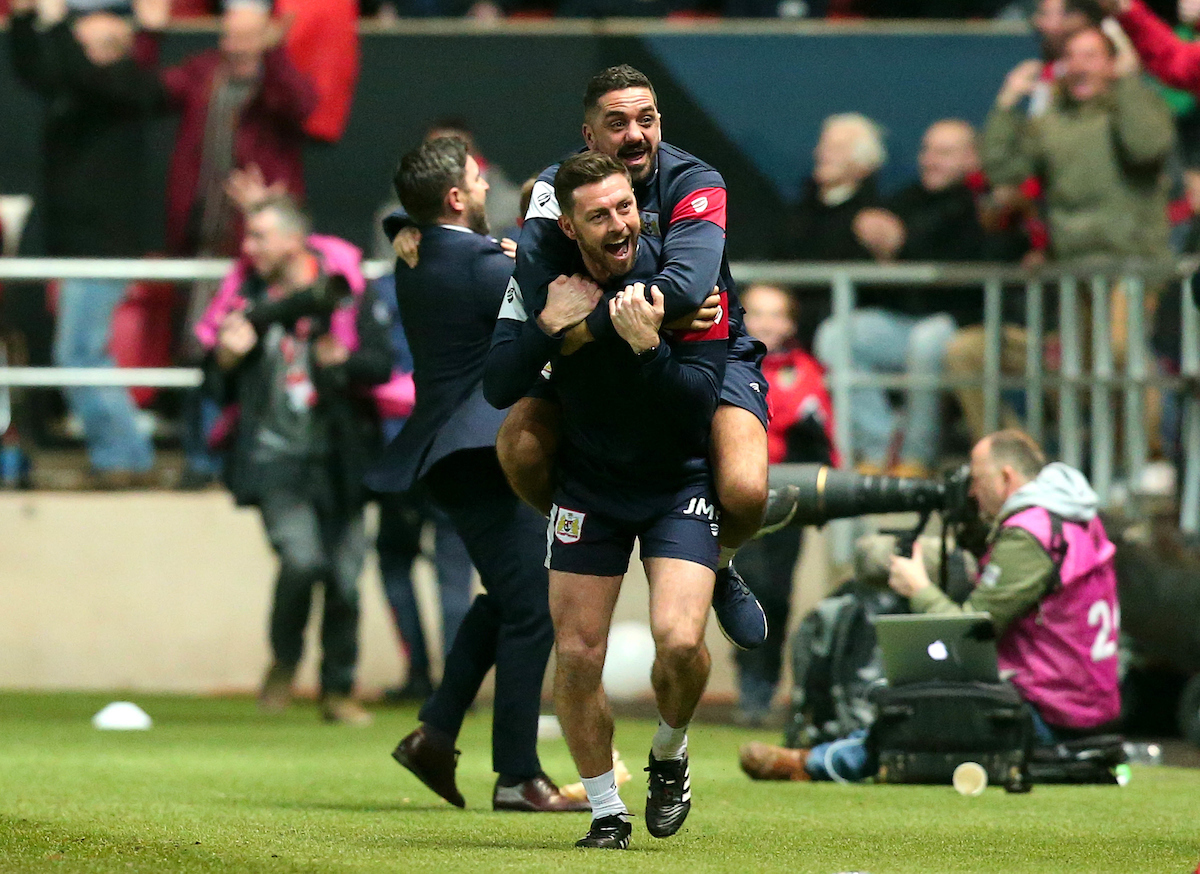 HIS colleagues celebrated with a £450 bottle of wine.
But Bristol City kit man Scott Murray was left sipping on an Irn-Bru after the Robins' stunning Carabao Cup win over Manchester United.
TV cameras caught Scots backroom stalwart Murray at the heart of the dugout explosions that greeted both of triumphant City's goals against United.
After racking up 427 games for the club before being made kit manager by Derek McInnes during his time at Ashton Gate, the Aberdeenshire native knew what each strike meant to long-suffering fans.
He has suffered with them, after all.
So if anyone deserved a post-match glass of the vintage Portuguese wine bought by City coach Lee Johnson to impress United boss Jose Mourinho, it was Murray.
Instead, the 43-year-old was left to celebrate with Scotland's other national drink after the Robins' coaching staff – including former Aberdeen and Hearts defender Jamie McAllister – hoovered it all up!
"No, no. I didn't get any," laughed Murray.
"I try to stay away from the wine. During the week at least!
"Actually, I think the vultures drank it all anyway! I just stuck to my Irn-Bru!"
Murray's obvious joy tells the story of an incredible few months at Ashton Gate.
Beating United to earn a tie with Manchester City in the Carabao Cup semi-finals was as historic as it was euphoric.
But it isn't an isolated event.
City are a club on the up these days, miles healthier than the troubled outfit Aberdeen gaffer McInnes took charge of in 2011.
Owner Steve Lansdown has an estimated net worth of £1.3-billion and oversees a side flying high and aiming for promotion to the Premier League, and girding themselves for a cup crack at Pep Guardiola's all-conquering league leaders.
It is the best spell Murray, who first arrived 20 years ago this month in 1997, has experienced.
"It is as good as it has ever been here – 100%" he says.
"The owner definitely knows what he wants. The whole thing around the club is unbelievable. Very positive.
"Things are going really well on the park, but off it we're in great shape too.
"The ground has been redeveloped now – we had 26,000 in here on Wednesday night – and we've just got planning permission for the new training ground.
"It's not just Bristol City. The owner owns most of the sports teams in Bristol – apart from Rovers obviously – and the mood everywhere is fantastic.
"If you take all that, then you've got the other night, which was Roy of the Rovers stuff really, it's a really positive place to be."
The scenes following each of City's goals in midweek was evidence enough of that.
Murray played in the same team as manager Lee Johnson and assistant Jamie McAllister back in the day, and the trio celebrated the win over United like the team-mates they once were.
They remain united in purpose and deed.
"I think I jumped on Macca's (Jamie McAllister's) back," recalls Murray, still trying to make sense of it all.
"It just shows you that not only is the team a young one, but the coaching staff are young too, so we're all best mates really.
"Myself, the gaffer and Macca all played with each other here, so there's a really good atmosphere around the club.
"And it helps that we're doing really well in the league. So hopefully we can keep it up until May at least!"
Five months of early starts lie between Murray and his hoped-for destination of promotion to the Premier League.
City's kit man puts in the hours in the same way a manager would, perhaps with even more dedication.
It's a life he's got used to over the last five years, the routines well-worn from morning to night.
But fittingly, the day of the United game began as unusually as the result ensured it ended.
"I usually start at 6.15 every morning," Murray explained.
"I put all the staff kit and playing kit out, and stuff like that.
"On a match day, I'll normally try to get in at the same time, but on Wednesday there was actually somebody, who'd won a prize, to shadow me all day.
"He wasn't coming in until noon, so I couldn't actually start putting my kit out until then, which was an absolute pain for me. But I did what I could.
"Later on, I remember standing in the kit room at the stadium, watching Paul Pogba and Zlatan Ibrahimovic walking past.
"I was thinking: 'Jesus, they've actually put their big guns out'.
"But it turned out to be a great game for us. We played really, really well, to be fair.
"It was all a bit surreal because nobody gave us a hope in hell.
"It's like stuff you read in magazines, it was incredible. But then it's back to work getting the kit sorted out again, ready for the next time."
The hints of an Aberdonian accent are still there when Murray talks.
But by the time the subject turns to McInnes and Tony Docherty – the pair who put him in his Bristol post back in 2012 – the edges suddenly become as sharp as granite.
Dons assistant Docherty has just been in touch to offer his congratulations, and Murray's delight is palpable.
He reckons the pair have done an incredible job at Pittodrie, and could be given the tools to do a better one if the club secures its longed-for move to a new ground.
Murray revealed: "Tony Doc texted me to say well done to the gaffer and Macca.
"I'm an Aberdeen fan, so for Doc and Del to be there is unbelievable.
"The job they are doing there is remarkable, really.
"Realistically, they can only finish second, given the budgets other teams have got.
"Even finishing second now, with Rangers back in the Premiership, is brilliant.
"But if Aberdeen can get their new stadium sorted out, it will help them. That's what happened to us!
"We probably needed a new stadium to help us kick on. Pittodrie, as much as I love it, is in the same situation as we had.
"We've gone from having an average attendance of 14,000 to having 16,000 season ticket holders.
"I'd love to see Aberdeen enjoy something similar – and I'm sure Del and Doc would love it, too."
To talk about Aberdeen is to embark on a journey back to Murray's roots.
But if we're going that far, we might as well go further – all the way back to Fraserburgh.
Murray started out his football career aged just 16 with the town's Highland League side before winning a move to Aston Villa four years later.
Rangers, Aberdeen and Liverpool had also shown an interest in Murray, who was working in a local fish-processing factory at the time.
Scott is in a very different place now, in every sense, while the Broch are looking forward to a money-spinning Scottish Cup tie with Rangers on Sunday, January 21.
But he's able to look back fondly to his time at Bellslea Park, whilst still enjoying the moment his new home of Bristol has afforded him.
"I had the best years of my life at the Broch. They helped me more than anything," Murray confirmed.
"I was a young kid playing with grown men, and the win bonuses meant everything to those guys.
"That toughens you up.
"The years I was there, I learned so much – and I'm still learning now!"
It's just a pity Scott didn't get the chance to educate his palate on the finer end of Portuguese wine!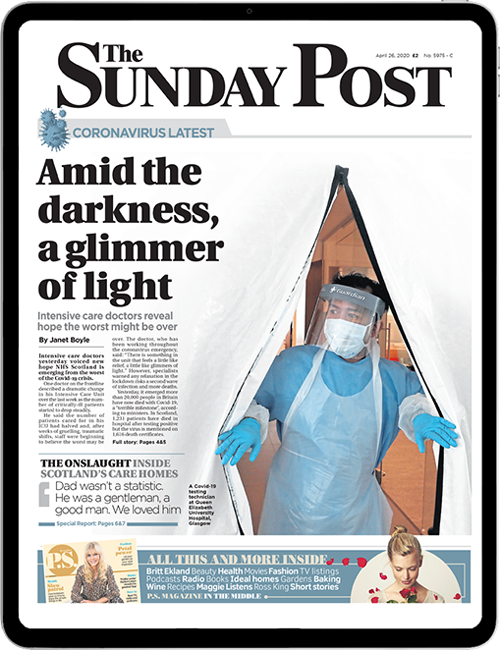 Enjoy the convenience of having The Sunday Post delivered as a digital ePaper straight to your smartphone, tablet or computer.
Subscribe for only £5.49 a month and enjoy all the benefits of the printed paper as a digital replica.
Subscribe