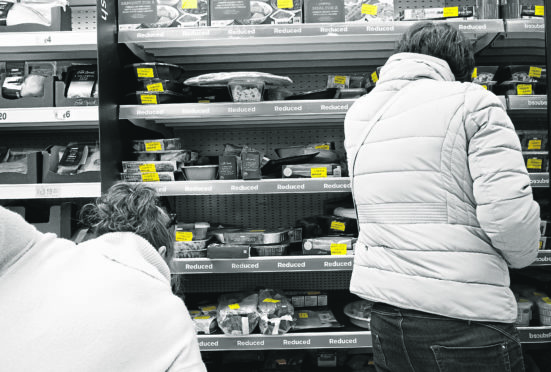 An NHS board where ­public health executives called for shoppers to be banned from getting supermarket discounts on unhealthy snacks is itself serving up bargain food to patients.
We told last month how Dumfries & Galloway health bosses want ­bargains at charity bake sales outlawed as well as "yellow label" discounts on pies, puddings and cakes that are about to go out of date.
At the same time, though, we can reveal that hospitals across the region are offering patients the same types of food bought in at rock-­bottom prices.
Jelly and ice cream are on the menu every day while sugary Rice Krispies cereal plus jam and marmalade are available for breakfast each morning.
Also served up on different days are sausage rolls and meat pies with chips for main course along with desserts of cheesecake, chocolate gateau, chocolate mousse and crumble with custard.
NHS Dumfries & Galloway was shamed two years ago for spending as little as 94p on ingredients for each hospital meal.
And, even now, that figure has risen to only £1.24.
Dietician Dr Sarah Schenker – an expert in hospital nutrition – said: "If they are taking a hardline stance with charity bakes and out-of-date food, they should be consistent and make a stronger stance over their own menus and not allow already unhealthy patients to choose yet more unhealthy food.
"For those patients with ­diet-related conditions, heart disease and complications of diabetes, being in hospital should be a real opportunity to engage them in healthier eating.
"Of course, patients who are underweight or with eating difficulties do need to have options like ice cream and jelly available to them, but they should not be on the menu for the overweight to choose."
To fight obesity, the Scottish Government wants to prevent retailers giving shoppers multi-buy deals for things like biscuits, crisps and sugary drinks.
But we revealed how some NHS chiefs are demanding SNP ministers extend the crackdown to cover ice cream, many yoghurts and fatty snacks.
NHS Dumfries & Galloway also wants a ban on the cut-price "end of line" labels that millions of Scots take advantage of to keep their ­grocery bills down.
If ministers agree, supermarkets will end up binning huge amounts of food that would otherwise help feed families.
In a consultation response to the Government plans, D&G's Michele McCoy – one of the most senior public health consultants in Scotland – advised ministers: "Unhealthy food is better being wasted than consumed to the detriment of health."
However, some of D&G's own fare for patients at its 10 hospitals is not dissimilar to the food under attack. On some days, a patient would be able to have jam on white toast for breakfast with ice cream for both lunch and tea following main courses that might include sausage roll and beans or fried fish and chips – with the option of large portions.
Robert Brown, of the nutrition think tank the McCarrison Society, said: "Hospitals have to think twice as hard about what food they provide because they are dealing with patients who have probably arrived undernourished and who need the best nutrition available to recover.
"They need to weed out the meals that have been so heavily processed that their nutritional value has been largely obliterated.
"Hospitals across the country need to invest in better-quality ingredients and cooking processes.
"But whatever they do spend, they will recoup many times over through shorter hospital stays, fewer ­revolving-door illnesses and patients putting into practice long term good nutritional habits they've learnt while on the ward."
A spokesman for Dumfries and Galloway Royal Infirmary said: "We follow 'Food in Hospitals' NHS guidance, and our menus are ­analysed for nutritional value.
"A healthy choice is provided in every course of our menus to patients.
"Some menu options are included deliberately in order to encourage people to eat.
"Many patients who are admitted to hospital arrive undernourished, and encouraging people to increase their calorific intake can improve their health and recovery."
Ms McCoy added: "We work hard with our partners to try to create environments that make healthy choices easier choices for people."
Public health minister Joe Fitzpatrick said: "Tackling obesity is a public health priority and we want to make it as easy as possible for people to make healthier choices, change their eating habits and live healthier lives.
"We are currently considering all responses to our consultation.
"We expect all health boards to provide patients with healthy and nutritious food while in hospital."