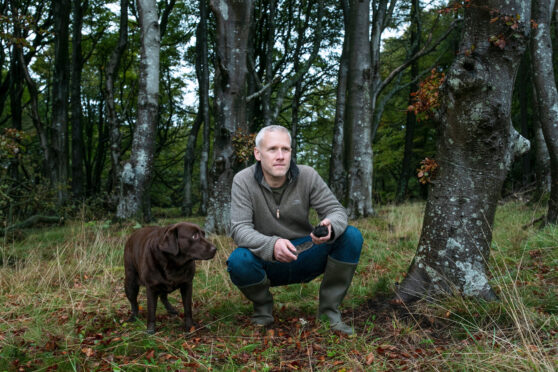 Prohibitively priced and powerfully pungent, one of France's most illustrious gastronomes called them "the diamonds of the kitchen".
Traditionally sniffed out on mainland Europe, the truffle, an underground fungus, is now being farmed commercially in Scotland and Dr Paul Thomas is leading the hunt.
He has long been fascinated by wild food and, by the age of seven, any free time was spent foraging, picking out the species he'd studied from books in his bedroom.
That fascination initially centred on wild mushrooms, and by the time he was doing a PhD on plants and signalling systems, he'd developed a passion for truffles.
Failing to find suitable truffles for experimentation in the UK, he imported them from France and the aroma permanently perfumed the air of the two-up, two-down student digs he shared.
He went on to set up Mycorrhizal Systems Ltd, in 2004 as part of his work at Stirling University and they now have sites in 23 countries across the world, including South Africa, America, the Netherlands and Macedonia.
They were the first to successfully cultivate UK native summer truffles in central England in 2015 and five years ago oversaw the first harvesting of the burgundy black truffles in Scotland.
And now he's about to open the UK's first truffle research laboratory and visitor centre on Bute.
The hope is it will turbocharge Scotland's truffle production and help grab a larger slice of the market as shortages, exacerbated by climate change, have seen prices rise to £1,300 a kilo.
The global truffle industry is projected to be worth up to £5 billion annually over the next two decades. "Scotland trades off our fine food and drink, with salmon and whisky, and truffles could be another jewel in our crown," said Thomas, 42. "This could be phenomenal if we can plant on a decent scale and put down enough orchards to produce for export."
He moved from Yorkshire with wife Emma eight years ago to join his parents on Bute, and much of the time since has been spent on plantings and finding a suitable site for the lab and visitor facility.
Discussions with the Mount Stewart Trust eventually led to the purchase of a four-and-a-half-acre farmstead.
"People are fascinated by truffles," said Thomas. "Visitors will be able to learn about the biology and we'll have information boards on the history of them.
"There will be walkways through the orchards and opportunity for tastings."
A key aspect of the new centre will be the research facility, which will have PhD students and researchers involved in projects.
New technology allows for 200,000 strands of DNA to be spun out from just a fraction of a gram of soil. Analysis of the bacteria and fungi's interaction with organisms can give the truffles the best opportunity to thrive.
"We are doing some very exciting research and really pushing boundaries," said Thomas. "There is a lot of science involved in inoculating the trees before planting and the correct ground modification and management.
"There is still a lot of fluctuation in the performance at individual sites. Looking at the biology and everything else lets us try and bring them all up to a more productive standard."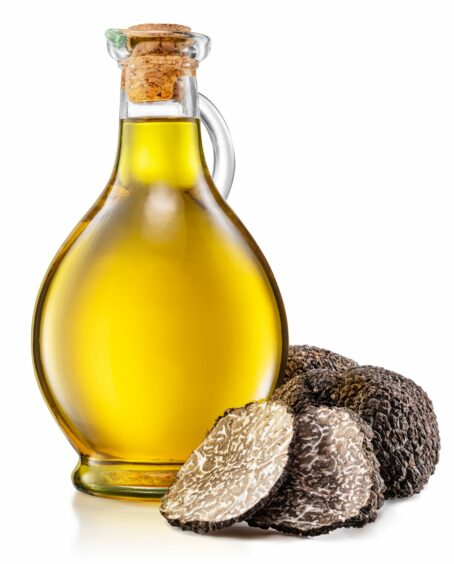 Another site with 70 trees, with truffles growing on their roots, has been established at the family home, with several hundred trees on one of the island's beaches. Those have been in the ground for four years and so are just a couple of years away from producing.
When the harvesting of the first truffles from a site near Edinburgh was announced in 2017, there were just two sites north of the border. Now there are seven and others are in development.
They stretch from the west to the east coast, with low-lying land across the central belt and possibly up the east coast of most potential.
"The crucial element is high pH soils, and we have to amend lots of agricultural grounds with lime to make them suitable," said Dr Thomas.
"We have sites in the west and then near Stirling and south of Edinburgh.
"The temperature in Scotland is slightly lower than in southern England and the sunshine hours slightly less, so I thought production here might be delayed but we've produced just as quickly."
The other key element is rainfall, and Scotland's soggy climate could help to make its truffle fortune.
Increasing drought events globally are having a massive impact on what were long-established truffle-growing areas.
"We've done a lot of climate change modelling and it looks like production in the Mediterranean will pretty much collapse," said Dr Thomas. "The majority of the summer truffles come from central and eastern Europe and production there is dropping rapidly. Harvests were very low this year because of increasing drought events and that pushes prices up.
"That opens up real opportunities for Scotland."
Now, the dad-of-three is seeing his passion pass down the generations with 10-year-old son Heathcliff following in the family footsteps.
The pair used lockdown as an opportunity to conduct truffle research.
"We kept finding insects with the truffles and wanted to find out what happened to the spores as they ate them.
"We did it all here over several weeks with microscopes as a proper research project and discovered that transporting the spores helped the truffles.
"I just find it all endlessly fascinating. And when you have them, it's like a cloud envelops your head that hooks you in and is really intoxicating."
Lack of truffle-hunting dogs is putting leash on our ability to unearth treasure
Scotland's truffle treasure trove is facing what's been described as a "bottleneck" due to insufficient numbers of dogs to find them.
Keen-nosed truffle dogs play a key role at harvesting, but there's a drastic shortage of trained hounds and handlers. "The job the dogs do is absolutely amazing," said Paul Thomas, who was accompanied by Labrador Whinnie, an enthusiastic snuffler of truffles. "They'll go into an orchard and zig-zag around sniffing until they get the scent.
"They'll even put their paw on the truffle to guide us right to it. "We have a real problem with orchards coming to maturity and no dogs and handlers to go in."
Different species are used across the world, including the highly regarded Lagotto Romagnolo and even cadaver dogs.
Labradors, spaniels and puppies are among the most easily trained breeds used in the UK.
However, the lack of suitable dogs in Scotland is such that the Thomas family are getting a new puppy at the end of the month which will swiftly be undergoing training for use at the Bute sites.
A luxury, but truffles have a special flavour
By Alice Hinds
With a unique, earthy flavour, truffles are a must-have luxury ingredient in the world's top kitchens, according to acclaimed chef Dean Banks.
Hard to both cultivate and source – and expensive as a result – the fungi adds a depth of flavour that can't be rivalled.
"Coca-Cola tastes like Coca-Cola, Irn-Bru tastes of Irn-Bru, and truffles taste of truffles," explained Banks, whose St Andrews restaurant, Haar, was recently awarded three AA Rosettes. "It's a unique, very savoury, mushroom-y flavour that we love using on our dishes at this time of year.
"We currently have a beautiful hake dish with Arbroath smokie, Cullen skink and fermented parsnips and, for an extra £12.50, we add truffle, grating it over the plate at the table. The aroma is absolutely beautiful."
While Banks describes natural truffle as "a special, intense flavour", he warns to avoid cheaper, synthetic options.
He continued: "It is a luxury product. That's why it's an add-on, rather than a standard element of a dish. On many menus, chefs offer truffle fries and so on, which very often use fake or synthesised truffle, which is absolutely terrible. It's more like a potent perfume that lingers with you for days. I hate it.
"You do get good truffle oils – real ones are fantastic – but if it's cheap, it's probably not the real deal."
Both white and black varieties of truffle have their own distinct flavour profile, says Dean, but the delicacy grown in the UK has a milder taste: "You can store them with porous items like rice and they will take on the flavour of truffle. Keep your eggs in a tub with truffles for a couple of days, crack them and, boom, you have truffled eggs."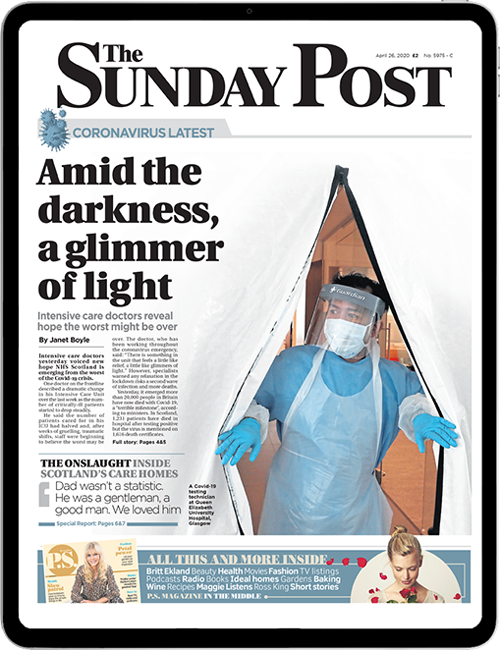 Enjoy the convenience of having The Sunday Post delivered as a digital ePaper straight to your smartphone, tablet or computer.
Subscribe for only £5.49 a month and enjoy all the benefits of the printed paper as a digital replica.
Subscribe