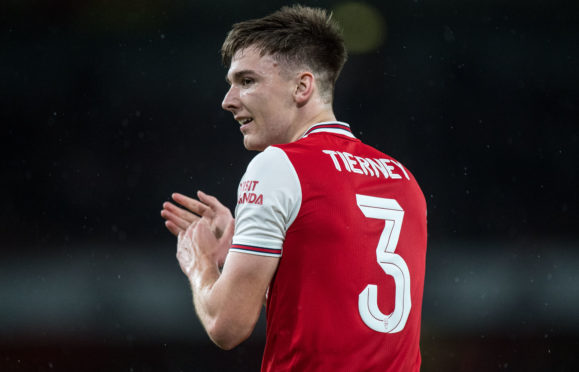 With apologies to the club Brian Clough twice led to European Cup glory, a Carabao Cup win over Nottingham Forest would be unlikely to feature in any Arsenal player's YouTube highlights.
In any retrospective review of Kieran Tierney's career, however, last Tuesday's 5-0 felling of the Tricky Trees is sure to be prominent.
It was the Scotland internationalist's first appearance for the London club since completing his £25-million switch from Celtic in the summer, and the standing ovation he received on being withdrawn late on told the story of a debut full of promise.
Viewed from a Scottish perspective, it was also the return of one of the country's most-vexing conundrums.
Specifically, what to do when your two best players both happen to play in the same position?
Tierney, the most-expensive Scot of all time, and Andy Robertson, an integral part of Liverpool's Champions League-winning side.
With the former out for the last few months recuperating from double hernia surgery, it is a puzzler that new manager Steve Clarke hasn't yet had to address.
But with the games against Russia and San Marino looming large, a choice surely lies ahead.
As assistant to former Scotland boss, Gordon Strachan, when he was faced with the Tierney-Robertson dilemma, Mark McGhee knows the issues facing Clarke.
But he is pragmatic when asked if he could offer any advice.
"Listen, it is simple," said McGhee.
"You don't worry about it now – you wait until you get the squad together and hope one of them is injured!
"That way, there is no decision to make and, believe me, when you are talking international football, you're always losing players.
"To be more serious, I am sure Steve Clarke will take a much more positive approach to the question.
"Having Andy Robertson and Kieran Tierney available to him isn't something that will be keeping him up at nights. It will be helping him sleep.
"Andy is a world-class talent, while it would not surprise me at all if Kieran is Arsenal captain by the time the Nations League play-offs come round in March.
"Seriously, he is that good.
"He is still only 22 years old, and already he has captained both Celtic and Scotland. His focus, determination and attitude are all exemplary.
"He would play in goal for Scotland if asked.
"As a manager, would you want these kind of players in your squad? Of course you would!"
All of which still leaves the question of how to fit two natural left-backs into the one side?
"I think it all depends on whether you believe you can possibly leave one of them out," said McGhee.
"Gordon believed not, so then we looked at who was the most adaptable.
"We had Kieran at right-back, and also operating on the left side of a three-man defence, with Andy pushed on a little in front of him.
"They might not be ideal solutions, but there are options.
"The players might have to work at them to become accustomed to a slight change to their usual system, but they are options nevertheless.
"If you don't want to do that, however, then you have to pick one of the guys and go with him.
"The nice thing is whichever one you choose is likely to do a good job for you.
"That's why I say it is something which will help Steve sleep rather than keep him up at night."
Should it come to it, McGhee's gut instinct is that Clarke will try to make the best of his playing resources and get both men into the team.
"Steve will have his own views, but that would be my thought," said the man who, in addition to working with the national side, had spells as manager of Brighton, Reading, Aberdeen and Motherwell.
"You look at it from the outside, and you think: 'Hmm, Kieran might just be the best right-back we have'.
"That is nothing against Stephen O'Donnell, who is a very honest, hard-working player, who gives his all.
"Rather, it is just acknowledgement of how special a talent Kieran is.
"If we go back a bit, Scotland have a brilliant example of the way this kind of flexibility can work.
"Danny McGrain was arguably the best right-back in the world in the 1970s, but for Scotland he converted himself to left-back to accommodate Sandy Jardine.
"They formed a terrific partnership over the years.
"Danny even acknowledged later that having to use his left foot more made him a better player.
"So it can be done. Those are two of our greats we are talking about, right enough, but it can definitely be done."
McGhee knows from personal experience that Tierney is someone not to be underestimated.
"I remember seeing him come to training with us, this quiet, young boy with his wee Gucci backpack and there was nothing of him," he recalled.
"Then you would see him on the pitch, and he was an entirely different person. He had this amazing engine on him and real tenacity. He was a presence.
"You looked at that and thought: 'Wow, this kid is going to go on and get as many caps as he wants.
"He will be part of this thing for years and years.' "
If Celtic, and their Academy, have been hailed for producing Tierney as a player, McGhee says Scott Brown also deserves credit.
"Kieran was a boy who was desperate to succeed, and he fixed on Scott as the perfect role model to follow to get where he wanted," he said.
"Scott took him under his wing, at Celtic and Scotland, and the pair were inseparable.
"You would see Scott in all weathers, ready to go in a short sleeve shirt, and Kieran was exactly the same.
"Scott is no longer playing for Scotland.
"But the country are still reaping the benefits of his dedication and professionalism through the players who have worked with him and remain in the squad."
McGhee is confident it is a squad that should have enough quality to end the country's long wait to reach a major finals.
"The defeats by Russia and Belgium were disappointing, but they haven't changed the fact the Nations League play-offs offer us a very viable route to Euro 2020," he said.
"In those ties, we won't be coming up against anyone nearly as strong as Russia, let alone Belgium!
"I see no reason at all why we can't beat Bulgaria, and then go on and follow up by taking care of Serbia or Norway in the Final.
"The prize these games offer is massive – two games at Hampden plus a clash with England at Wembley is a run to dream about and one the whole country would get behind.
"So the play-offs have to be our focus.
"Everything should be geared to getting us in the best possible shape for that test."
With Tierney on the right and Robertson on the left? We shall see.