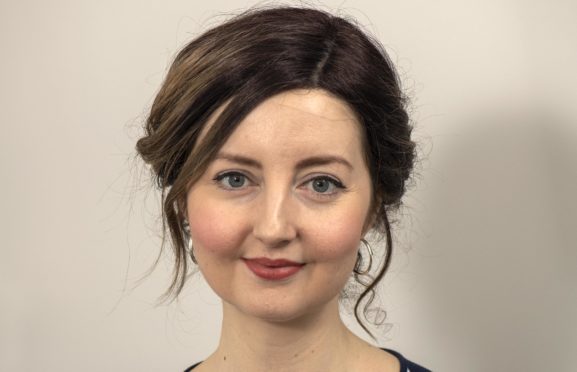 As the first line of defence against germs, bugs and infections it is essential to the body's survival. But when the immune system – this intricate network of cells and tissues – fails, the mechanisms designed to kill viruses and ultimately keep us healthy can start to do the exact opposite.
In severe cases, this can result in autoimmune diseases, which attack our bodies rather than keep them safe.
Kirsty Mills, 27, was working towards her chemistry degree at the University of Edinburgh when she first started noticing the early symptoms of lupus, one such long-term autoimmune condition that causes inflammation to the joints, skin and other organs.
Just 20 when she was diagnosed, Kirsty had to come to terms with having a condition that would require lifelong medication and care, later learning she was suffering from not one but two immune system failures.
"I was around 19 and at university when I started to notice in the shower I was losing my hair," explained Kirsty, who lives in Inverness and works in quality assurance.
"Compared to some people I had a relatively straightforward path to diagnosis.
"I went to the doctor and after a whole range of tests I was diagnosed with lupus. I was started on medication, and as part of that treatment I had regular blood tests. A year later, one of my regular tests came back showing I had high liver enzymes.
"So, the doctors decided they wanted to do a few more tests, including an ultrasound of my liver. That's when I learned I had cirrhosis or scarring of the liver.
"After a biopsy and other tests, it was confirmed I had autoimmune hepatitis.
"So, about a year after being diagnosed with lupus, I started treatment for that, too.
"It was a very difficult time in my life – I was in third year of university, doing my exams at the same time. It was very stressful. But I didn't have much option other than to just get on with things."
Autoimmune hepatitis is a rare cause of long-term condition, which sees the immune system attack and damage the liver. Eventually, the liver can become so damaged it stops working properly.
Taking a range of immunosuppressants to dampen her immune system and steroids to control the condition, Kirsty has to deal with a range of side-effects such as being more prone to infections, coughs and colds, and her curly hair turning dry and brittle.
However, the majority of Kirsty's complications arise from the damage in her liver, including a frightening trip to the hospital a few years ago. She explained: "A lot of my problems come from liver cirrhosis more than the autoimmune hepatitis.
"With cirrhosis, blood can't get to your liver because it's not in great condition, and that means you have increased blood pressure through your hepatic portal veins, which carry blood from the gastrointestinal tract, gallbladder, pancreas and spleen to the liver.
"Over time, because that pressure is increased you can get varices – or large, swollen veins – and they can bleed spontaneously.
"When I was about 24, I woke up at three in the morning. I just vomited a whole load of blood.
"I had to get esophageal banding, which involves having little rubber bands tied on the veins in your gut to alleviate those varices.
"I have to get that every six months just to make sure that doesn't happen again."
Although Kirsty will be on medication for the rest of her life and deals with a range of side-effects and symptoms, she feels lucky to be able to get on with her day-to-day life.
The hardest part has been dealing with people's assumptions about the cause of her liver damage, to which she has a clear and simple response: she doesn't drink alcohol.
She said: "If you say you've got cirrhosis, people immediately associate it with either drink or drug abuse.
"Even the word hepatitis, for some people, is synonymous with poor lifestyle choices. So, there's definitely a stigma around that.
"That's especially true for people who have this condition when they're older, as people must judge them because they associate cirrhosis exclusively with alcohol and drug problems. I really want to raise awareness that there's actually a whole range of liver diseases that aren't caused by alcohol."
Aiming to raise awareness and support other sufferers, Kirsty writes a blog about her experiences.
She hopes opening up about all she has been through will help reduce stigma surrounding cirrhosis – a condition she admits has made her more thankful and focused on the things that are most important in life.
She said: "Don't get me wrong, I would cut off my right arm just to not have this condition.
"But at the same time, you just make the most of life with what you are able to do, and having a lifelong condition makes you so much more appreciative.
"It's easy to take stuff for granted. I'm definitely now the kind of person that doesn't let stuff get to them."
---
From defence to attack: What goes wrong when immune system fails
How does the immune system work?
The immune system is the body's natural defence system, and is made up of a network of cells, molecules, tissues and organs working together to protect the body.
What happens when the immune system stops working?
When you're ill, the body's immune system produces antibodies, a special type of protein that destroys disease-carrying organisms and toxins, which attack the cause of the illness.
However, if you develop a problem with your immune system, it can start to attack your healthy tissues and organs. This is called an autoimmune disorder.
What is autoimmune hepatitis?
Hepatitis is the term used to describe inflammation of the liver. Autoimmune hepatitis is a rare cause of long-term hepatitis in which the immune system attacks and damages the liver.
Treatment involves very effective medicines that suppress the immune system and reduce inflammation.
What causes autoimmune hepatitis?
It's not clear what causes autoimmune hepatitis and it's not known whether anything can be done to prevent it.
There are an estimated 10,000 people living with autoimmune hepatitis in the UK, and it is three to four times more common in women.
Like Kirsty, 30% to 40% of people diagnosed with autoimmune hepatitis have another autoimmune condition.
---
Kirsty and other Scots living with liver disease are supported by the British Liver Trust, which was recently awarded £120,000 by The National Lottery Community Fund to increase the number of community support groups across Scotland.
With 70 support groups across Scotland, the charity aims to help patients deal with issues surrounding liver disease and the related problems of long-term ill health, as well as battling the stigmas attached with the assumed association with alcohol.
For more information, visit britishlivertrust.org.uk