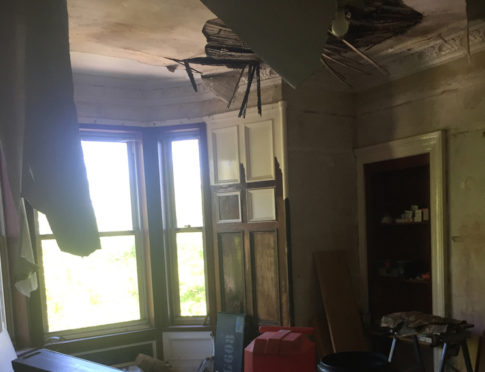 The last year was difficult enough for Lesley Koramshai and husband Jam after she was diagnosed with cancer…then a leaky roof in the flat upstairs flooded their property.
The owner, a councillor suspended from his own local authority amid bullying allegations, only agreed to fund repairs when he was threatened with bankruptcy.
Homes below were flooded and householders evacuated when water began pouring through the ceiling of the property.
Colin Stewart, a member of Perth and Kinross Council's environment and infrastructure committee, was ordered to fix the roof of his flat by the neighbouring Dundee authority.
Mr Stewart, whose property was extended into the loft, accepted he was "solely responsible" for roof maintenance, according to council paperwork.
However, he ignored an abatement notice issued by environmental health officers in June 2018 and properties below were badly damaged.
After a year of delays and attempts to get the politician to pay for repairs, Mr and Mrs Koramshai, who own the flat below, asked lawyers to begin sequestration proceedings.
Mr Koramshai, 69, a chartered architect, said: "I had no idea he was a politician until recently. He has caused me an unbelievable amount of stress. This last year has been difficult enough for us after my wife was diagnosed with cancer. I've spent about £5,000 on legal costs, not to mention all the time I've wasted trying to force Mr Stewart to fix the roof. My flat is now unsafe for habitation."
Mr Stewart appeared in court in June when his request for the bankruptcy decision to be delayed was refused.
He was immediately forced to pay out £15,000 to avoid career-threatening sequestration, which would have disqualified him from standing for election.
However, his city hall service still hangs in the balance after an investigation into his conduct at a meeting was launched by the Standards Commission. Earlier this month, the commissioner banned him from attending committees. He had been sitting as an independent after being suspended by the Conservative group in August.
Allegations against Mr Stewart, who denies any wrongdoing, involve members of his former party – Caroline Shiers, Roz McCall, Kathleen Baird and Angus Forbes. Council leader Murray Lyle alleged Mr Stewart had "sent unacceptable text messages and emails to councillor Shiers, had questioned councillor McCall aggressively and had intimidated her, had shouted at councillor Baird and had spoken aggressively to councillor Forbes and blocked his path in a corridor."
Provost Dennis Melloy alleged Mr Stewart had "attempted to pressure him into releasing 'private' council papers, and had berated him for not doing so".
Mr Stewart denies all of the claims.
The councillor, who lives in a country steadings development near Coupar, Angus, lists the Dundee flat in his notice of registrable interests.
After Mr Stewart was ordered to pay for repairs, a structural survey was carried out. It was discovered flooding had led to dry rot.
Now the Koramshais are taking fresh legal action to force Mr Stewart to pay for further repairs. Mr Koramshai added: "I am now in the process of recovery of the cost of dry rot works."
Mr Stewart said the legal dispute was a "private matter" between property owners.
He added: "I've paid to cover the roof repairs.
"I have been in touch with his solicitors to resolve the problem, and look forward to hearing from them."
Asked about the Standards Commissioner probe, Mr Stewart said he would continue to serve his constituents.
Previously, he said: "I have acted entirely appropriately in my actions as a councillor and as a board member and have always done what I believe to be in the public interest.
"I will co-operate fully with any investigations."
Dundee City Council said: "An abatement notice was served on the owner of the property in respect of the defective roof.
"Information was given to the owners of the other properties in the building about seeking legal advice on private actions that may be available to them."