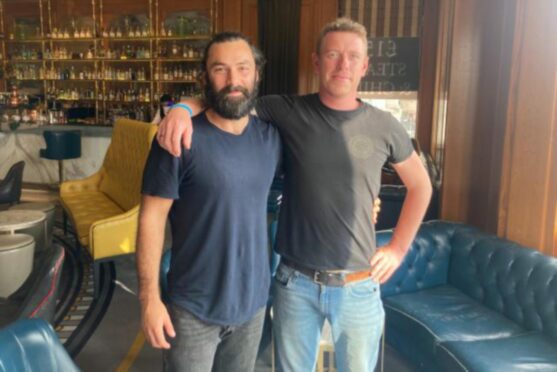 Hit ITV series The Suspect, which comes to a dramatic conclusion this week, has helped to tackle misconceptions about Parkinson's, according to a leading charity for the neurological condition.
The five-part psychological thriller centres around clinical psychologist Joe O'Loughlin, who has recently been diagnosed with Parkinson's at a young age – a journey that actor Aidan Turner researched extensively to better understand the illness.
While it is more common to be diagnosed with the condition over the age of 50, it's estimated that 1,750 people in the UK have a formal diagnosis of early-onset Parkinson's before then.
And this, says Katherine Fletcher, research communications manager at Parkinson's UK, makes Turner's portrayal of the character even more important. "Many people aren't aware Parkinson's impacts people of a younger age," she said. "So, they're more likely to experience discrimination or certain stigma that comes with the condition. For example, people might think they are drunk but, actually, they have a neurological condition.
"We're really pleased these kinds of shows get Parkinson's into the mainstream and get it better understood."
As part of his research for the role, Turner met Drew Hallam, a young musician living with early-onset Parkinson's, and the production team consulted with Annette Hand, the clinical lead for nursing at the Parkinson's Excellence Network.
Meeting Hallam, the Poldark actor said, helped him to understand that "every day is a different challenge" for those living with the symptoms, which can worsen over time.
He added: "We talked about the side effects of the medication, how he deals with the physical side of things…when it's better, when it's worse, under stress or duress. To speak with somebody so open and truthful about his experience was very beneficial."
With more than 40 symptoms – including tremors, rigidity, changes in mood, temperament and demeanour, and cognitive issues with memory – the condition will vary for each patient. Hand said: "Parkinson's is a complex neurological condition, so The Suspect won't be representative of everyone's experience, but my hope is it will help raise awareness".
Parkinson's – the fastest-growing neurological condition in the world – occurs when the brain cells that make dopamine start to die.
Notable people with the condition include actor Michael J Fox, and Billy Connolly, who was diagnosed in 2013. There is currently no cure and, with so many varied symptoms, it can also be difficult to diagnose.
Fletcher said: "There's no simple diagnostic test for Parkinson's – you can't take someone's blood and measure one factor to say they have the condition.
"At the moment, people go to their GP if they're concerned and they might be referred to a specialist, who takes them through a series of observational tests and questionnaires. About a quarter of people are mis-diagnosed. So, one part of current research is working towards getting better tools that might reach a better, earlier diagnosis."
Just last month, scientists at Manchester University, inspired by Scot Joy Milne who found she could detect Parkinson's through smell, announced they have developed a simple skin-swab test, which they say is 95% accurate at identifying the condition under laboratory conditions. They hope to start testing people in the Manchester area in the next two years.
"If someone is diagnosed earlier, it might not impact the way they're treated," Fletcher said. "However, it's really useful because it allows researchers to study people who haven't yet progressed and may have more dopamine-producing brain cells than those diagnosed later in the condition. This allows researchers to understand how Parkinson's develops over time."
She added: "Research has come a long way and there's been vital discoveries that have revolutionised our understanding of Parkinson's and the brain. We believe, given the right investment, improved treatments are possible in years, rather than decades."
Thomas's story
People look at me and say I'm drunk
Thomas McCallum first realised there was something wrong when he struggled to play guitar.
He had taken six months away from the instrument after recording an album, and when he returned to practice, found he had developed a tremor in his hand. After a year of consultations, the now 59-year-old was diagnosed with Parkinson's.
"It was a big shock but I hit the road running," said the dad-of-two, who received his diagnosis in 2017. "I started trying to keep myself fitter, changing my diet, and losing a bit of weight ."
McCallum says raising awareness of the condition – including with shows like The Suspect – will help improve general understanding of the symptoms, as well as the fact that Parkinson's can affect anyone, young and old.
He said: "In the past I've been accused of being drunk because I have a tremor. Someone will say, 'Oh you had a good night last night'.
"It's simple things like security guards in shops looking at me thinking, 'He looks drunk to me', too.
"I wear a lanyard now that explains I have Parkinson's and I might need more time, and people sometimes ask if I need any help. But you've still have to explain, and there needs to be more awareness.
"I want people to listen to the patient because we know more about the condition than most – we live with it every day."
---
Visit parkinsons.org.uk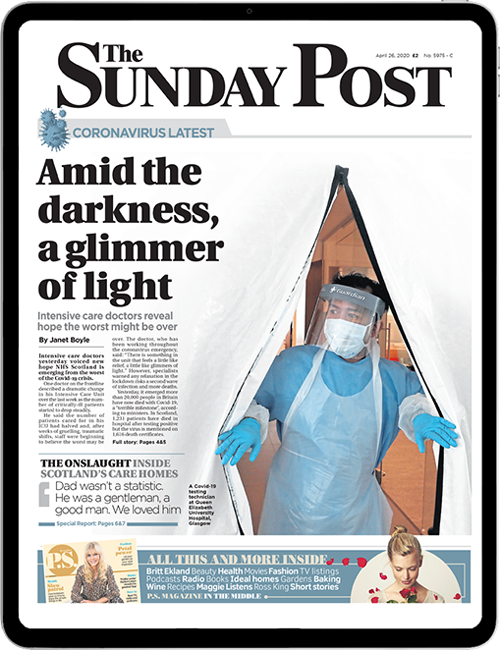 Enjoy the convenience of having The Sunday Post delivered as a digital ePaper straight to your smartphone, tablet or computer.
Subscribe for only £5.49 a month and enjoy all the benefits of the printed paper as a digital replica.
Subscribe