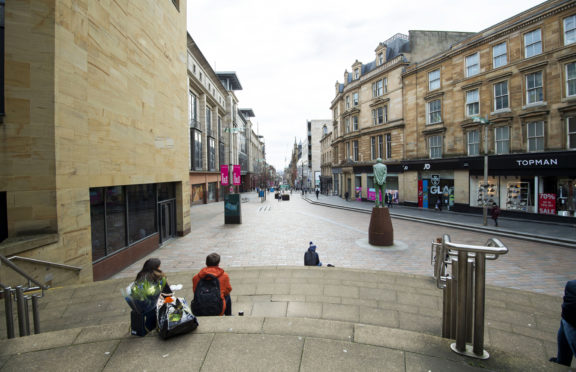 So if a tree falls in the forest and no one is there, does it make a sound?
It is the age-old puzzler that still has students of philosophy stroking their chins but it says a lot about these unprecedented times that if a former First Minister of Scotland, an erstwhile leader of this nation and one of its most influential politicians, is convicted or cleared of a series of sexual assault charges, will anyone even care?
The jury will resume considering its verdict on Mr Salmond tomorrow after a court case which, only a few weeks ago, was being billed as a momentous trial that would shape the politics of Scotland and our country's future, one way or another, for years to come. Well, that was then.
It all seems a long time ago and, as we hurtle from one unthinkable announcement to the next, it is hard to remember what our lives were like yesterday never mind a fortnight ago.
The terrible extent of the coronavirus crisis and the awful prospect of what lies ahead in the months to come gets clearer with every harrowing news bulletin.
There are no adjectives left on the shelves to describe these times and even those who lived through World War Two, who endured the Blitz, who lost loved ones in conflict, did not endure the unnerving uncertainty of fighting such an invisible, insidious enemy, one that we still do not understand and against which we have no effective weapon, except hiding at home.
And, let us be under no illusion, that is where our nation is now, hunkered down, behind closed doors, waiting for word that our world is safe again and we can emerge into the light.
Tolstoy noted every family is miserable in its own way and many families, who struggle to get through a Christmas lockdown without rammying, are about to discover their own special kind of unhappiness.
But, while many families will need to learn new ways of rubbing along, those who live alone, particularly those in ill health or old age, deserve, and demand, most of our thoughts, help, and attention.
Every single one of us will be worried today. Thankfully, most of us will have someone to listen to our fears and offer some words of comfort and reassurance. For those of us who are home alone, for whatever reason, the weight of those worries will become heavier every day.
So if you have an elderly relative, call them, keep in touch, do your best. If you have an infirm neighbour, knock the door, check-in, do your best. As we suggest today, if you can donate to Age Scotland to help fund hotlines for the elderly, do that too.
As the lowering clouds grow darker, as this storm gathers, our best is demanded.
If a small act of kindness is committed and no one is there to notice, it is still kind. It still helps. It is still a small, good thing. And those things will be what gets us through this. And we will get through this.