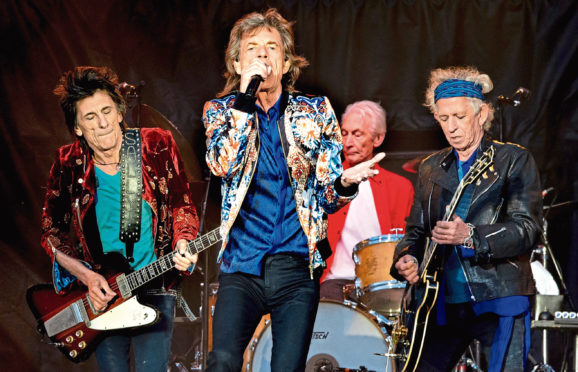 When The Rolling Stones introduced Mick Taylor to the band after Brian Jones' death in 1969, they got even more than they'd hoped for.
Just as bassist Bill Wyman was seven years older than Mick Jagger and Keith Richards but was the perfect Stones bassist, so Taylor – six years their junior – was perfect on lead guitar.
He had a fine pedigree, considering his age. Taylor had been with John Mayall's Bluesbreakers, a band that had also featured guitar greats Eric Clapton and Peter Green.
You didn't get in a club like that unless you were exceptional, and it's no coincidence that Taylor's arrival brought classic albums like Sticky Fingers and Exile On Main St.
He had a unique introduction to the Stones faithful – a free concert at Hyde Park, before as many as half a million fans, Jagger reading Shelley poetry and hundreds of white butterflies released to remember Brian, whose death was just days earlier.
It was another concert, on the live album 'Get Yer Ya-Ya's Out', that let fans everywhere hear how they sounded with the new boy.
The first live album to reach top spot in Britain, it was the final live Stones album to feature just the band and Ian Stewart, the "Sixth Stone", on piano. All future concerts would involve backing singers and extra musicians.
Billy Preston on organ, Ry Cooder on guitar, and Bobby Keys on saxophone were among those who were brought in to help build up the sound for Sticky Fingers.
With its notorious zipped jeans cover, courtesy Andy Warhol, the fabulous Brown Sugar, Wild Horses and the cynical country ballad Dead Flowers, fans couldn't wait to get their sticky fingers on it.
The first album on the Stones' own label, following the end of their Decca deal, it shot to the top of the charts. Everywhere!
At this point, with Taylor seemingly hitting it off, the songs were pouring out of the band. So much so that their next studio release, Exile On Main St, had to be a double album.
It is fair to say that, for such a lengthy album, there is not a filler on it. Every track deserves being on there, and if it starts at an incredible tempo, it maintains the high standard right to the end.
The album is notable for many things, such as Happy, a song Keith sings himself.
Tumbling Dice took them to No 5 in the singles charts, but this collection is all about album tracks, something you put on and enjoy for hours rather than minutes.
From country to gospel to 100mph rock to bluesy harmonica-drenched stuff, they tackled it all and pulled it all off.
The Stones had never sounded so American, and Texans Jim Price on trumpet and Bobby Keys on sax really played a major part.
Keys, exactly the same age as Keith Richards, became a huge buddy and toured with the band as well as adding his distinctice honking sax to recordings.
A man who'd played with Elvis, Lynyrd Skynyrd, the solo Beatles, Joe Cocker, Harry Nilsson, Bobby had even toured with Buddy Holly at the grand old age of 15.
When you had gents like this in the team, you were going to make rather good albums.
Sadly, one gent who brought a lot to the table but then wanted out was Mick Taylor.
He did stay long enough to do two more important albums, Goats Head Soup and It's Only Rock 'n Roll, but Mick would reveal that he'd never seen his Stones role as permanent.
"I never really felt, and I don't know why, that I was going to stay with the Stones forever, even right from the beginning," he admitted.
"We used to fight and argue all the time. One of the things I got angry about was that Mick promised to give me some credit for some songs, and he didn't."
Richards, who some claimed didn't get on with him, said: "He had some lovely energy, sweetly sophisticated playing, way beyond his years, lovely sense of melody."
It wasn't till 2012, when the Crossfire Hurricane documentary was made about the band, that Taylor added he had left to protect his family from the drug culture around the group.
He also mentioned his own demons, having become addicted in 1973. He has since played with his old band from time to time, and has lost none of his magic on the fretboard.
Goats Head Soup featured one of the Stones' less frenetic hit singles. The acoustic-based Angie, a gentle love song complete with romantic strings and sad Jagger sighs, quickly gained gold disc status, hitting No 1 in the States and No 5 in the UK.
Star Star and Heartbreaker were much rockier, and perhaps they wanted to show that they were still young and energetic as they entered their thirties.
As Keith revealed, they also still turned to their favourite substances for "inspiration" which meant they couldn't just turn up at any old studio.
"Jamaica was one of the few places that would let us all in," he laughed. "About the only country I was allowed to exist in was Switzerland, which was damn boring for me."
Indeed, one nation after another had shown Keef the door, but it didn't seem to make him walk away from the substances that kept getting him into bother.
In 1974, their single, It's Only Rock 'n Roll (But I Like It), reached the Top 10 in Britain and Top 20 in the States, but it wasn't quite the automatic chart-topper many had anticipated.
Were the Stones losing their power?
There were an awful lot of young pretenders out there, trying to knock bands like the Stones off their perch.
Disco, reggae, the mascara-and-high-heels of Glam, some of the punk bands' early attempts. The Eagles, AC/DC, Thin Lizzy, David Bowie, Pink Floyd, Genesis, Neil Young – there was some serious fighting to get to the tops of charts.
Then as now, to a 16-year-old a 30-year-old seemed like an old person.
To be fair to the Stones, of course, having amassed untold fame and fortune, it could be hard to focus on making yet another classic album.
They had, after all, families and houses and business concerns, and were even forced to live abroad for tax purposes.
Jagger was in the middle of his seven-year marriage to Bianca, and they had daughter Jade to take care of.
Sir Mick, as you may know, has had several relationships and children in the years since, notably a common law one with supermodel Jerry Hall that lasted longer than his marriage.
Elizabeth and Georgia May Jagger came along during that one.
For Keith, he split up with Anita Pallenberg in 1980 and married Patti Hansen three years later. They have two daughters together, Theodora and Alexandra.
Bill Wyman, who is 82 now and easily the oldest Stone, left the band in 1993. A man of many interests who has patented his own metal detector, he has kept a personal journal since the Second World War and archived all sorts of Stones items.
He'd have made a great historian if he hadn't been busy coming up with some of the most iconic basslines ever heard.
Charlie Watts, surely the most droll, laid-back drummer ever and the polar opposite of hyperactive sticksmen like Keith Moon, is 77.
He was always more of a jazz fan, he has said, and he likes to do his own jazz gigs whenever the Stones give him some peace between tours.
As a kid, he bought a banjo, hated it, but broke it in two and used the body as a drum.
The rest is history, though you will never hear the modest Charlie ever talk about it much.
You'll hear Ron Wood talk plenty. The former Faces guitarist was brought in after Taylor, and formed an instant bond with Richards.
Rod Stewart always joked that the Stones fancied Wood, and he was the obvious choice when they needed a new sidekick.
A talented artist and down-to-earth bloke with just the temperament to fit in, he has been with the Stones since 1975.
His first major involvement was on the Black And Blue album, and if Some Girls, Emotional Rescue, Tattoo You, Undercover and other albums since don't hold quite the top spots in Stones history, there has been some great stuff.
He features heavily on Black And Blue, the album that saw several guitarists contribute as the Stones looked for their Mr Right.
The hit single Fool To Cry saw Ron on guitar and backing vocals, and he was chosen.
Some Girls was something of a return to form, an album full of fast rockers and a glorious attempt at disco. Miss You, pretty unlike anything else they've ever done, their response to the trend for disco at that time.
In 1980, the Emotional Rescue album topped charts worldwide, and its follow up, Tattoo You, became the final Stones album to be No 1 in America.
Its opening track, the single Start Me Up, showed they could still come up with memorable, addictive guitar lines.
In a hurry to go out on tour, they used some new material with recordings from previous sessions. Insiders have said this was also a period when Jagger and Richards weren't getting on.
Although Undercover and its main single, Undercover Of The Night, troubled the upper range of the charts, it wasn't as huge a hit as they'd been accustomed to.
You could say the same about much of the Stones' releases to the present day, but they continue to do marvellous business on tours, which are often the highest-selling of the year.
The 2008 Martin Scorsese movie Shine A Light showed all the glory of a Stones tour, and it is clear why seeing these veterans is still so attractive.