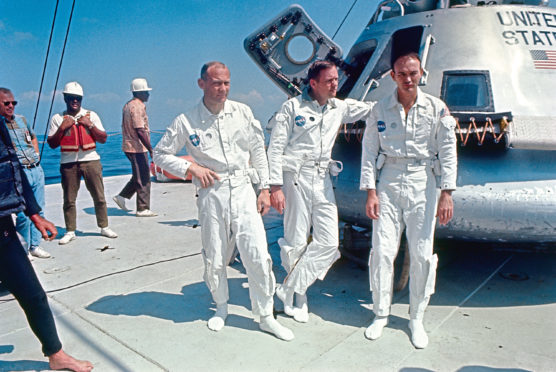 A full 10 years before Neil Armstrong put his first bootprint on the lunar surface, the Soviets had been pulling off all sorts of feats in space.
In 1959, their R-7 rockets were used to launch the first machine that got past the Earth's gravity into solar orbit, and they also had the first crash impact on the moon and the earliest photos of its far side.
Luna 1, 2 and 3 had been incredible coups that would push America to try much harder.
Today, of course, we have seen many achievements on moons away from our own planet, such as the Cassini-Huygens mission to Saturn, including an unmanned moon landing on Titan in 2005.
In 1989, a late Soviet probe, Phobos 2, came close to an unmanned landing on Mars' moon before radio contact was lost.
There is serious interest in landing on Jupiter's Europa moon, with the hope of drilling for liquid water beneath the ice-covered surface. That would be quite a breakthrough for an Earth getting needier by the year.
But what does man have to do in order to get beyond our own gravity in the first place?
The only way, apparently, is with rockets which can increase speed at very high altitude once outside Earth's atmosphere.
When it gets anywhere close to its planned destination, the spacecraft is drawn towards the surface by its own gravity and has to slow down significantly, to about 99mph, to survive the impact.
It was the Soviets who first pulled this off – with a camera rather than humans – in 1966.
Many crash landings on the moon have been done deliberately, however, to set off moonquakes, which can be analysed to map out its internal structure.
Getting back home is tricky, too. This part involves our spacecraft escaping the moon's gravity well, so rockets are used again for the return journey.
In the US, plans to land men on the moon started during the presidency of Dwight Eisenhower in the 50s.
Ike would pass away just weeks before Armstrong's unforgettable moment, but many reckon he was secretly delighted when Russia launched Sputnik before America had done anything. He had been wondering if the US would have to seek other nations' agreement – but after Moscow went ahead, he took it as a sign that space was an open house.
Wernher von Braun had worked with the Nazis to develop the V-2 rocket, but was now helping the Americans on ballistic missiles and the rockets that would launch them into space.
Eisenhower had von Braun's team brought into the new NASA, and Ike also ploughed funds into science education and greatly improved relations with US boffins.
Yuri Gagarin's orbit of the Earth also provoked America into pushing harder.
John F Kennedy, who succeeded Ike as president in 1961, was desperate to grab his country's attention and fire their imagination. He got vice-president Lyndon B Johnson to put his head together with the top scientists and come up with something huge. It didn't have to be about space – they also looked at projects to help the Developing World.
But in the end, with Gagarin making America look somewhat like runners-up, trying to catch the glorious Soviets' coat-tails, JFK knew his nation had to get ahead in the space race and stay there.
Given various ideas, Kennedy decided Apollo was perfect, and became so committed that even when there were large tax cuts in 1963, he found ways round it to avoid cutting the space budget.
Creating and building the big Saturn V launch vehicle, which would eventually have a 100% record of no catastrophic failures, cost a lot of time and money.
However, to give an idea of how rudimentary the equipment was compared to today's technology, there is more processing power in an Apple iPhone 6 than in the guidance computer for the Apollo programme.
To get an American boot on the moon first, JFK and LBJ had to fend off protests from the left, who wanted more cash for earthbound social programmes, and the right, who wanted more cash for military programmes.
Both men desired a moon landing so deeply that even after Kennedy was assassinated in 1963, LBJ continued the heavy investment in the space race.
The year that JFK was killed, Soviet supremo Nikita Khrushchev insisted the USSR was "not at present planning flight by cosmonauts to the moon".
JFK had actually brought up the idea of the two superpowers putting their heads together, pooling resources and trying to reach the moon together.
But Khrushchev smelled a rat, thinking the Americans were trying to pinch all the ideas that had seen his people race ahead, so rejected the idea.
In the midst of all this, what was Neil Armstrong up to?
On August 15 1957, he had taken his first flight in a rocket-powered aircraft, the Bell X-1B. It took him more than 11 miles high, but landed poorly as it wasn't the greatest design.
Armstrong would bravely go up for the first time in other craft, and showed a keen brain for this stuff and a disregard for danger without being reckless.
Many of his fellow test pilots reckoned he was a naturally great engineer, the most technically sophisticated of them all, and one said he had "a mind that absorbed things like a sponge".
When needing all his wits about him as he went where no man had gone before in the summer of 1969, he proved ideally suited.
The occasional close thing sharpened him up, too, and demonstrated that when he was faced with a life-or-death bad landing or other issue, he had the presence of mind to cope with it.
In February 1965, Neil was named as one of the back-up crew for the Gemini 5 – him as commander with Elliot See as his colleague.
The mission was intended to practise procedures in space and test equipment for long flights of up to a week – all stuff that would be needed for a mission to the moon.
The closest Armstrong got was to watch it launch at Cape Kennedy. However, his appetite must have been whetted.
His last Gemini assignment was as back-up command pilot for Gemini 11, which was announced days after Gemini 8 landed.
President Johnson then sent him and his wife to South America on a lengthy goodwill visit.
He was still being offered back-up roles during the Apollo programme, being named as back-up commander for Apollo 8. But the big one was approaching.
Two days before Christmas 1968, Armstrong was asked to be commander of Apollo 11.
Offered the chance to have Buzz Aldrin or Jim Lovell as lunar module pilot, he opted for Buzz, saying he felt that he was easy to work with, and that Lovell deserved to be a commander on his own mission.
It has been suggested that NASA bosses specifically chose him to be the first man on the moon because he did not have a big head.
Walking on the moon, for him, would not be about his ego but about the future of mankind – as his famous words up there would stress.
As Armstrong and his colleagues began preparing for their astonishing feat, their opposite numbers in Moscow were getting further from their target, rather than nearer.
Sergei Korolev, the Soviets' chief space programme designer, had been given all possible financial assistance, but in 1967, the first flight of his beloved Soyuz had failed.
Korolev himself had died in early 1966. The Russians had been so afraid of US assassination attempts that Korolev had always been heavily protected and even those who worked with him didn't know who he really was.
None of that had saved him from abdominal cancer, however, and now the Soviet side of the space race was in chaos, just as Neil Armstrong and Apollo 11 were gearing up for the big breakthrough.
In Russia in 1969, the N1 booster failed to launch one moon mission after another, and by the time they finally got up there, the Americans had made history with Apollo 11 and 12.
As you'll see in the concluding part of our moon landings celebration, it would be a modest American and a Stars and Stripes flag, not a Hammer and Sickle one, that made headlines and history.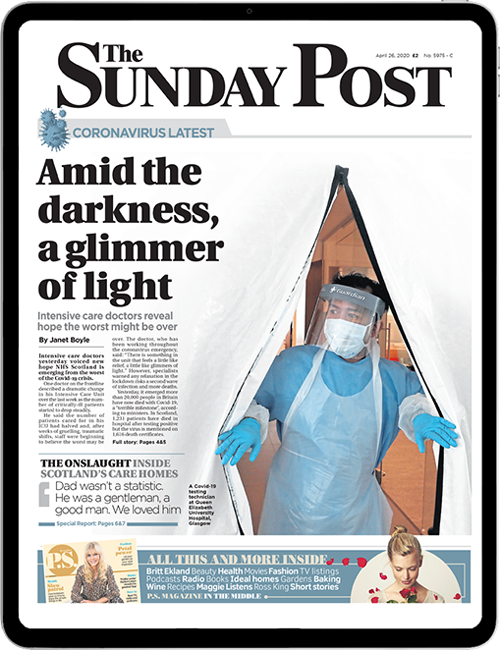 Enjoy the convenience of having The Sunday Post delivered as a digital ePaper straight to your smartphone, tablet or computer.
Subscribe for only £5.49 a month and enjoy all the benefits of the printed paper as a digital replica.
Subscribe