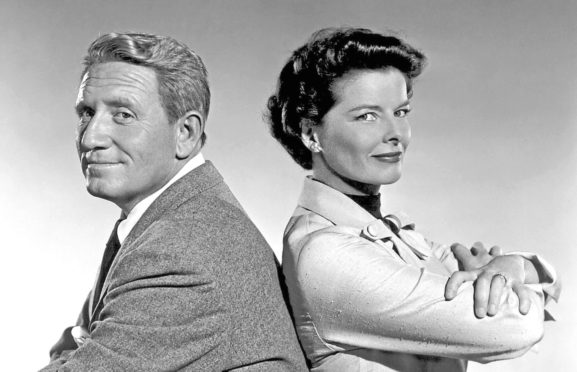 With her reputation dented by a few flop movies, Katharine Hepburn had been dubbed "box office poison" when she came to make a new film in late 1940.
The Philadelphia Story would be released on Boxing Day, and it would resurrect her career.
She had clearly seen what a great vehicle it could be for her talents, having got hold of the rights to turn the play into a movie.
The studios, however, were still fretting over her recent failures, and decided on not just one but two superstar leading men, just in case she didn't sprinkle it with enough magic dust by herself.
This is why both Cary Grant and James Stewart were enlisted, and boy, did it work out well for all three of them.
Later remade in the 1950s as a musical featuring Frank Sinatra, Grace Kelly and Bing Crosby, and called High Society, it would be a hit twice over.
Hepburn played Tracy Lord, elder daughter of a Philadelphia socialite. She was married to Grant's character, CK Dexter Haven, a yacht designer, but divorced him because he drank too much and didn't live up to her high expectations.
Now she is set to marry another man, and a magazine is keen to cover the wedding. They are using her ex-husband to get them into the wedding, but Tracy isn't fooled by their lies.
Reporter Mike Connor, played by James Stewart, is the one assigned to the story, but as the tale goes on Tracy realises she quite fancies the cut of his jib, too.
It all kicks off the night before the wedding, when she gets drunk for the first time and goes for a swim, Mike having to carry her back to the house.
Her fiancé sees this and quizzes her jealously, which in turn leads Tracy to call the whole thing off.
She panics when it sinks in that all the guests have arrived and are expecting a wedding to happen. Mike cheekily volunteers to be her latest choice of husband, something that tempts her but not enough.
Then the man she has already been married to once before steps up to offer his hand, again, in marriage.
Another massive hit, at last! It must have been a real thrill to Hepburn, who had maintained her highest standards through the run of films that mysteriously didn't fare as well as they deserved to.
Critics adored it, too, one enthusing that the film: "Has just about everything a blue-chip comedy should have, a witty, romantic script, the flavour of high-society elegance, and a splendid cast of performers headed by Hepburn, Stewart and Grant."
In many ways, it was all coming together for her, and not just in her professional life.
Around this time Katharine met Spencer Tracy, seven years her senior, and fell in love with him, even if his initial feelings were somewhat less romantic.
The story goes that the sight of this feminist, with dirt under her fingernails and a forthright attitude, left Tracy less than impressed, which is incredible when you consider how he would come to rely on her.
"It was a unique feeling that I had for him, and I would have done anything for him," she would say of him, even though he apparently thought she might be a lesbian.
Tracy, when he did come round to the idea, would idolise her and lean on her, seek her out when depressed or struggling with booze.
But he would also remain officially with his wife, Louise, even though they had lived separate lives for years already.
If they wanted to keep their chemistry private, it was there for all to see in Woman Of The Year.
The first of nine films they'd make together, she played an international affairs correspondent, Tess Harding, and he was Sam Craig, a sports writer.
Her obsession with her work causes problems between them after they marry, but in real life – aside from keeping it secret – their own love affair seems to have gone swimmingly.
It was also the first time they set eyes on each other, she famously apologising for towering over him in her heels, and being told he would soon cut her down to size.
They filmed more than one ending, the original one proved unpopular and they decided to re-shoot the last 15 minutes.
She is said to have been annoyed by the changes, which were done because she had been portrayed as too strong a woman.
As you can imagine, this did not go down well with Katharine Hepburn.
The main thing, for film lovers everywhere, was that the pair of them worked so well on the big screen, meaning they would do plenty more movies together.
If Hepburn and Tracy became one of cinema's biggest double acts, Hepburn and Bey is less well remembered.
She starred as a Chinese villager alongside Turhan Bey in the 1944 movie Dragon Seed, and it was quite a sight, to see an Austrian and an American portray two Chinese.
Hepburn, however, gave a powerful performance as Jade, the girl who stands up to the Japanese invaders when those around her are less confident.
She was back alongside Tracy – and Lucille Ball – for the 1945 flick Without Love.
Hepburn played lonely widow Jamie Rowan who marries military research boffin Patrick Jamieson, played by Tracy.
He sets up his laboratory in her Washington DC home, and it transpires that he has suffered terrible luck in love while she has known only joy.
Both reckon a marriage could still work well even without love, as there is going to be no jealousy or any of the many other negative aspects to most marriages.
They are, however, proved wrong in the nicest possible way, falling in love as the story goes on.
None of which is to suggest that only with Tracy could Katharine Hepburn produce a great film.
A good case in point would be 1946's Undercurrent, where she starred alongside Robert Taylor, the forgotten star who appeared in this paper not so long ago.
Directed by Vincente Minnelli, husband of Judy Garland and father of Liza, it was a film noir drama that did great business at the box office and showed Hepburn in a very different light.
This time she was a middle-aged bride gradually convinced that her husband intends bumping her off, and of course the suave Taylor was perfect with that glint in his eye and a hint of menace.
Song Of Love from the next year couldn't really have given her a more varied role – this time she portrayed pianist, composer and wife of Robert Schumann, Clara Wieck.
There are few stars of any era who could pull off a run of movies like that and make a success of them all, but it was easy for the versatile Katharine Hepburn.
As her next one was a western, we rest our case!
The Sea Of Grass had Spencer Tracy back alongside her, directed by the great Elia Kazan, and it was the most successful of Tracy and Hepburn's MGM films, despite the fact Kazan hated how it had turned out and actually asked people not to go see it.
He, it seems, was wrong and the film did great business.
Many consider Adam's Rib, released exactly 70 years ago, to be the perfect romantic comedy, and Hepburn and Tracy were at their very best in this one.
Directed by George Cukor, they played the Bonners, Adam and Amanda, who read about a case in which an angry wife fired shots at her husband, hitting him in the shoulder.
Both lawyers, Amanda states her case for supporting the woman, who suspected her opposite half of cheating on her. Adam backs the wounded husband.
He feels his missus is disregarding the law, and when he sees her chatting to a neighbour who clearly fancies her, he storms in, pointing his own gun at them.
When Amanda, horrified, tells him what he's doing is wrong, Adam puts the gun in his mouth. And then takes a bite out of it, as it's made of liquorice.
Before long, they are headed towards a divorce, before meeting up and realising how much they still love one another.
It ends with Adam announcing he is to run as a Republican judge, and Amanda considers doing likewise for the Democrats.
Amazingly, it was all based on real life, and the tale of William and Dorothy Whitney, two lawyers who got divorced and went on to marry their clients in a case.
When Hepburn and Tracy's friends, Garson Kanin and Ruth Gordon, were asked to write something specifically for them, this was it, and it worked a treat.
As you'll see in the concluding part of our Katharine Hepburn series, she would soon be teaming up with another legendary male superstar.
And, with Bogie creating the chemistry just as well as Spencer Tracy had, she would have another huge hit on her hands.