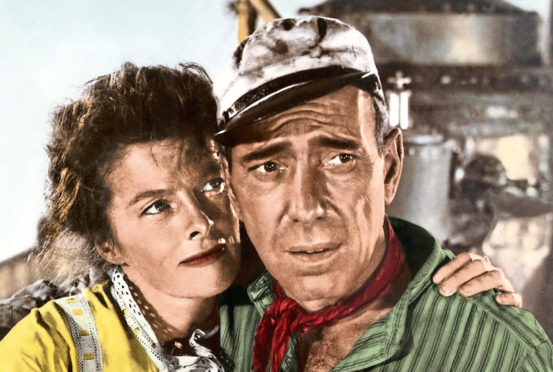 There are a few surprising facts about Katharine Hepburn's 1951 hit The African Queen.
The fact Humphrey Bogart clinched the Best Actor award but she only got a nomination for Best Actress is one.
Another is that all of their scenes in the water were shot in Middlesex, despite the rest of the iconic movie being filmed in Uganda and the Congo.
What's not such a shock is that the film was a huge hit, because a producer-director of John Huston's calibre working with Bogie and Hepburn was always going to be rather good.
In the end, they created an all-time classic, and she was every bit as impossible to take your eyes off alongside Bogart as she was beside Spencer Tracy, Cary Grant or any of her other leading men.
The African Queen was the story of Samuel Sayer and his sister Rose (Hepburn), a couple of British Methodists in German East Africa just as the Great War began.
Charlie Allnut (Bogart) is the Canadian mechanic who runs the African Queen, the steam launch that brings their letters and other supplies.
The siblings choose to stay where they are when Allnut tells them war has broken out, but soon witness German colonial troops burning down a village and behaving horribly.
Samuel speaks out about it, is beaten and dies soon afterwards of fever. Allnut then tells Rose that the Germans are after him, and the pair flee in the African Queen, despite Rose still struggling to get along with the outspoken, coarse Canadian.
Before long, he has her with her sleeves rolled up, learning to sail the vessel, and the inevitable happens when these two opposites end up in love.
They are captured by the Germans and set to be put to death before a stroke of luck sees the Germans' vessel hit the upturned African Queen, now full of explosives, allowing them to escape.
The makers also had to battle with the censors, as Bogart and Hepburn being together on the boat was seen as two unmarried people cohabiting!
Thankfully, it was allowed to be seen by the world, and has been much-loved ever since, doing absolutely no harm to the careers of its two stars.
There have often been rumours that London's population of feral ring necked parakeets was down to the birds having been used for this movie and then being released or escaping.
At first considered a daft notion, these days it has far more credence and one zoologist admitted that her grandparents had fed them.
Who knew a film like The African Queen could have such an effect on London all these years later?
Hepburn was back in the arms of Spencer Tracy, literally, for the 1952 flick Pat And Mike, she as a sportswoman and he as a shady promoter.
Another film featuring the besotted pair, and another hit.
The year 1955 saw Hepburn in unfamiliar surroundings for Summertime, known in the UK as Summer Madness.
Directed by David Lean, she played an American school secretary on her dream holiday to Venice, and she was surrounded by mainly Italian actors. A most unusual part of her career, and all the more interesting for it.
The Iron Petticoat, from 1956, was all about subjects we were all discussing that year, the Cold War and the Iron Curtain.
Katharine played a Russian, Captain Vinka Kovelenko, who flies her plane into West Germany not to seek her freedom but because she is upset about a personal matter back in Russia.
Captain Chuck Lockwood, played by Bob Hope, is the American who is ordered to convince her that America and the West are best, and persuade her to come over to his side permanently.
Ivan, meanwhile, is in hot pursuit of her, too, as her ex-boyfriend.
It's fascinating now to see how the opposing Cold War sides are portrayed and how something so terrifying could also be turned into a comedy and romance. As a curiosity piece from the careers of both leads, it's among the very best!
Later that same year, she was back in Westerns, in The Rainmaker, as a middle-aged woman crazy about the local sheriff, even though he seems utterly oblivious to her charms.
She then falls for a conman, played by Burt Lancaster. As the title suggests, he is trying to persuade folks that he can really make the skies rain.
As we're in drought-hit Kansas, it makes him pretty popular, until they realise he's more heartbreaker than rainmaker.
It did, however, get Lancaster a Golden Globe nomination, and they made a pretty neat pairing – though you could say that Hepburn managed to make a great pairing with every leading man.
Not long after this, Hepburn would take a break from her career, partly to look after Spencer Tracy, who was not in the greatest of health.
He would die in 1967, bringing to an end more than a quarter of a century together, and they finished another classic movie together just weeks earlier.
Guess Who's Coming To Dinner, in which Sidney Poitier was in many ways the real star, was a cracker of a movie, but one that neither Hepburn nor Tracy would see. He died, of course, and she refused to ever sit down and watch it right through, saying it brought back too many painful memories of their last days together.
All of which is a great shame, because it was and is really special, and did incredible business at the box office, too.
Interracial marriage was still illegal in many US states at that time, and this was one of the very few to portray such a marriage in a positive way.
Poitier played John Prentice, the African American brought home by Joey Drayton to meet her white parents. She was played by Hepburn's real-life niece, Katharine Houghton, and she is very proud of her medical professor boyfriend.
She reckons her parents will be, too, as they have always been liberals who say they despise racism. That all goes out the window when she sees her father's reaction to the thought of her marrying a black man, and it's as fascinating today as it was then.
In the United States' Deep South, where the assumption was that nobody would go to see a movie with a black person as its star, it was hugely popular.
Katharine Hepburn may never have watched it right through, but she surely approved of its message and its impact.
The film and its modern message couldn't have been further removed from her next big hit, 1968's The Lion In Winter.
A historical period drama with Hepburn opposite Peter O'Toole, and Anthony Hopkins making his first major film appearance, it clinched three Academy Awards.
Hepburn got Best Actress, though she had to share it with Barbra Streisand, and if you look closely you'll also spot Timothy Dalton making his movie debut.
The Madwoman Of Chaillot, the next year, didn't do nearly so well, being panned by critics despite the presence of a host of stars, from Danny Kaye to Nanette Newman, Donald Pleasence to Richard Chamberlain.
Thankfully, another legend was available to give her a helping hand in the 1975 movie Rooster Cogburn.
John Wayne, making his second-last film, sported an eyepatch for the role of the US Marshall of the title, and Hepburn was Miss Eula Goodnight.
An elderly missionary preacher's spinster sister, she had nothing in common with the one-eyed lawman, but was desperate to help him after her brother was killed.
There was high praise indeed for both legends, with one critic comparing her performance to the one in The African Queen, which saw a "marvellous characterisation opposite Humphrey Bogart".
Clearly, as she approached her 70th year, Katharine Hepburn could still summon up the goods when required, even with her beloved Spencer Tracy long gone.
Six years later, in 1981, she proved it once more, starring opposite Henry Fonda in On Golden Pond.
Only Raiders Of The Lost Ark did better business that year, and Jane Fonda must have been thrilled that she had spent a fair bit of money to buy the rights to it, with her father in mind as the lead.
The movie echoed their real-life trials and tribulations, and he would go on to clinch the Best Actor award, aged 76, making him the oldest to do so.
As for Katharine Hepburn, she clinched the Best Actress, making her the most-awarded star in Academy Awards history, ahead of even Meryl Streep.
It's fair to say Jane Fonda was a shrewd lady!
In her 80s, Hepburn would say: "I have no fear of death. Must be wonderful, like a long sleep," and sure enough, it seems she was getting tired.
In the early 90s, she went to hospital with exhaustion, and by 1996 was in again, this time with pneumonia.
They found a tumour in her neck in 2003, when she was 96, and decided not to operate.
She passed away on June 29, 36 years after losing the love of her life, a decade after her last work, and left an astonishing legacy of classic movies – and the way she did it helped pave the way for other women to be successful without playing the glamour-girl game.