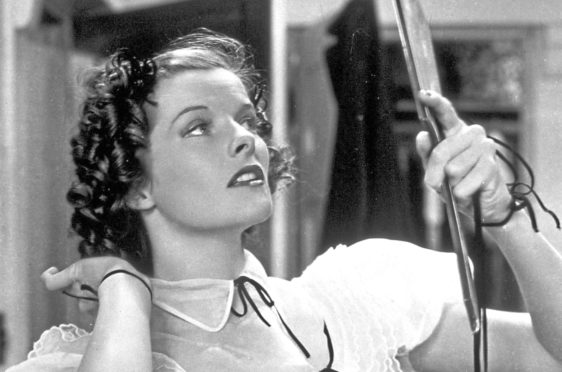 She was an actress unlike any other, but that didn't stop Katharine Hepburn becoming the greatest Oscar winner of them all.
In her heyday she went completely against the grain, with an attitude to life and career that frequently shocked traditionalists.
Athletic, often wearing trousers, living by herself and certainly not afraid to be outspoken and assertive, she also ignored the usual rigmarole actresses put up with in the Tinseltown publicity machine.
In the end, it all served her well, as she got more and more control over her own career, won more Oscars than even Meryl Streep, and had an uncanny ability to bring the best out of her leading men, too.
Hepburn would be a star for well over 60 years, lived to 96 and carried some of the all-time best movies, and she did it without ever compromising or trying to look girly to please any man.
Connecticut born in 1907, she played a woman breaking the rules in one of her earliest movies, Christopher Strong, in 1933. She was Lady Cynthia Darrington in this tale of illicit love among the English aristocracy.
Lady Cynthia, it seems, has never had a love affair in over 20 years, and this makes her fit the bill in a naughty game in which women must find a man who has been married at least five years, and men must find a woman with no romance for 20 years.
Sounds quite shocking today, so just imagine how it was in 1933!
Incredibly, given how many films lay ahead of her, this would be the only movie in which Katharine Hepburn played "the other woman", her character based in part on British aviation legend Amy Johnson.
It did her budding career no harm and, in fact, did well at the box office, and Christopher Strong set her up nicely for the success to come.
Little Women, that same year of 1933, saw her play Jo March in the movie of the classic Louisa May Alcott novel.
The story of four sisters waiting for their father to come home after the American Civil War, Hepburn's character Jo is the girl who dreams of being a writer and creates plays for the girls to perform.
It went down a storm with the public and the critics, one lavishing praise on her in saying she had given: "An unforgettably brilliant performance that once and for all definitely proves how unlimited and effortless an actress she really is."
For a young woman who had only done a handful of films, praise indeed.
She knew herself that she had done a sterling job, and the film was one of her own favourites forever, with Hepburn confidently proclaiming: "I defy anyone to be as good a Jo as I was!"
Sadly, she wasn't such a good wife, as she would happily admit. It was at this time, in 1934, that her first and last marriage ended.
Ludlow Ogden Smith was a Philadelphia socialite and businessman, and she had wed him in 1928, when she was just 21, eight years his junior.
It seems that she never took the marriage very seriously, and in 1934 went to Mexico to get a quickie divorce, although she would remain his friend for life and often thanked him for his financial and moral support in the early years.
She even described herself as "a terrible pig" for exploiting his feelings for her, and she never tied the knot with anyone again.
Fred MacMurray was the sort of guy many a lady would have liked to tie the knot with, and Hepburn enjoyed her 1935 movie with him, Alice Adams.
A romantic drama about a young woman from a poor family who has pretensions to be much posher, it gave the actress a boost just when she needed it.
Alice Adams was nominated for Best Picture Oscar and Hepburn for Best Actress. In the end, Bette Davis won it for Dangerous, but even she said Katharine should have got it. Its reputation has got even better since, with some saying it is among Katharine Hepburn's greatest two or three films.
Her friend Cary Grant introduced her to Howard Hughes that year, too, and the mega-wealthy entrepreneur and inventor was desperate to become her second husband.
Hepburn, however, was more intent on building her career than starting a family, and while they were an item for a few years and the subject of endless headlines, it would come to an end in 1938.
"I would have been a terrible mother," Hepburn once said, "because I'm basically a very selfish human being."
Her other 1935 flick, Break Of Hearts, saw her star alongside Charles Boyer, with the great writer Graham Greene praising her in a review.
Hepburn, said the author who had published England Made Me that year: "Always makes her young women quite horrifyingly lifelike with their girlish intuitions, their intensity, their ideals which destroy the edge of human pleasure."
If she was around today, she would still be in great demand. Just imagine her in Killing Eve, for instance!
She played a composer who marries a conductor, only to find he is hitting the bottle and seeing other women. It showed another side to her character but only made a slight profit.
It was, in fact, during this period that the actress suffered her first career setbacks, during a string of movies that were seen as flops. She became known as "box office poison", in fact.
A Woman Rebels, her 1936 movie, proved to be another such disappointment, although once again she played a very powerful role impressively.
Perhaps they just weren't ready for such strident feminism back then, but she played Pamela Thistlewaite, a girl who rebels against Victorian values, admirably.
She has a baby out of wedlock, in defiance of her father, and later brings the child up as her niece and becomes a journalist fighting for women's rights.
A story tailor-made for Katharine Hepburn, but apparently not everybody's cup of tea in movie land, it would do great business today.
Mary Of Scotland, according to critics with the benefit of hindsight, would do likewise.
Another 1936 movie, it saw Hepburn play Mary, Queen of Scots, in a role Ginger Rogers had fancied but was rejected for.
Today, they reckon it is a classic and another real highlight of the whole Hepburn career, but at the time it was another box office flop.
Hepburn, angry, frustrated and hurt, would soon move to a new film studio to try to repair things. Trouble was, the flop films were actually good, so the lack of love for them wasn't a problem with a clear solution.
It must have been a strange period for her. She had, after all, been raised to be an independent free spirit, by parents who could afford the finer things in life and certainly were happy to pamper their daughter.
Her early Broadway work had helped clinch movie roles, and it initially felt like one success after another would just continue for the rest of her life.
You might look at her next 1938 flick and, on paper at least, feel it would surely turn the tide.
Alongside Cary Grant, she made a screwball comedy, Bringing Up Baby, outrageous and silly and a movie that had seen filming paused hundreds of times because its two stars couldn't stop laughing.
And yet, when it hit the big screen, it was yet another flop. Not something you think of when you see the names Hepburn and Grant. It even featured a well-trained leopard, guided by its off-camera trainer, and Cary Grant played palaeontologist Dr David Huxley, aka Mr Bone.
He is hoping to put together a brontosaurus skeleton but it lacks one bone, the intercostal clavicle. You can see how he got his alias.
Mr Bone is trying hard to impress a lady who is considering donating a million bucks to his museum, and his imminent wedding with dull Alice Swallow also worries him.
Alongside the leopard, Baby, Hepburn played Susan Vance, a golf-loving scatterbrain.
They say that comedy of this sort did not come easily to Katharine Hepburn, to the extent that they had to teach her how to do it as they filmed.
In the end, it was a very funny, eccentric film, and the fact it became another flop remains something of a mystery.
Maybe she had just played so many serious, ferocious, angry ladies that the world couldn't see her as a funny girl.
George Cukor was a director who gave us some true classics, and many critics reckon his 1938 movie Holiday was best of all.
So it's all the more bizarre that, despite another great showing by Hepburn and Cary Grant, it seemed to thrill the critics more than the general public.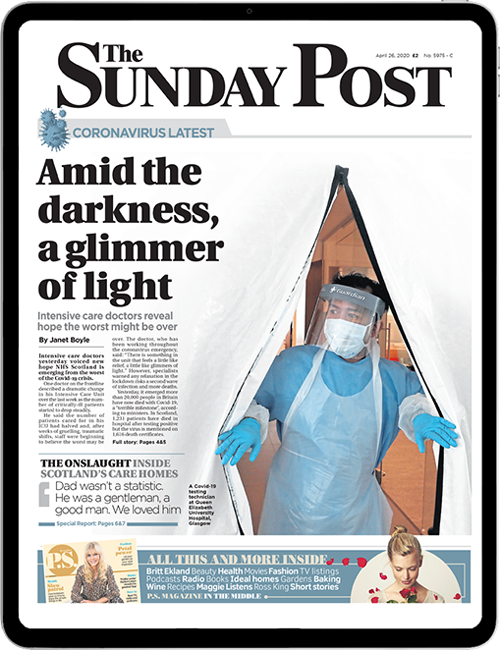 Enjoy the convenience of having The Sunday Post delivered as a digital ePaper straight to your smartphone, tablet or computer.
Subscribe for only £5.49 a month and enjoy all the benefits of the printed paper as a digital replica.
Subscribe