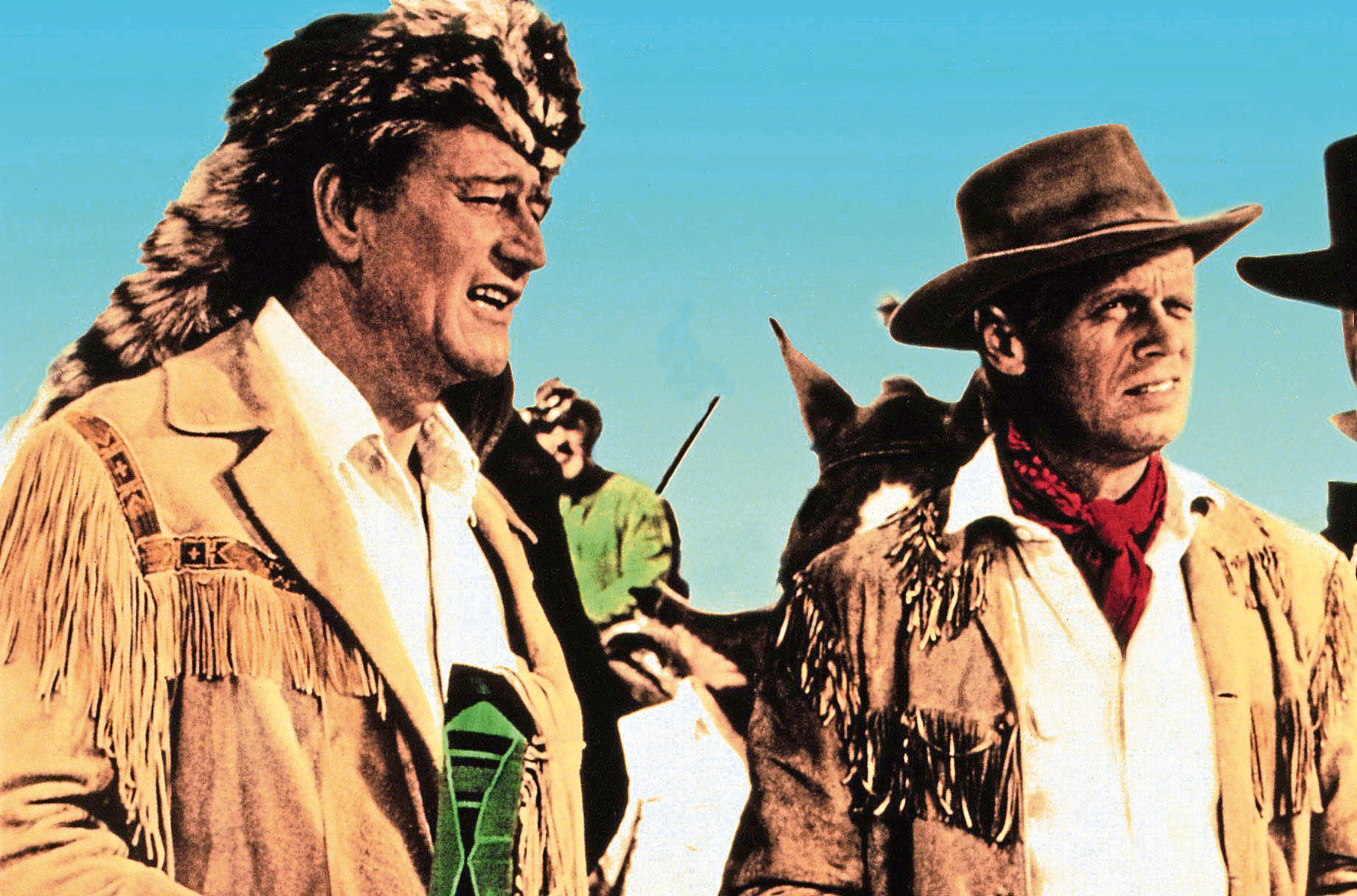 BY the 1950s, John Wayne's career was moving like a well-oiled machine.
Hit after hit had long ago made him a household name in the United States and far beyond, and if anyone wondered when his glory days would run out, it wouldn't be any time soon.
The High And The Mighty, from 1954, showed he was still adding to his skills, rather than sitting back and resting on his laurels.
Wayne, in fact, had been pencilled in to produce it – he would co-produce – but when Spencer Tracy dropped out, he stepped in front of the camera.
The whole movie set the standard for an entire genre of films of the future.
Flicks like Airplane! would parody it, of course, but disaster movies such as The Poseidon Adventure, The Towering Inferno and even Titanic would borrow from its production values.
Wayne was First Officer Dan Roman, and it's the tale – like the hilarious Airplane! – of a pilot haunted by a previous crash.
Robert Stack, in fact, would play the serious role here, and appear in the joke versions years later. The movie was such a success, though, John Wayne would certainly never make fun of it!
Another he always adored was done two years later, 1956's The Searchers — many American critics to this day say this was the greatest film made. Ever.
Certainly, the consensus is that among Westerns, nothing has ever come close, and much of that is down to an utterly commanding performance by John Wayne at the top of his game.
He plays Ethan Edwards, who comes to live with his brother in a remote part of Texas after many years away, and though he is obsessively crazy about his brother's wife, it's an undercurrent that is never spoken about.
Many reckoned Wayne was incapable of such a part, but he manages to play it perfectly, alongside his normal hard man, sharpshooting side.
He arrives with a stash of gold coins and a medal from a Mexican campaign, so he has a shady past and doesn't seem overly keen on talking about it.
His niece has been taken by the Comanches, but she is grown up and one of the chief's wives by the time they find her, apparently happy and not wishing to come home. Ethan would rather she was dead than living there, and tries to kill her, but he is wounded by a Comanche arrow.
At the end, they get her back home, and Ethan is seen leaving, going on his mysterious way once more, leaving all sorts of troubles behind him.
If you've not seen it for a while, it's well worth another look — like several of The Duke's best flicks, it seems to age marvellously well and gets better with repeats.
Rio Bravo was a good way to bring the '50s to a close. Generally thought of as one of Wayne's greatest films, Angie Dickinson, Dean Martin and Ricky Nelson were the perfect supporting stars.
It's the tale of a sheriff who arrests a powerful rancher's brother, then has to take on the rancher's entire gang.
Dean Martin's plays his character, Dude, the drunk deputy sheriff, very convincingly!
Music fans love it for the chance to see Ricky Nelson perform with just a guitar, while Wayne fans simply reckon it is up there with his very best.
If it seemed a hard act to follow, though, even Rio Bravo was put firmly in the shade the next year — a certain The Alamo saw to that. It had the critics wondering just how good Wayne could get.
At the dawn of the '60s, he was in the midst of an astounding run of hit movies, and showing he could do far, far more than just play angry cowboys.
The story of the battle for Texan independence, The Alamo was a wonderful story just begging to be told in film. And John Wayne, at the peak of his powers, was just the man to carry it.
Almost three hours long (some versions last over 200 minutes), it was an epic in every sense.
Wayne also produced and directed it, and was handed $12 million to do so, an incredible amount in 1960.
He plays Davy Crockett, one of three Colonels, with Richard Widmark as Jim Bowie and Laurence Harvey as William Barrett Travis. Frankie Avalon is the young Smitty, one of Crockett's Tennesseans.
With an impressive cast, a massive budget and The Duke in almost complete control, the pressure to succeed was all on Wayne and no one else.
He had, years earlier, quit in disgust when he first tried to make a movie about the Alamo, as the $3m budget wasn't enough.
Now, however, he was even able to invest almost $2m out his own pocket, so it's fair to say the big man was rather keen on getting this movie made.
A fortune was spent on the set, which one critic called: "The most authentic set in the history of the movies," and Wayne was also thrilled with his young star.
Avalon was still a kid, but Wayne said of him, "We're not cutting one bit of any scene in which Frankie appears. I believe he is the finest young talent I've seen in a long time." From John Wayne, that's praise indeed.
The Man Who Shot Liberty Valance, another fans' favourite, was a nice way to start 1962, and to prove that with The Alamo, he hadn't reached a peak he couldn't scale again.
James Stewart, Lee Marvin, Lee Van Cleef and John Carradine ably supported, and by the time it came out, the critics were eating out of Wayne's hands, even those who didn't agree with his politics.
Abbie Hoffman, a radical who wouldn't otherwise see eye-to-eye with Wayne, loved his movies, admitting: "I like Wayne's wholeness, his style. As for his politics, well… I suppose even cavemen felt a little admiration for the dinosaurs that were trying to gobble them up."
Lee Marvin plays Liberty Valance to evil, nasty perfection, while Wayne is, well, dead — it's his funeral being attended at the start of the movie, and he appears only in flashback!
One noted critic called it "the greatest American political movie", while another admired how it took apart many myths often retold in Westerns.
Wayne had made yet another cracker that aged remarkably well.
The Longest Day, ironically, seems a bit more dated these days but it still a great watch. Also released in 1962, it was a totally different tale from Liberty Valance. You only have to look at the cast of this three-hour epic Second World War movie to understand why it had massive cinema audiences across the globe. Everybody's favourite star was in it!
Actually, one who missed out was Charlton Heston — he'd been pencilled in as Lt Col Benjamin H Vandervoort, and had chased the role, only for Wayne to decide at the last minute that he wanted it!
Aged 55, The Duke was almost 30 years old than the real Vandervoort had been at the time of the story, but he was determined to take the part.
It seems he was also determined to take revenge.
Producer Darryl F Zanuck had mocked Wayne over problems making The Alamo, so while every else got paid $25,000, John demanded 10 times that.
And got it!
Henry Fonda, Paul Anka, Roddy McDowall, Richard Burton, Rod Steiger, Richard Todd, Robert Wagner, Robert Mitchum and George Segal were just some of the stars involved.
True Grit, from 1969, saw Wayne's latest iconic role, as US Marshal Rooster Cogburn, which earned him his one and only Academy Award.
Filming took place in Ouray County, Colorado, with its backdrop of magnificent mountains, and if you go there today, you can have a coffee at the True Grit Café and ask the older locals if they ever saw Elvis in these here parts.
The story goes that he was the music star they wanted for the part of La Boeuf, the Texas Ranger who joins forces with Cogburn.
The only reason they dropped The King was because his people demanded he get top billing over The Duke. No way! He was sent away and the job was given to the late, great Glen Campbell.
Big Jake and The Shootist were two of John Wayne's crackers in the '70s, when The Duke was getting on a bit.
The 1971 movie Big Jake saw him star alongside his son Patrick, and Robert Mitchum's son Christopher also appears.
A legendary gunfighter, Jake and his dog, simply called Dog, arrive in town to sort out a ruthless gang who have massacred ranch hands and kidnapped a little boy.
Needless to say, they end up wishing he hadn't shown up.
The Shootist, released in 1976, just three years before Wayne's death, would be named alongside Rocky and All The President's Men as the best films of that year.
As he had done since his beginnings many years earlier, the one and only John Wayne received plaudits and praise from everyone.
He died of stomach cancer in 1979, aged 72, and left us a vast catalogue of wonderful films, of every imaginable kind, and all of the highest quality.