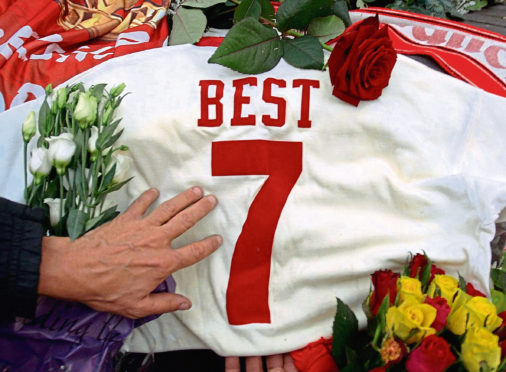 The opening sentence of George Best's second autobiography, written in 1990 and aptly titled The Good, The Bad & The Bubbly, summed up everything you need to know about his life away from football.
The book began with the immortal line: "I punched Michael Caine to the floor in Tramp one night."
There you have it in 11 of his own words: nightclubs, celebrities, booze, trouble.
Best was such a frequenter of Tramp, legend had it that whenever he failed to show up for Manchester United training, manager Matt Busby's first call would be to the club in London's Jermyn Street.
It was the haunt of film stars like Caine, Joan Collins and Jack Nicholson, pop legends such as the Rolling Stones and Rod Stewart and royalty such as Princess Margaret.
Only one sportsman could fit so easily into that sort of company in the late 1960s and 1970s.
And for a while Best's nocturnal behaviour was tolerated with a knowing smile. It was acceptable, even funny at times.
George was a "lad" before the term had even been invented.
But as his career disintegrated in the early 1970s his drinking became less amusing and more and more worrying.
It came to a head in July 2002 when he underwent a liver transplant in London's Cromwell Hospital.
Three years later he was dead.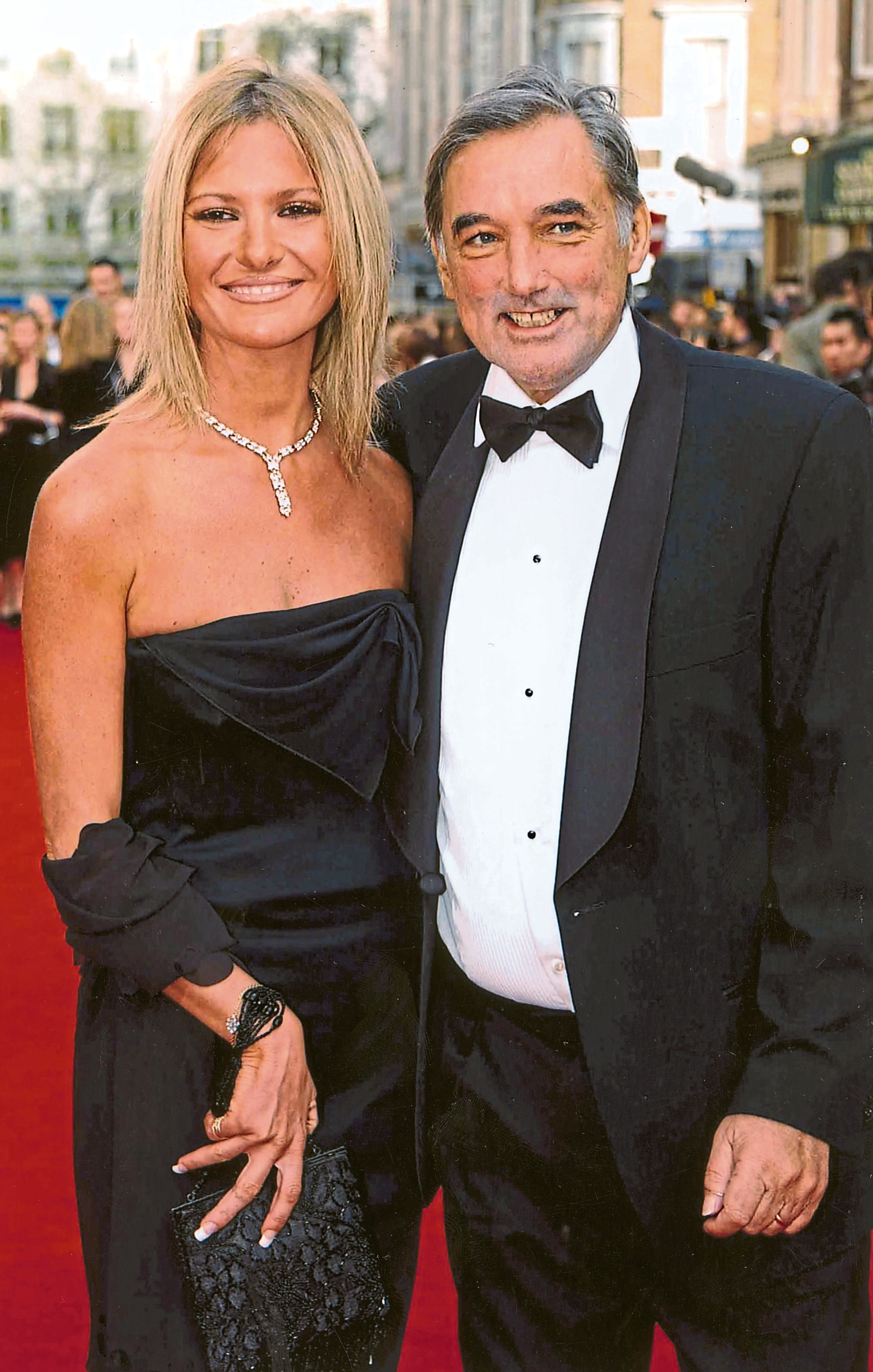 Best was 27 when he played his final competitive match for Manchester United on New Year's Day 1974.
For those people who know their pop culture, that age is poignant and in some ways tragically fitting.
The "27 Club" is a term used in the music industry to describe the unusual number of artists who have died before their 28th birthday.
They range from Jimi Hendrix, Brian Jones, Janis Joplin and Jim Morrison to Kurt Cobain and Amy Winehouse.
Generally viewed as the victims of fame and excess, each passed before they hit their prime, leaving heartbroken fans who could only speculate as to what they could have gone on to achieve.
Although George wasn't to pass away for another 22 years, his top-level footballing career ended when he was sacked by United's then manager Tommy Docherty after a long series of alcohol-related disciplinary breaches.
With the umbilical cord that tethered him to the club he'd been with since he was 15 severed and with his on-field reputation waning, the path to George's self-destruction accelerated.
His drinking and womanising played their part in destroying his first marriage to Angie, an Essex-born former Playboy bunny and model, whom he'd married in January 1978 at Candlelight Wedding Chapel in Las Vegas.
The pair had met in Los Angeles, where Angie was then living and where Best was playing for the Los Angeles Aztecs.
Their son Calum was born in 1981, but they separated the following year and divorced in 1986.
The Aztecs was just one of a dozen or so clubs that employed Best after his departure from Old Trafford.
However, the competitiveness of the football he played was a pale imitation of the previous decade when George looked as if he could rule the world.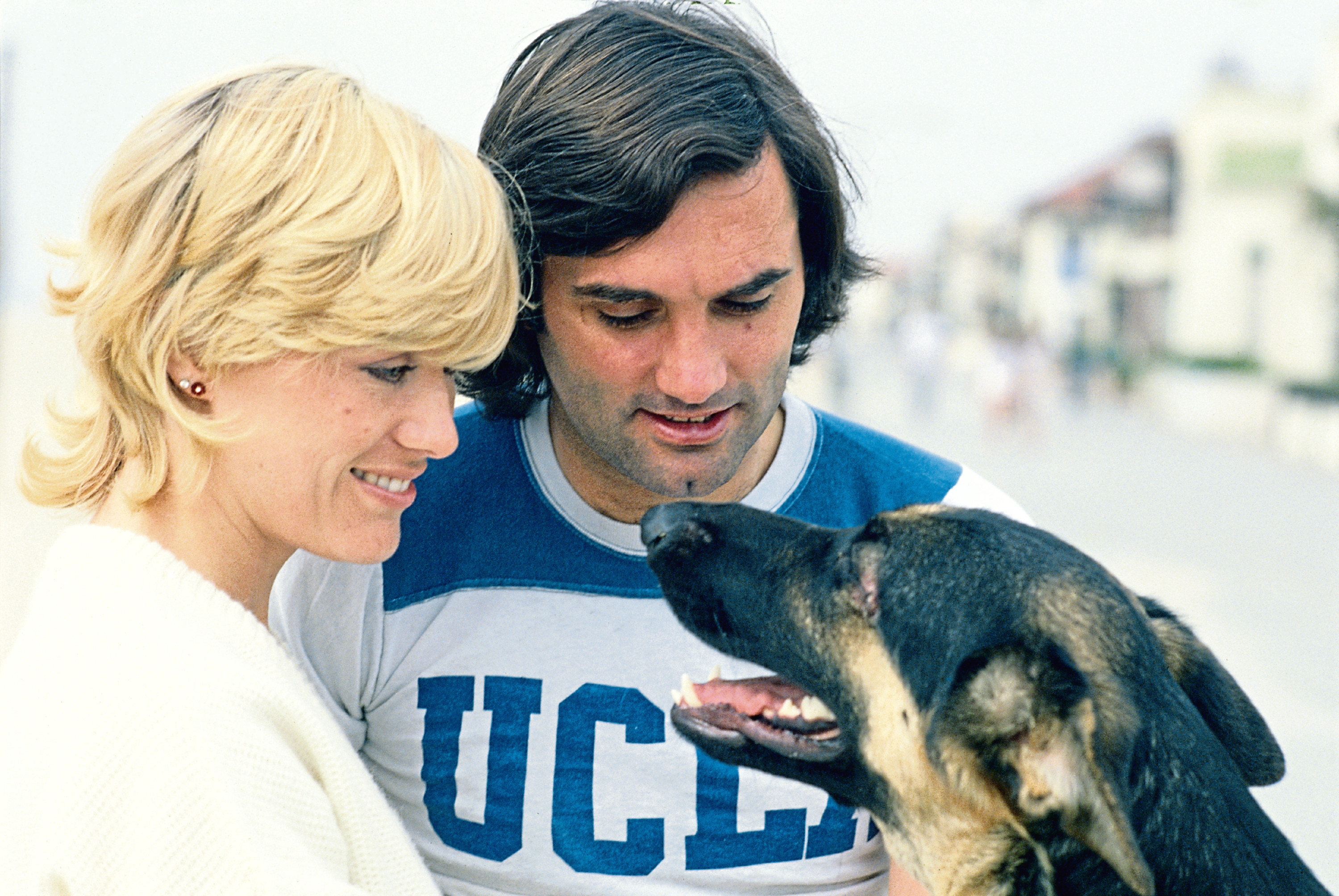 There'd been a handful of games in South Africa, three for Stockport County and another three for Cork Celtic before he went to LA in the summer of 1976.
And for a while there were signs that he still had something to offer.
He scored 15 goals in 23 games and looked fitter than he'd been in two or three years.
It earned him a couple of seasons in the Second Division with Fulham as part of an all-star trio alongside Rodney Mash and Bobby Moore, while continuing to spend the English close season with the Aztecs.
But, as ever with George, it wasn't to last.
He moved on to Fort Lauderdale Strikers before turning up in Edinburgh in 1979 to play for relegation-threatened Hibernian on a "pay-per-play" basis.
He failed to save Hibs from the drop, though gates increased dramatically. The attendance actually quadrupled for his first match at Easter Road.
One infamous incident saw Best briefly sacked by Hibs after he went on a massive drinking session with the French rugby union team, who were in the city to play Scotland.
He returned to the US to play for the San Jose Earthquakes, played five games for Third Division Bournemouth and went to Australia to play four matches for Brisbane Lions.
It was an inauspicious conclusion to what could have been one of football's greatest careers but by then his off-field demons were firmly in control of his life.
After he finally hung up his boots in 1984, aged 37, the alcohol problems began to pile up.
That year, he spent Christmas in Pentonville Prison after failing to appear in court on charges of drink-driving and head-butting a policeman.
He was jailed for 12 weeks, mostly spent at Ford Open Prison.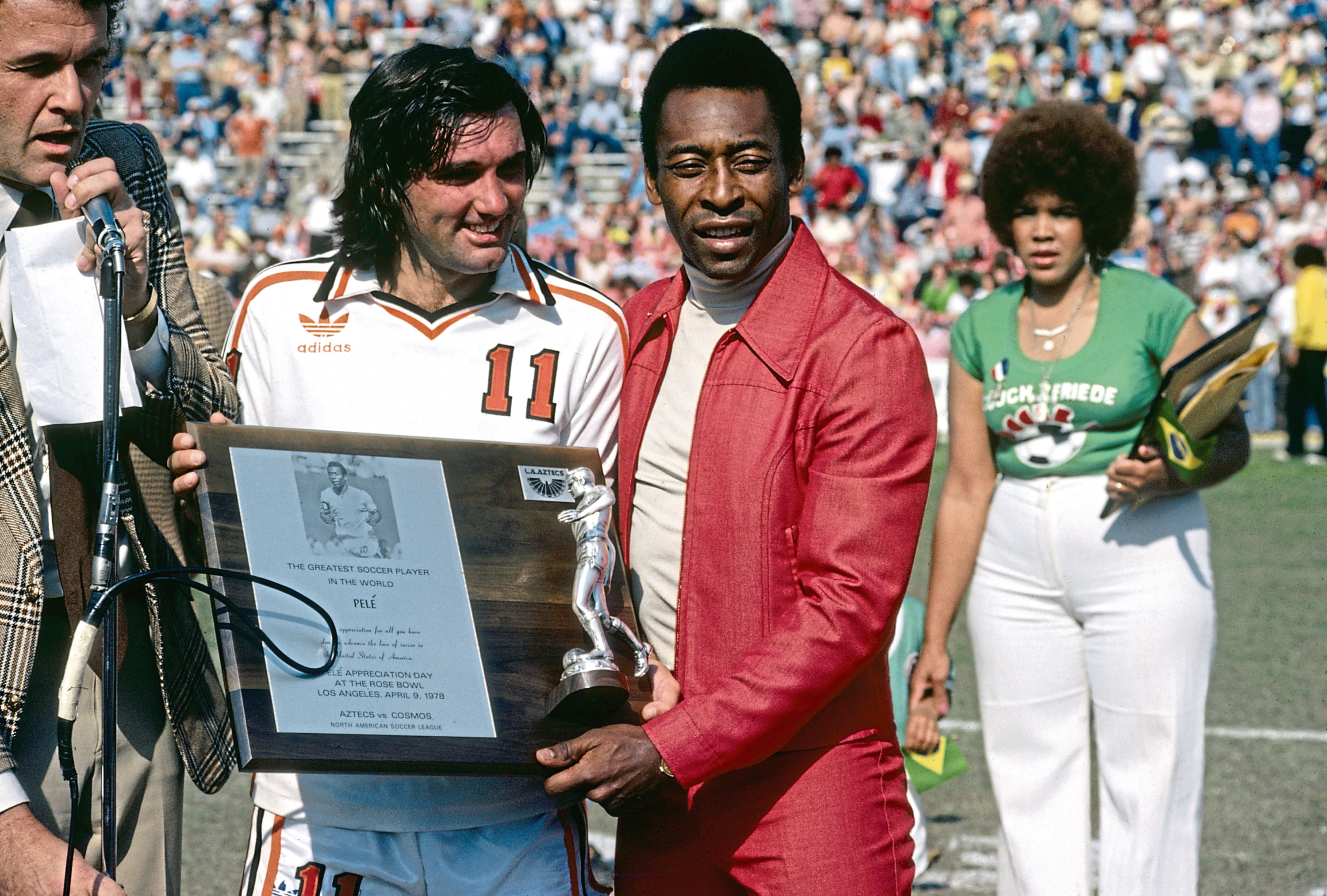 In 1990, George turned up for Terry Wogan's chat show clearly drunk and frankly informed his host that his hobbies mainly centred around having sex.
Only he used words that weren't suitable for early evening viewing.
Apart from being embarrassing for Terry, the BBC and the viewers, those few minutes on air brought home to the general public just how far their former hero had descended.
George was pigeon-holed alongside legendary hell-raiser Oliver Reed in the annals of excruciating, alcohol-fuelled TV appearances.
Eight months later he was bound over for assaulting a man in a London pub.
He met Alex Pursey, a former air hostess, in a London nightclub in 1995, when she was 22 years old – 27 years his junior. They married the same year.
In 1998 he agreed, under pain of eviction, to leave the Chelsea flat he had lived in for the previous 13 years. He was by then £70,000 in mortgage arrears.
In the late 1990s as he gained regular employment on television as a pundit and as an after-dinner speaker, his alcoholism continued to plague his mind and body.
At the turn of the millennium Best underwent extensive treatment for liver damage.
He was told that his liver was only functioning at 20% and that a transplant would be required.
In February 2001 Best was treated at Belfast City Hospital for pneumonia.
In August 2002 he had a successful transplant at King's College Hospital in London.
He was warned then that if he ever drank again it could kill him but in February 2004 Best was convicted of another drink-driving offence and banned from driving for 20 months.
In October 2005 he was admitted to intensive care at the private Cromwell Hospital in London, suffering from a kidney infection caused by the side effects of immuno-suppressive drugs used to prevent his body from rejecting his transplanted liver.
Close friends in the game visited his bedside to make their farewells, including Rodney Marsh, and the two other members of the "United Trinity", Bobby Charlton and Denis Law.
On November 20 a Sunday tabloid published a picture of Best (at his own request) showing him in his hospital bed with jaundice, along with a warning about the dangers of alcohol with his message: "Don't die like me".
He died on November 25, aged 59, as a result of a lung infection and multiple organ failure.
His body left the family home at Cregagh Road, Belfast, on the morning of Saturday December 3 2005.
The cortege then travelled the short distance to Stormont with the route lined with around 100,000 mourners.
Former Northern Ireland manager Billy Bingham plus internationals Derek Dougan, Peter McParland, Harry Gregg and Gerry Armstrong, and Law, carried the coffin to the base of the Stormont steps.
The service in the Grand Hall was attended by 300 invited guests and relayed to around 25,000 mourners inside the grounds of Stormont.
Best's brother Ian, agent Phil Hughes, Dr Akeel Alisa, who treated Best, and his two brothers-in-law were also pallbearers.
The funeral was broadcast live on BBC1.
Afterwards, Best was cremated and his ashes were interred beside his mother in a private ceremony at the hilltop Roselawn Cemetery, overlooking east Belfast.
Belfast City Airport was renamed George Best Belfast City Airport in tribute on May 22 2006, which would have been his 60th birthday.
For the first anniversary of his death, Ulster Bank issued one million commemorative five pound notes. The notes sold out in five days.
Manchester United remember him in statue form alongside Law and Bobby Charlton – the so-called Holy Trinity – on the forecourt of Old Trafford, and thousands of fans pose for selfies in front of it every year.
George will be most fondly remembered for his sublime footballing skills, his balletic grace and his sinewy athleticism.
He was as brave as a lion. Opponents could hack him down and he'd bounce back up, teasing the hatchet men with his pure ability.
He was cheeky too. No one will ever forget "the goal that never was" when, playing for Northern Ireland, he nicked the ball out of the air when England's greatest keeper Gordon Banks was about to clear it and rolled it into the empty net.
The legendary Brazilian Pele famously named him as the world's greatest ever player, an assessment George was to acknowledge as "the ultimate salute to my life".
But there will always be a sense of what might have been.
He once said: "I was the one who took football off the back pages and put it on to page one."
Sadly for George, that wasn't always a good thing.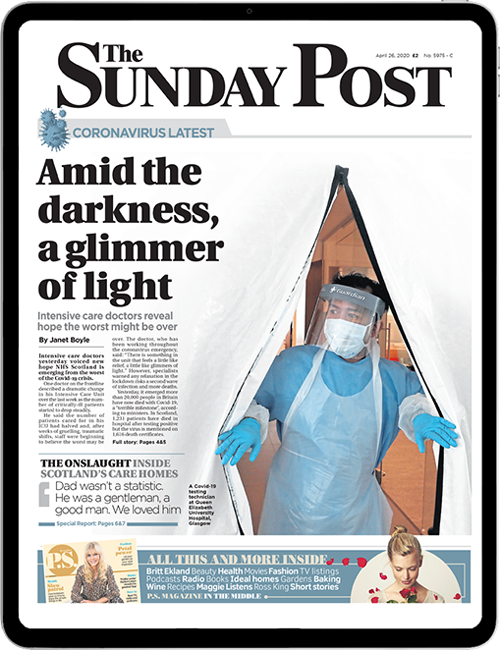 Enjoy the convenience of having The Sunday Post delivered as a digital ePaper straight to your smartphone, tablet or computer.
Subscribe for only £5.49 a month and enjoy all the benefits of the printed paper as a digital replica.
Subscribe