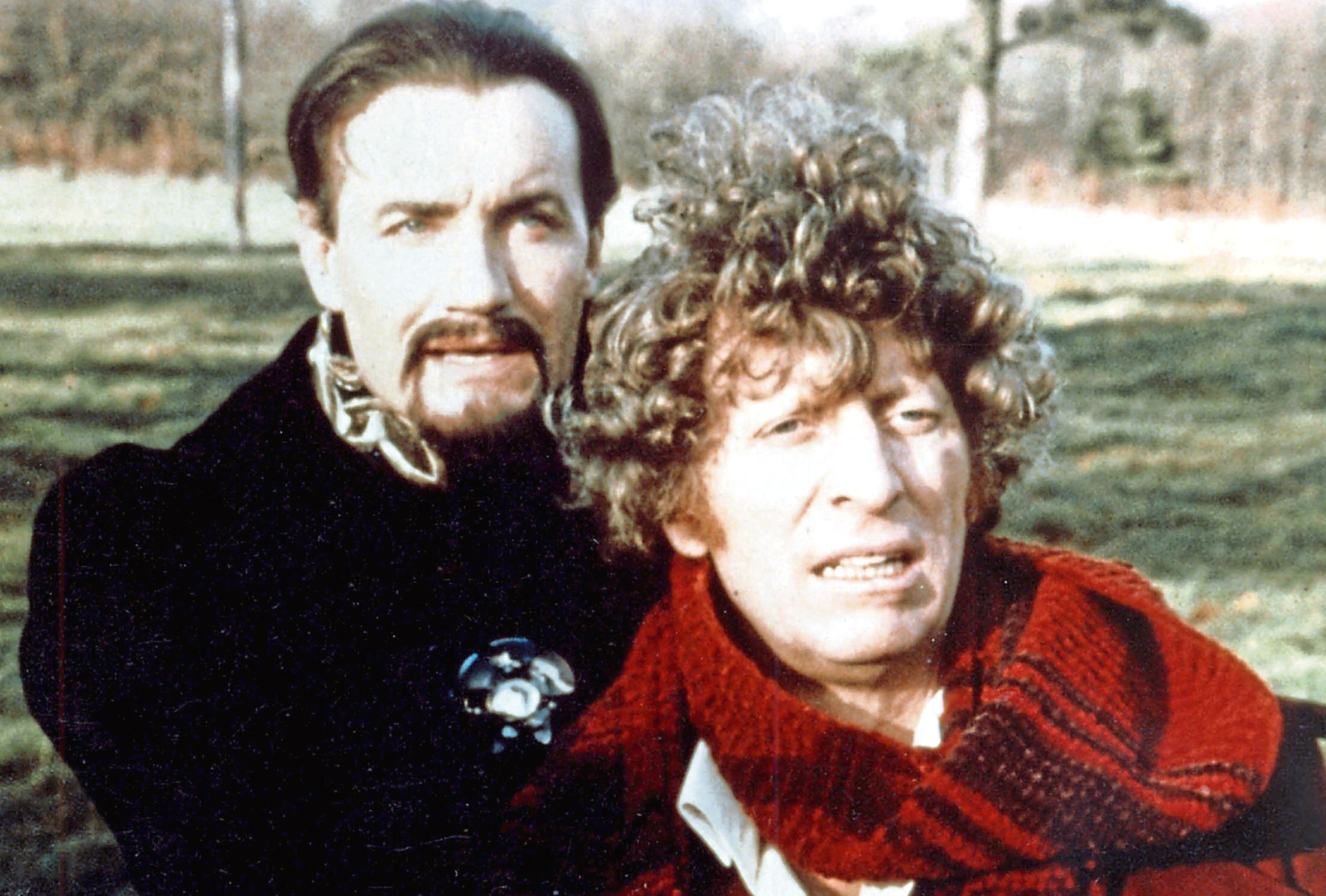 FOR many people, Tom Baker IS Doctor Who.
And it seems some folk reckon the longest-serving and most-popular occupant of the Tardis thinks that, too.
As Tom, now 84, says: "To still be adored after 40-odd years, yeah, that's the life.
"Maybe I'm the longest-serving actor, in the whole history of actors, who's actually still adored for the same part and enjoying it in the same way.
"When I get sent messages from middle-aged men – or from the wives of middle-aged men – who say 'tell Mr Baker he cannot imagine how important he was to my beloved husband when he was a boy' it moves me deeply to think about it.
"I was just going to work. I didn't know, to begin with, how far-reaching this role would be. I was aware of the excitement and the generosity and the affection of the fans, but how could I ever have dreamed of all this?"
However, the role did have certain demands, as Tom explains: "The Doctor isn't just what I did in the studio, you see.
"I had – and this alone makes the series different – to carry the concept of this semi-perfect man into my own life, so that if there were children around I wouldn't be seen by them as a disappointment.
"As in the show, I didn't smoke, drink or swear – I was literally on my best behaviour, which was very, very exhausting at times but rewarding as well. Doctor Who comes with this responsibility.
"Obviously to an older fan or to an adult, I was Tom Baker but there are a lot of small children who watch the programme.
"Now if they saw me behaving badly they would be disillusioned – they'd lose that sense of magic, the aura of the Doctor which I tried to convey.
"My friends used to think it was unnecessary but then they didn't have my sense of responsibility to the image of the show – I know that sounds very pompous but it was something I thought very consciously and carefully about."
Though Tom quickly made the role his own, it must have been quite a task to take over from the immensely popular Jon Pertwee?
"Oh yes, indeed it was. I was so daunted – I thought, 'Jon has been doing this for five years, to everyone he is the Doctor.'
"He was well known even before he did the series whereas I wasn't known by anybody. I think it was a brave decision for them to make but at the time I really didn't know how I was going to approach it or whether I could follow Jon's act.
"Now, of course, having played the part, I can afford to say that any actor playing the Doctor cannot fail because it has passed that stage. It can continue in spite and because of the actor playing the lead."
The Fourth Doctor had that instantly recognisable costume, complete with hat, coat and endless scarf – but did Tom like it?
"Tremendously – it was right for the character, it had the right amount of extravagance to it. I used to fall over that scarf the whole time – it was silly, really, totally impractical but I thought it was a good costume. As we went along it got a little more exaggerated."
He was less impressed with one of his co-stars, however, admitting: "K9 was a blasted hard thing to act with.
"Because the thing is so small all the dialogue shots had to be done at its level. We had tremendous technical problems with it as well, it was always breaking down, especially on location when we'd get annoyed because we were always running behind schedule, so that was just another hold up."
While Tom was much-loved by the TV audience, his larger-than-life character could rub his fellow Doctors up the wrong way.
Peter Davison, who followed him into the Tardis, in 1981, says: "Tom and I have never got on badly. He's always been perfectly polite and rather charming when I've met him. It's just I'm a bit baffled by it, more than anything else.
"The rest of us are so much part of a nice team – although you had to defer to Jon and I was happy to do so, only because he did quite clearly think he was the best Doctor ever.
"But if I see Sylvester (McCoy) somewhere, or Colin (Baker), we get on. Tom seems to just not want to have much to do with us. He's not caustic about us. If you asked him about me, even though I've not been that nice about him, he'd probably say 'a charming fellow' or whatever and brush it aside. Which is fine.
"I once did an advert with him. It was one where myself, Jon Pertwee and Tom were advertising a Volvo car. The idea was that it was bigger on the inside. I was very aware at every instance that I was in the middle, to keep the two of them apart. Jon didn't like Tom."
Peter has mixed feelings about how his time as a Time Lord ended. He recalls: "I had to make the decision absurdly early. It was at the end of my second season.
"The producer asked about staying beyond a third year and I said I would call it a day because that had been my plan.
"I stuck with that. I had a chance to change my mind but I thought that would be chickening out and there were other things I wanted to do.
"It's never easy because you're playing this iconic character. I've had this conversation with David Tennant – you make the decision to leave and you're happy with it, but when you actually get to the day in the studio when the next Doctor comes in and replaces you it is the most gutting moment."
Now, they say every great goodie needs a great baddie and most people would pick the Daleks as their favourite.
But not Colin Baker. The Sixth Doctor says: "My favourite enemy is the Master, because Sherlock Holmes has his Moriarty and while most monsters have no particular desire to destroy the Doctor, the good thing about the Master is that it's a personal matter, so there's great opportunity for confrontation.
"I would say the Daleks and Cybermen come joint-second."
While most Doctors left the Tardis at a time of their choosing, Colin fell foul of then-BBC controller Michael Grade, who hated the show and only agreed to let it continue if he was replaced.
"I couldn't take it in, it was such a shock. I'd fought so hard for the show, I was stunned. What I couldn't accept is that Grade didn't have the guts to tell me man-to-man," says Colin.
"If I knew why I was sacked then I would feel better about it all. But I got fobbed off with excuses about Grade thinking three years as Doctor Who was long enough.
"Many people believe, as I do, that I have been treated shabbily but I can honestly say that working on Doctor Who was one of the happiest working experiences of my life."
Sylvester McCoy took over in 1987 and, ironically, his first season is often cited by fans as their least favourite.
"I think it was underrated," says the first Scot to take the role. "I mean, some say it was too funny at the beginning but we changed that and made it the darkest the Doctor had ever been. And I think that's rather good, too.
"The idea was to try and peel off an onion layer and to make him much more mysterious. And also, perhaps make him more dangerous and uncertain. I think if we had done it, it might have taken off in a big way and I might be Tom Baker now and think I am the Doctor."
While we saw Sylvester regenerate into Paul McGann, the latter actor was denied the chance to film his transformation into Christopher Eccleston as his one-off TV movie did not kick-start the series after a seven-year absence.
"Yeah, I felt a bit short-changed at that, I have to say," laughs McGann. "And I'm a bit miffed, I have to tell you, that Chris got away with the short haircut – he looked like a binman, didn't he?
"When we shot ours, I had a number-two haircut because I'd played this sort of soldier boy a few weeks previously.
"I thought, 'This is great, this'll be a departure, they'll like this' – they freaked. They made me wear this wig out of a box. Horrible.
"People say it's a shame that it never went to series and I go, 'OK, well, just take a minute to imagine that it had. How much do you like Matt Smith and David Tennant? They might never have happened if there'd be some other history.'"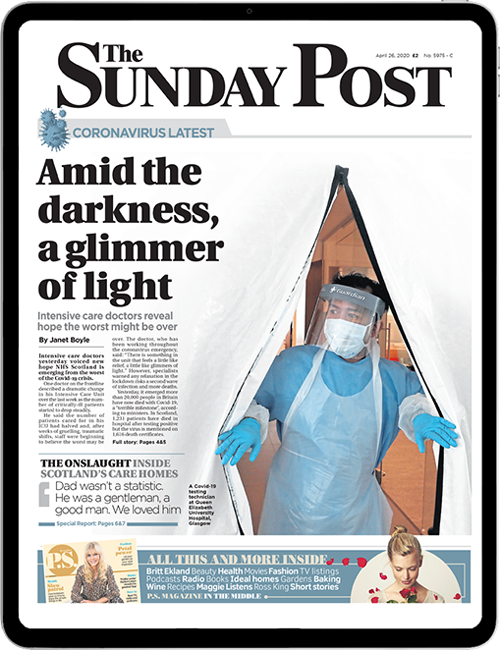 Enjoy the convenience of having The Sunday Post delivered as a digital ePaper straight to your smartphone, tablet or computer.
Subscribe for only £5.49 a month and enjoy all the benefits of the printed paper as a digital replica.
Subscribe